Chardan Analyst: Amicus Therapeutics Could Be Bought For $22.50/Share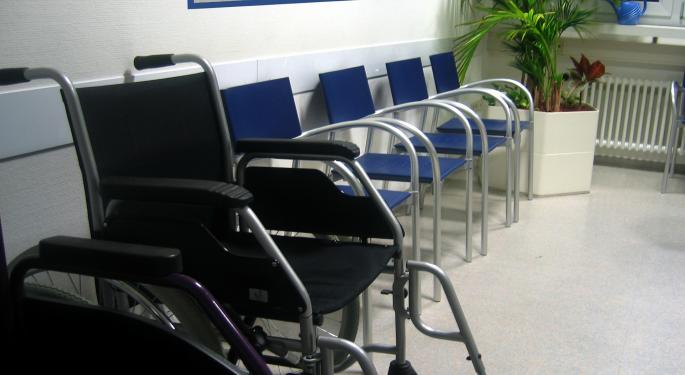 Shares of Amicus Therapeutics, Inc. (NASDAQ: FOLD) climbed 7 percent in the pre-market hours after a Wall Street analyst said the company could be bought for $22.50 a share with Sanofi SA (ADR) (NYSE: SNY) or Shire PLC (ADR) (NASDAQ: SHPG) touted as potential acquirers.
Acquisition Possibilities And Probability
The potential acquisition price of $22.50 represents a premium of about 188 percent to Amicus' Monday closing price of $7.82.
"With Amicus Therapeutics (FOLD) having achieved the early-April positive opinion from the European Committee for Medicinal Products for Human Use (CHMP) for oral migalastat, as a first-line therapy for Fabry disease in all patients who have an amenable genetic mutation, we believe the probability of an Amicus acquisition has risen materially," Chardan analyst Gbola Amusa wrote in a note to clients.
"To us, as FOLD de-risks, the company has an increased chance of being acquired by its Fabry disease competitors, Sanofi and Shire, which are highly active in rare disease M&A markets," Amusa noted.
Related Link: Janney Upgrades Amicus, Says EU Approval "Likely"
Amusa highlighted, "Amicus, in particular, is a potentially interesting target for Fabry disease competitors, Sanofi (Fabrazyme) and Shire (Replagal), in part because FOLD's migalastat could threaten each company's Fabry disease franchise, particularly if the other large cap competitor were to acquire migalastat (i.e. Sanofi may not want Shire to own migalastat, and vice versa)."
According to the analyst, "The market for Fabry disease ($1.2 billion in 2014A sales, with an estimated 40 percent to 50 percent of diagnosed patients not currently treated) consists of enzyme replacement therapies (ERTs), Fabrazyme (Sanofi) and Replagal (Shire)."
Shire
Commenting on the potential acquisition by Shire, Amusa added, "It is clear that Shire has been a busy acquiror in the rare disease space in recent years (e.g. acquisitions of ViroPharma, NPS, Dyax, Baxalta)."
"Notably, the acquisition of Dyax was in good part a play to protect the Cinryze franchise from Dyax's DX-2930 (now SHP643); and, we see some similarities to the situation with Replagal and migalastat," Amusa elaborated.
Sanofi
For Sanofi, FierceBiotech reported the French drug maker is interested specifically in making rare disease acquisitions, perhaps up to $20 billion.
Amusa said, "Although some in the market might assume Sanofi would be interested in BioMarin Pharmaceutical Inc. (NASDAQ: BMRN), Ionis Pharmaceuticals Inc (NASDAQ: IONS), and/or Ultragenyx Pharmaceutical Inc (NASDAQ: RARE), we would not rule out interest in Amicus as well."
Weighing The Possibilities
"Due to the logic of cost synergies available to large commercial organizations, we believe FOLD could be acquired for over $22.50 and be value accretive to Sanofi or Shire shareholders," the analyst continued.
"Assuming pre-tax cost savings (90 percent COGS, 75 percent SG&A, 0 percent R&D) to Sanofi or Shire, and $119 million of pre-tax restructuring costs, we model a break-even (net synergies = premium paid) acquisition price of $22.90–$23.84 for acquirers," Amusa noted.
The analyst also sees the possibility of higher prices beyond $22.90–$23.84, since he does not model tax synergies, revenue synergies and the potential modest restructuring costs.
Amusa rates Amicus Therapeutics a Buy, with a $15 price target and places a 95 percent probability on Amicus' migalastat launching in Europe in 2016, given that a positive CHMP opinion has already been achieved.
The analyst places a 40 percent probability of migalastat U.S. launch in 2018 and 60 percent probability for the rest of the world launch also in 2018. As such, Amusa models $811 million in global 2025 sales.
"On a higher EU launch probability, we raise our EU migalastat estimates from $485 mm in 2025E to $575 mm, and lower our FOLD WACC and tax rate, which all together drive our PT upgrade from $10 to $15," Amusa added.
According to TipRanks, Amusa is ranked 3,591 out of 3,857 analysts, with a success rate of 36 percent and average return per recommendation of -8.2 percent.
Shares of Amicus closed Monday's trading at $7.82. In the pre-market hours on Tuesday, it rose roughly 8 percent to $8.42.
Image Credit: Public Domain
Posted-In: Analyst Color Biotech News Health Care Price Target M&A Analyst Ratings Movers Best of Benzinga
View Comments and Join the Discussion!