Buy Time? Dean Foods Shouldn't Have Sold Off After Wal-Mart Unveiled Milk Production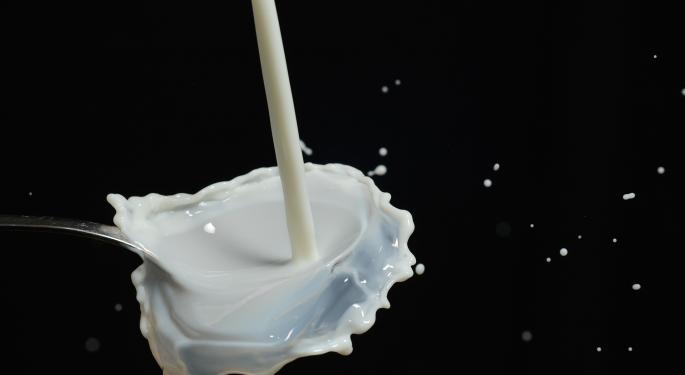 Dean Foods Co (NYSE: DF) saw an 11 percent fall on Tuesday, possibly due to news that Wal-Mart Stores, Inc. (NYSE: WMT) may be churning out its own dairy.
News that Wal-Mart may go into milk production next year signifies additional pressure in the dairy industry broadly speaking, and for Dean Foods specifically, as it is a supplier of dairy products to Wal-Mart and Wal-Mart is considered an important customer of the brand.
However, Bernstein noted that the news is possibly "overdone" and 2016 still looks strong.
While analysts will "continue to monitor the situation," Bernstein maintains its view that valuation (currently at 12.5x P/E FY16) is attractive.
Wal-Mart's Move Into Milk
Earlier in March, Wal-Mart confirmed its desire to enter the milk production arena by announcing a Fort Wayne, Indiana, processing plant. The plant, at 250,000 square feet, would be one of the most expansive in the milk industry, and would supply milk across Indiana, Illinois, Ohio, Northern Kentucky and Michigan to 600+ Sam's Club and Wal-Mart locations.
Related Link: Buckingham: Wal-Mart Merely A Neutral, Labor Investment Uncertain
The move would benefit Wal-Mart as insourcing milk is likely to save costs and pass on the savings to Wal-Mart customers.
While the move makes economic sense, it is still surprising, said Bernstein.
"Clearly, the price of milk is important as the category is a traffic driver for the retailers. However, Walmart's move to build a production facility is surprising as in the past few years, we've seen capacity coming out of the system given the slack in demand and declining category trends."
The analysts continued, drawing attention to Dean Foods' recent demand concerns, "Dean Foods itself closed 2 plants in 2015 alone. Furthermore, it is also interesting that Walmart decided to build a facility rather than buy."
What It Means For Dean?
Due to Dean Foods' supply concerns and the additional pressure in the space Wal-Mart's plant would inevitably bring, Bernstein concluded that Dean Foods is likely to see added pressure into fiscal year 2017.
"Walmart is an important customer for Dean Foods with 16 percent of total sales, so the announcement could add pressure on the company and potentially increase competitive dynamics in the category."
Furthermore, the decision to build vs. buy likewise impacts the potential pressure on Dean Foods. According to Bernstein, "In terms of Dean Foods exposure to the region, the company has plants in Indiana (2), Illinois (5), Michigan (3), Ohio (3) and Kentucky (1) for a total of 14 plants or roughly 20 percent of its plant footprint in the region."
"If we assume that the plant breakdown is representative per customer then this means that roughly a low to mid-single digit percentage of Dean Foods volumes could be at risk," Bernstein concluded.
The Dairy Market
Broadly speaking, Bernstein sees the milk industry as stable, with "fairly benign" milk prices expected for the remainder of 2016. "Using USDA forecasts for 'All Milk' as a proxy, this indicates that milk prices are likely to be -12 percent YoY. Production in major dairy-producing countries around the world is increasing, particularly in the EU since the elimination of dairy production quotas last year, and the Russian import ban remains in place, and China import demand remains benign," Bernstein said. "In the US, the supply/demand dynamics are also favorable for Dean Food."
Bernstein rates Dean Foods at Outperform. The price target on the stock is $25.
View Comments and Join the Discussion!
Posted-In: BernsteinAnalyst Color Long Ideas Commodities Reiteration Markets Analyst Ratings Trading Ideas Best of Benzinga