Maybe Fiat's CEO Just Isn't Interested In Auto Industry Future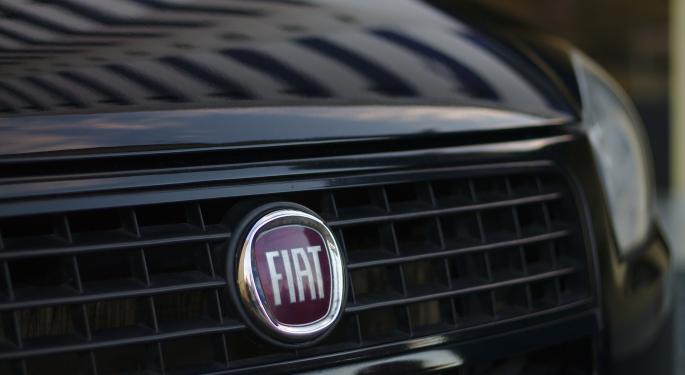 Despite previous reports that Fiat Chrysler Automobiles NV (NYSE: FCAU)'s CEO Sergio Marchionne is interested in aiding Apple Inc. (NASDAQ: AAPL) in developing a vehicle, new information has surfaced regarding the automaker CEO's interest in the industry's future.
According to a CFA Institute blog post by Sviatoslav Rosov, PhD, CFA, "Sergio Marchionne has seen the auto industry's future: He's not interested."
The Future For Auto
Marchionne has made statements regarding the future for Fiat Chrysler, including the company's focus on cheap gas and, by default, high-margin, low-mileage RAM trucks and Jeeps.
While other experts have criticized these apparent backward-looking plans amid the sea of electric vehicles, Rosov proposed a different take.
Rosov believes that rather than Marchionne being an "industry joke" or "yesterday's man," "he is the one seeing clearest of all."
Related Link: Would Fiat Build An Apple Car?
Justification And Support
Rosov outlined broad trends that support his defense of Marchionne, and specific instances that support Marchionne's strategic planning as opposed to near-sightedness.
Fuel And Legality Complications: According to Rosov, "Global fuel economy and emissions regulations are becoming so strict that it is possible to meet them only with partial or full electrification of the automobile. And the existing automobile production system […] is incredibly capital inefficient."
Disruptive Powers In The New Electric-Vehicle Industry: Besides the relative simplicity of electric vehicles, which could potentially flood the market with new entrants into the space, it is likely that "swathes of engineering and marketing investments [will] become irrelevant."
Marchionne Addressed Capital Destruction Via Auto Industry: In 2015, Marchionne argued that "unless the industry consolidates and stops duplicating engineering costs […] then the market will eventually force its hand, having gotten sick of miserly returns on billions in investments," surmised Rosov.
Fiat's De-Merger:

In 2013, Fiat's industrial division underwent a "de-merger," which led to a new conglomerate with CNH Global, forming CNH Industrial.
In addition, Rosov elaborated, "Marchionne has seen the future. Large subcontractors will produce partially or fully autonomous electric vehicles, with the sole differences being them being brand value and design."
"Marchionne doesn't care about expensive gas or electric vehicles because his plan is simple," Rosov proposed, highlighting what Marchionne's four-step plan may be: selling Jeep/RAM to another non-competing conglomerate; selling Fiat to "anyone who will take it"; selling Alfa Romeo and Maserati; "retire to play with his giant Formula 1 Scalextric set."
"Marchionne has been mocked for his firms' strategy, which has been attributed to hubris. But perhaps he is the one seeing clearest of all. Is the best way to deal with disruption simply to step out of the way?"
Posted-In: Analyst Color News Rumors Markets Analyst Ratings Tech Media Trading Ideas Best of Benzinga
View Comments and Join the Discussion!