Gordon Johnson Lays Out Case Against SunEdison, SolarCity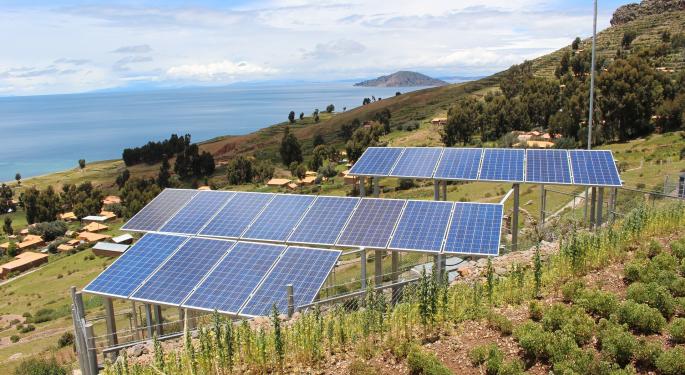 Axiom analyst Gordon Johnson explained his cloudy outlook for Sunedison Inc (NYSE: SUNE) and SolarCity Corp (NASDAQ: SCTY) on Benzinga's PreMarket Prep talk show Wednesday morning.
SunEdison
Johnson downgraded SunEdison Tuesday, citing an inability to close deals due to lack of liquidity. Johnson explained SunEdison's troubles were the result of a yield company strategy that allowed them to buy projects at below market rate. The company was able to cut the cost of capital, thereby reducing the return they were able to take on projects.
"If your cost of capital declines, that means the return that you're willing to take on a project declines," Johnson said. "They were willing to basically buy projects at below market rates. Then the yield co story fell apart, so they were left with a lot of projects that, without the ability to sell them to a yield co, i.e., low cost of capital, were uneconomical in the open market."
Related Link: SunEdison Now A Penny Stock, According To This Sum-Of-The-Parts Valuation
This project-focused approach hurt SunEdison because it couldn't make those projects produce.
"The problem is because solar projects are very capital-intensive, without any cash flow until you actually sell them, SunEdison found themselves in a position where they had a ton of projects soaking up a lot of cash and they're not generating a lot of cash," Johnson explained.
"Fast forward to today. We found yesterday when we downgraded the stock that the company is essentially being investigated because previous executives and an employee that left the company are implying the company's liquidity position isn't what the company isn't what they're representing to the public."
Johnson believes the executive in question is former TerraForm Power Inc (NASDAQ: TERP) and TerraForm Global Inc (NASDAQ: GLBL) CEO Carlos Domenech. Johnson also outlined how a planned deal with Hawaiian Electric Industries, Inc. (NYSE: HE) fell through, preventing the company from extinguishing $330 million in debt and issuing a dividend as it had planned.
"So when you mix the fact that they're delaying the filing of their 10-K because they're being investigated off this previous executive's comments, you add to that that they missed a preferred dividend payment and they have all these unsold projects, it seems like this company is in the midst of a very tough situation."
"We love SunEdison, but we think their stock is in serious trouble right now."
Axiom's price target for the stock is $0.39.
SolarCity
Johnson outlined a regulatory issue explaining why he thinks SolarCity is overvalued. Forty-four states are disputing net metering policies, under which solar users do not pay for use of power distribution systems such as power lines. Johnson explained that a significant portion of normal electric bills cover power distribution costs.
"We think SolarCity is a stock that will unfortunately have some problems for the next six to twelve months," Johnson said. "We think the stock is grossly overvalued."
SunEdison shares were up 10 percent and SolarCity up 7.88 percent at the time of publication, despite Johnson's warnings.
Image Credit: Public Domain
View Comments and Join the Discussion!
Posted-In: Analyst Color Education Top Stories Exclusives Markets Analyst Ratings Movers Tech Best of Benzinga