Apple Watch Holiday Numbers Are Awful, Miss Street Estimates By 25%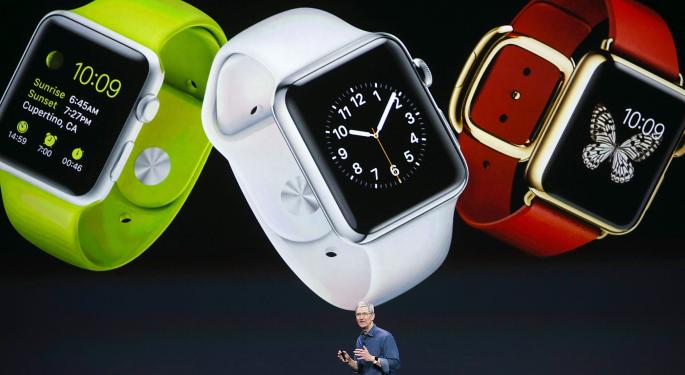 Apple Inc. (NASDAQ: AAPL) shipped 4.1 million Apple Watches in the fourth quarter of 2015, according to the latest data from International Data Corporation (IDC). The number missed consensus estimate of 5.5 million by 25 percent.
The Numbers
IDC said Apple grew its Watch distribution, enjoyed holiday promotions, and drove the company's overall 'Other Products' revenue during the fourth quarter. However, volumes for the quarter grew only slightly from the previous quarter and total revenues have yet to counterbalance the slowing growth and decline from the company's other product categories.
Earlier this month, a report from Canalys said Apple shipped two-thirds of all smartwatches in 2015. Analyst Jason Low said cashing in on holiday sales, Apple managed to rack up over five million shipments in the fourth quarter.
Who's More Fit?
According to IDC, Apple Watch captured 15 percent market share in the fourth quarter, next only to Fitbit Inc (NYSE: FIT) which holds a market share of 29.5 percent. The latest figures suggest that Apple Watch, which was launched in April, is not a runaway hit like its earlier products.
Apple Watch sales grew only 5 percent in the fourth quarter versus third quarter, while Fitbit sold 8.1 million fitness trackers in the fourth quarter, an impressive growth of 72 percent from the third quarter. For 2015, Apple shipped 11.6 million Watches.
See Also: Gene Munster: Apple Watch 'Struggling,' But Catalysts Still Coming For Shareholders
Expectations are huge for the next-generation Apple Watch that can leverage the company's platforms (HealthKit, ResearchKit, WatchKit, and watchOS 2) and connectivity capabilities.
Smartwatch 101
Smartwatches are multi-purpose devices that serve as accessories to smart devices, are designed to be worn on the body and not carried, run an operating system and are capable of running third party computing applications. Apple is betting big on this trend and analysts are considering Apple Watch as the next growth engine for the California-based iPhone maker as health-conscious customers are expected to continue to boost the Apple Watch sales.
Moreover, Apple Watch is key to company's prospects as its key products are attaining a saturation point. For the quarterly period ended December 26, 2015, iPhone sales grew only 1 percent, iPad sales fell 21 percent and Mac sales declined 3 percent. Shipments for all three categories missed Wall Street expectations.
Evaporating Market?
Gene Munster told Benzinga last month that though the device has significant share of the smartwatch market and could be on pace with early iPad sales, the idea that the Watch will give Apple a more diversified income stream beyond the iPhone might be evaporating.
Ramon Llamas, Research Manager for IDC's Wearables team said: "What is warranted is continued innovation and development. The market can only get so far with 'me too' and 'copycat' wearable devices. End-users expect improvement from what they have now, and new applications to spur replacement and increased adoption. Historical data, like steps taken and calories burned, has been a very good start. Prescriptive data, like what else a user can do to live a healthier life, coupled with popular applications like social media, news, and navigation, will push wearables further, and attract more users."
IDC said vendors shipped a total of 27.4 million wearable devices during the holiday quarter, besting last year's levels by 126.9 percent. For the full year, vendors shipped a total of 78.1 million units, up 171.6 percent over 2014.
View Comments and Join the Discussion!
Posted-In: Apple Watch IDCAnalyst Color News Top Stories Tech Best of Benzinga