EXCLUSIVE: Second Sight Chairman Dishes On Recent Success As Shares Skyrocket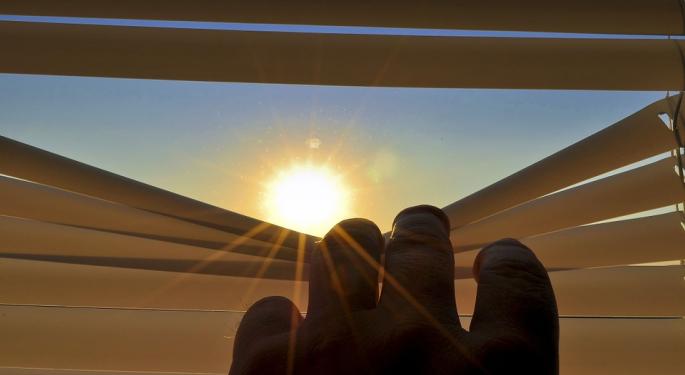 Second Sight Medical Products Inc (NASDAQ: EYES) shares are up almost 20 percent on Tuesday after the stock had an equally impressive day to start the week amid chatter its Argus II system would be included in an upcoming special on HBO's Vice.
After a morning presentation at the RBC Capital Markets 2016 Global Healthcare Conference, Second Sight Chairman and co-founder Dr. Robert Greenberg spoke with Benzinga about the future of the company and the recent attention surrounding it.
"In terms of media attention of products, the Argus II is a life changing therapy for patients...it has the potential to help patients who are blinded from other diseases as well," Greenberg said. "We've been fortunate that there's been very positive media coverage of the patients who received the therapy...it helps get the word out to other patients."
While a conference call last year noted fewer than 1,000 patients had expressed interest in treatment, Greenberg said the "hope" with the Vice special is that a family member would pass word of the technology to ailing family members.
Managing Scale, Current Treatment 'Cadence' Is One Per Month
One question H.C. Wainwright's Amit Dayal, who holds a $21 price target on the stock, had for Second Sight concerned its ability to manage scale as demand for the product increases.
Greenberg said growth in the number of treatment centers has increased from 18 to 33 in less than a year, adding that the "good news" is that the company doesn't need an overwhelming number of facilities because patients will travel for a "life-changing" therapy.
The Chairman also talked about Second Sight's supply chain. "We can produce about 1,000 units a year at our current facility before we'd need to move...we feel pretty good about our supply chain right now."
Greenberg said a "cadence" of about one implant treatment per month is what the company is hearing from existing treatment centers. "I'd expect as they [centers] gain experience with the technology...I'd expect them to do a lot more than that in the future," he added.
Longer-term, Greenberg said the total addressable market could be 6 million patients globally, adding that Second Sight technology can be used to treat glaucoma and all forms of blindness.
Sell-Side Coverage: Will More Join In?
Although Greenberg said he's spoken with "a number" of sell-side analysts, just one -- H.C. Wainwright's Dayal -- offers coverage at the moment.
"My guess is that other people will begin to take an interest, but I think analyst coverage tends to follow traditional financing. We have not yet done traditional financing...our IPO was done with a small bank...that didn't have research coverage as part of their bank," Greenberg explained.
Dayal, for his part, said he likes the stock with a Buy rating. Dayal described Second Sight as the "only name in town for these types of procedures," adding that "everyone else is 2 to 3 years behind."
Despite this bullish view, Dayal did say the company ultimately needs to increase the number of treatments it performs while continuing to commercialize its products.
Second Sight shares have been hit by the broader biotech selloff, down 54 percent in the past year. They are, however, up over 40 percent in the past 30 days and passed a year-to-date high on Tuesday.
Nick Donato contributed to this report.
View Comments and Join the Discussion!
Posted-In: Analyst Color Biotech News Guidance Small Cap Analysis Top Stories Market-Moving Exclusives Exclusives Best of Benzinga