The 8 Best Charts In The World After Super Bowl 50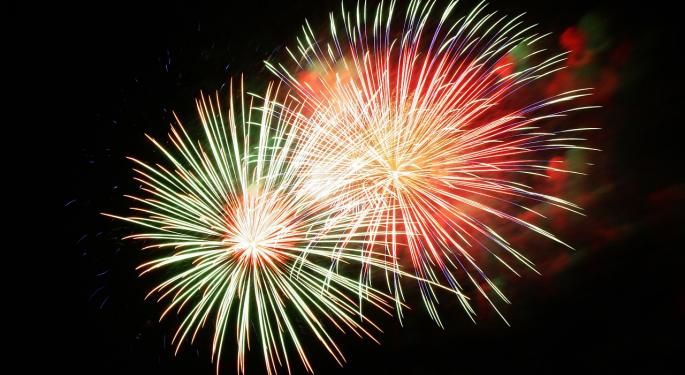 Extending the celebrations of Super Bowl 50, JC Parets has published a list of what he views are "the best 50 charts in the world."
From banks to better investments, Parets has imparted a goldmine of graphs. Take part in the ongoing conversation under the Twitter hashtag #SB50Charts.
What follows is just a sampling of the intriguing 50 charts Parets has shared.
General Motors Company (NYSE: GM) Vs. Tesla Motors Inc (NASDAQ: TSLA)
Counter to the popular trend, Parets showed via the following chart that things have changed and instead of buying Tesla and selling "everything else," it's now time to cash in on the "Buy GM, Sell Tesla" pair.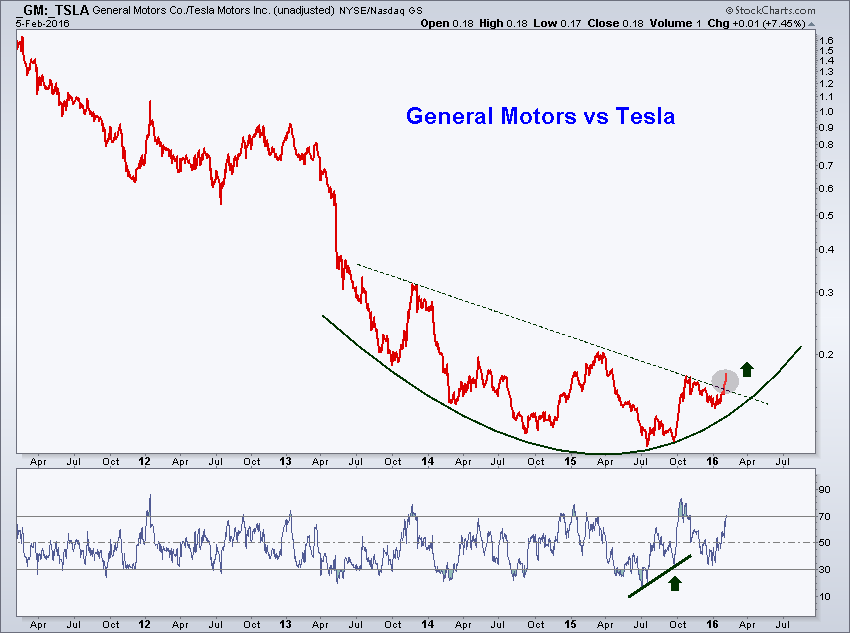 "We are witnessing a bearish to bullish reversal and the pair broke out this week above a downtrend line from the late 2013 highs. The bullish divergence in momentum last year sparked this rally and now momentum is in a solid bullish range. We want to be long this pair aggressively as long as we are above the downtrend line from 2013."
Related Link: Are Super Bowl Ads Worth The Money?
Tanking Regional Banks, REITs And Interest Rates
Parets explained how regional banks and REITs perform against the sentiment that interest rates are going to rise or fall, giving a ratio to watch that can hint at future interest rate directions.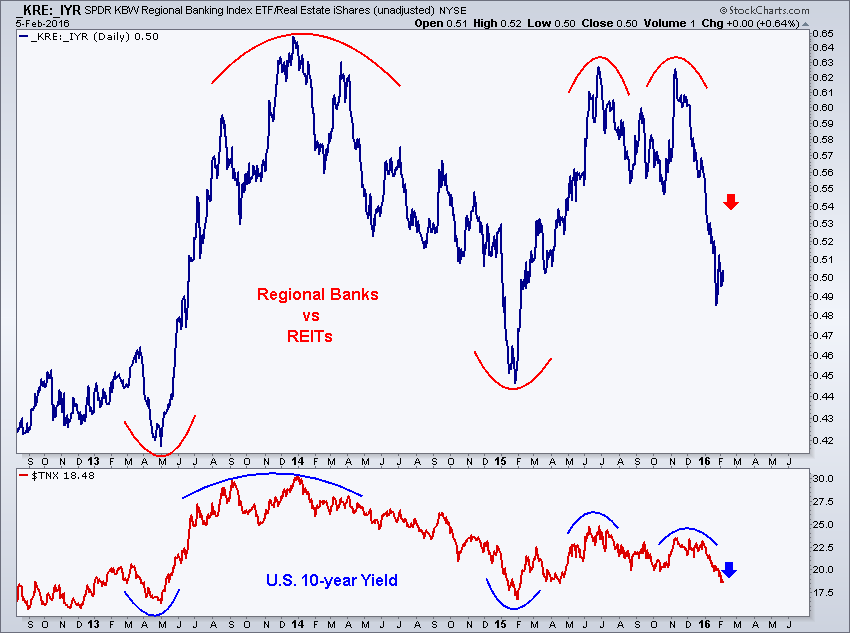 "Regional Banks benefit when the market thinks interest rates will rise and Real Estate Investment Trusts (REITs) benefit when the market thinks interest rates will fall. The ratio between them gives us clues as to the direction of interest rates […] Both appear to be heading lower as the trend continues."
Electronic Arts 'Failed Breakout'
Cited as Parets' "favorite set up of them all," a failed breakout makes the top 50 charts. This particular chart illustrates Electronic Arts Inc. (NASDAQ: EA)'s recent performance.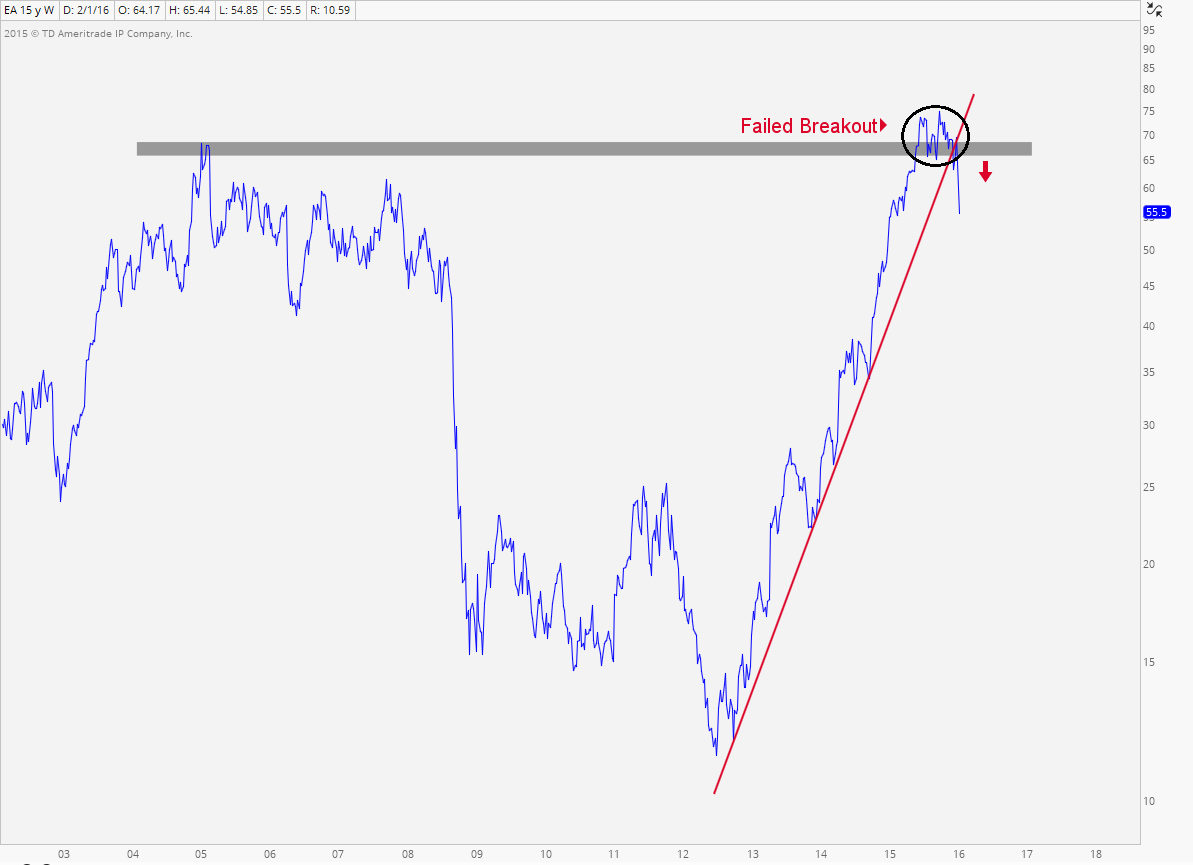 "Prices broke out last year to new all-time highs above the 2005 highs, the media gets all excited coming up with all kinds of crazy stories to justify such price behavior, and then the unwind began. At this point we are back below the 2005 highs and below the uptrend line from the 2012 lows. This is as text book as it gets. We want to be aggressively shorting EA and selling into any strength back towards that uptrend line and former 2005 highs."
German Stocks Will Keep Tumbling Down: ETF Series Trust (NASDAQ: DAX)
Parets is calling the end of the German stocks' bull market.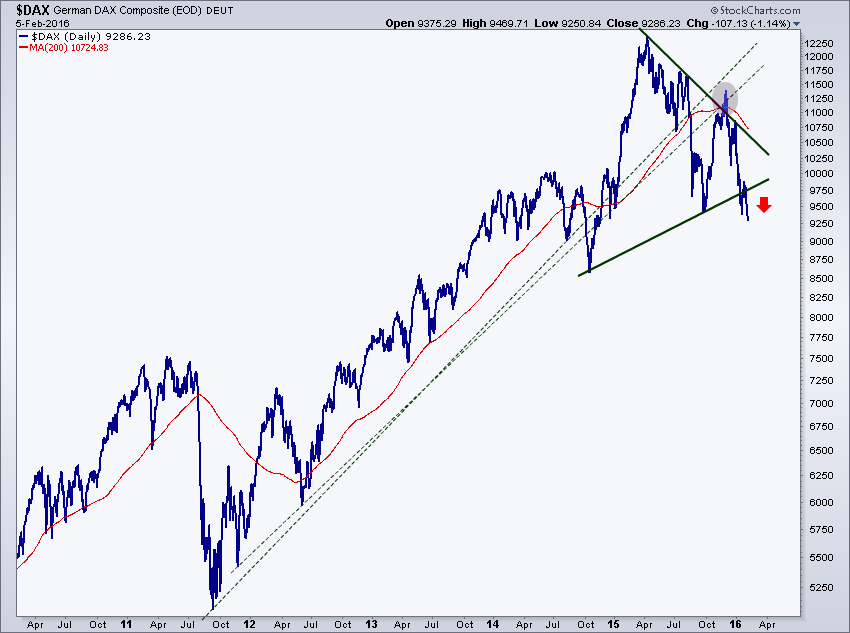 "After a consolidation over the past year or so, prices have now resolved to the downside. This comes after the German DAX broke the uptrend lines from the 2011 lows. We want to be selling any and all strength in German stocks and short these things as they appear poised to head a lot lower."
Related Link: How Major Studios Are Advertising During Super Bowl 50
Treasurys, Stocks Pair
"Buy U.S. Treasury Bonds and Short U.S. Stocks," Parets suggests, based on the below data.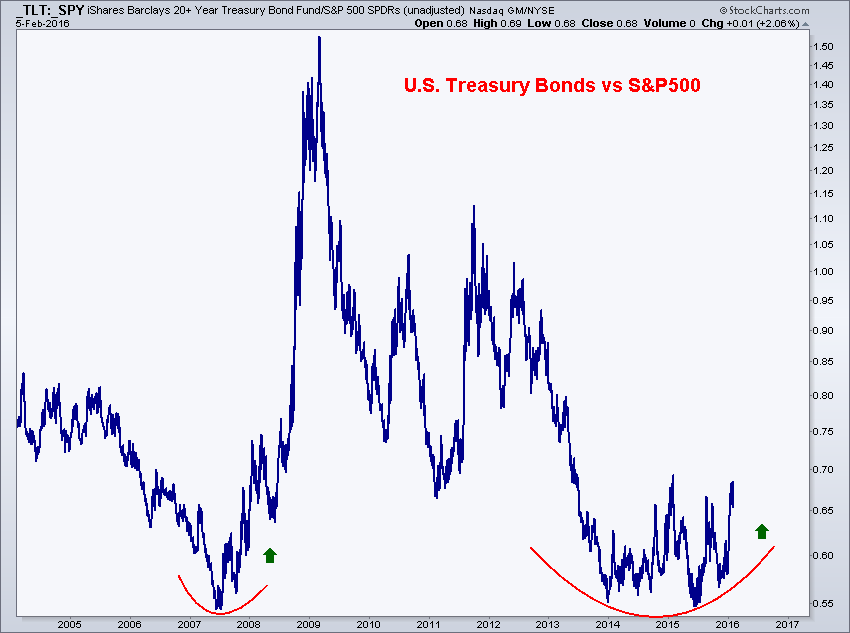 "This has been one of my favorite trends for a while: Bonds over stocks. It has been working and making money for over 2 years and [I] fully believe this will continue. We want to be buying any dips in U.S. Treasury Bonds and selling into any rips in U.S. Stocks as this ratio bottoms out [at] exactly the same level it did in 2007. This is not a coincidence."
Apple Inc. (NASDAQ: AAPL)'s 'Beautiful Downtrend'
The apple is falling, and Parets suggests investors pay attention.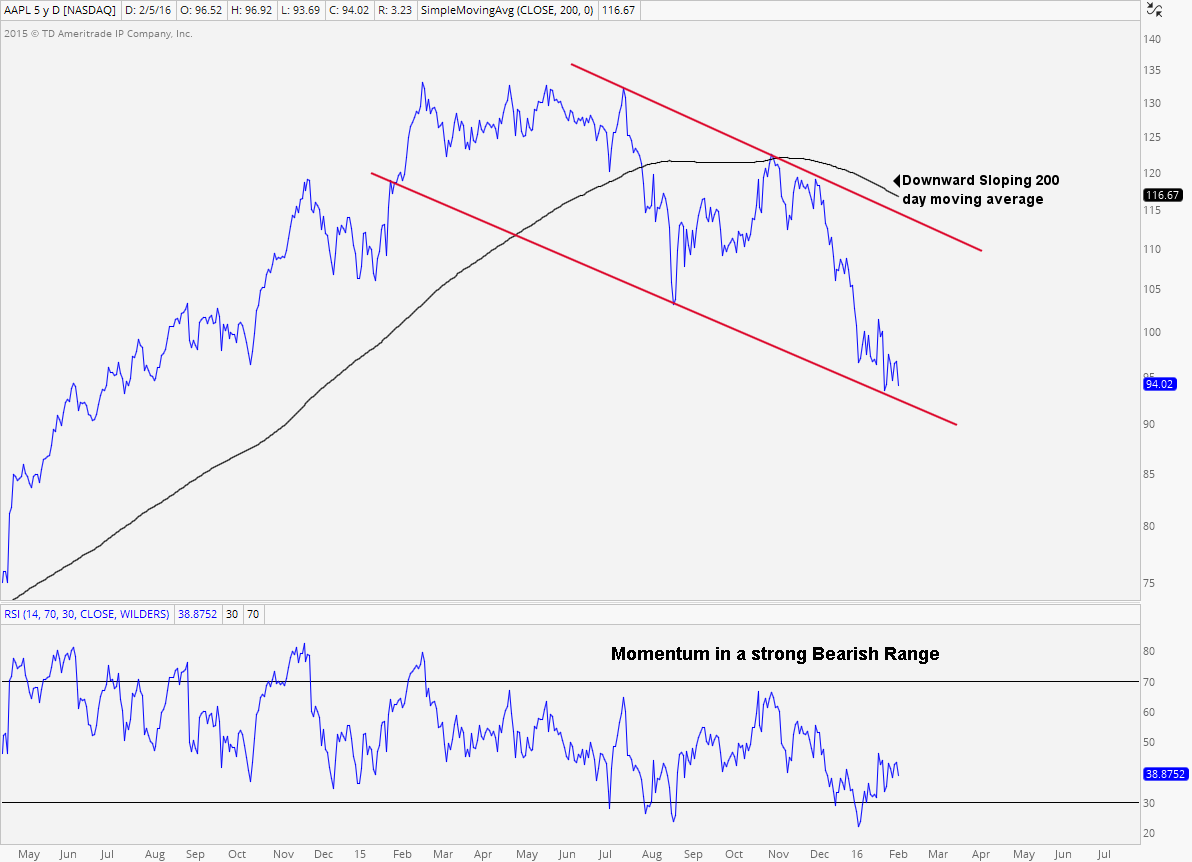 "Apple is in a very well-defined downtrend and has been since early last year. Prices are making lower lows and lower highs below a downward sloping 200 day moving average […] We still want to be aggressive sellers on any strength towards the upper end of this channel."
Short Berkshire Hathaway Inc. (NYSE: BRK-A)
Parets proposes that based upon the data indicated in the chart below, shorting Warren Buffett, and shorting him "very aggressively" may have significant upsides.
"The underperformance of Warren Buffett's Berkshire Hathaway is nothing new. […]I would be shorting strength in this name as long as we remain below the downtrend line from last years highs. On a relative basis, even with dividends, Warren Buffett is underperforming the S&P500 dramatically over the past year as well as over the past 5-year period. I expect this trend to continue as the data suggests that nothing has changed."
Facing Facebook Inc (NASDAQ: FB)
In the below chart, Parets highlights the humorous aspects of group think, "As someone who looks all over the world and FB is just one of thousands, it's amazing how many investors pick this one stock. It always amuses me to watch how we behave as humans."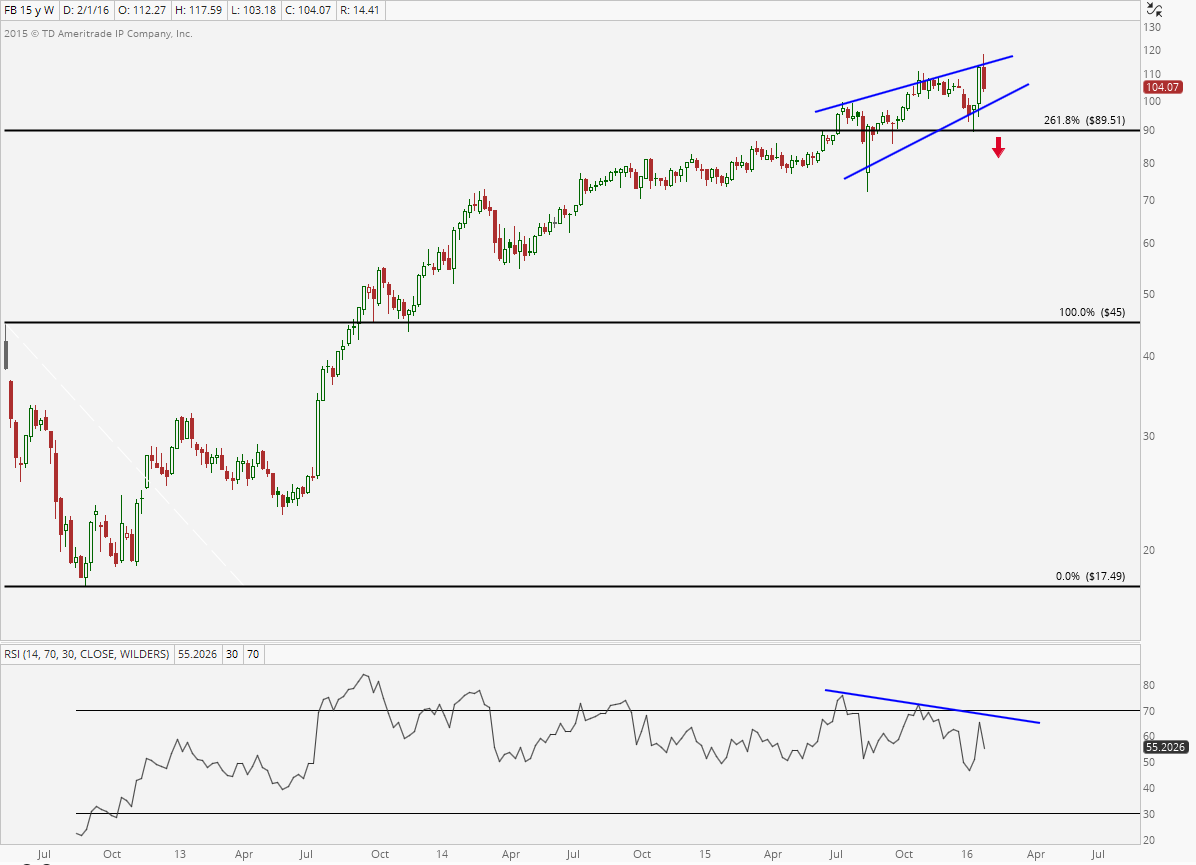 "Here's how I see it," Parets began, "Last year we broke out above the 261.8 percent Fibonacci extension of the entire collapse after the IPO. This gives us a logical line in the sane to trade against. If we take out last month's low, it would confirm a bearish momentum divergence and also a breakdown below this rising wedge from last year. I hate it when prices consolidate in the direction of the underlying trend, rather than against it. (Nine) 9 times out of 10 this means a breakdown is coming. I would get short if prices break last month's lows and only be short if we're below that."
The full list of 50 can be found here.
View Comments and Join the Discussion!
Posted-In: Analyst Color Long Ideas Education Short Ideas Technicals Top Stories Markets Trading Ideas Best of Benzinga