Looking Back: Why Alcoa's Earnings Beat Spells Trouble For The Global Economy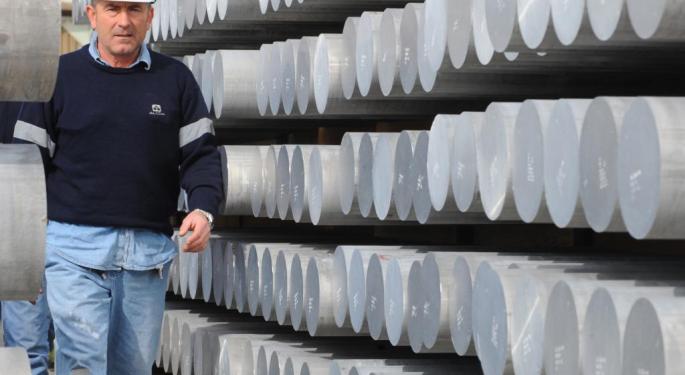 Alcoa Inc (NYSE: AA) kicked off the earnings season by beating expectations, but with a slight $50M miss on $5.3B revenues.
The company had a slight hall pass coming into the quarter. In light of collapsing commodity prices, expectations for materials companies like Alcoa are pretty low. Plus, the stock had been trading recently at post-recession lows. But that didn't matter; the bad news wasn't fully priced in and the stock has fallen 12%.
Alcoa's Insight Into The Global Economy
Alcoa confirmed the bad news for 2016's global economy: there is no China rebound.
It's not necessarily bad news. China is still growing, but more slowly. Going back to Alcoa as an example, the company expects 8% growth in volume demand for China in 2016, compared to 9% in 2015 – strong but not as strong.
Since most S&P 500 companies depend on global sales in general and China in particular, that points to big problems ahead if the softness hasn't been priced in. That means more softness ahead in the stock market as expectations get revised down… again.
That's exactly what Han Jun, the Deputy Director of China's office of the central leading group for financial and economic affairs, said during his trip to New York two weeks ago. From Bloomberg:
In a discussion that ranged from the accuracy of Chinese statistics to the country's reform agenda, Han warned that China's growth hasn't hit the bottom yet as the government focuses on reducing overcapacity and cutting corporate debt.
Han, who was involved in drafting the government's five-year economic planning, said the government will refrain from "strong" economic stimulus because its focus is on shifting the $10 trillion economy to a more sustainable growth model. Investors should expect "a long period" with an L-shaped growth path, instead of a faster U- or V-shaped recovery, he said.
There are a few things to understand here. Mr. Jun is not another official on another speaking tour, and the five-year plan is not just another plan. The plan was recently developed and will set China's public sector spending for 2016 as well as indicate the support given to the private sector. The plan has not been released (and won't be until March), but there were indications that slower growth would be tolerated.
Mr. Jun was dispatched by China to the New York and Washington powers-that-be to share the bad news. His message: don't look to China to save the day.
However, there is a dose of good news, and that brings us back to Alcoa. There are two major drivers behind the aluminum price collapse. The first is slowing demand. The second is excess capacity as Chinese officials are reluctant to shut unprofitable smelting plants. Although, during his tour, Mr. Jun said that the government is trying to close the unproductive factories. It's an important signal, like Russia saying that it is willing to talk to OPEC about supply cuts. Unlike Russia and OPEC, China has an awful track record of following through.
The central problem facing 2016 is excess capacity and slowing demand, which will combine to mean excess supply. Alcoa says that even slower demand will mop up the excess. If so then late 2016 could look good for heavy industry stocks, but there is absolutely no indication that this will be the case. Until then, Alcoa and all manufacturing stocks will remain in the doghouse.
That's the industrial side of the economy, but what about the service economy? How long can the US service economy withstand this manufacturing recession? US goods exports in 2015 will be $100B below 2014 and there is no sign that things will improve in 2016. Less money being spent means less shopping and bar hopping. That hasn't shown up yet, but it will.
That's the next leg down for the stock market. Most service and consumer product stocks have pulled back because of global – not US – issues. These companies are seeing revenues get squeezed by sluggish sales in China and the impact of a stronger dollar when converting sales into dollars. A bigger collapse will come if US consumer spending retreats, and that's the big question.
Key Takeaways
The best case scenario for the global economy is stability, i.e. no more contraction. However, the likely case is continued economic contraction through 1H 2016.
For the stock market, that means more downside. If Mr. Jun says China's 2016 growth will be flat, then it's more likely to be negative. Yet even flat growth for China's economy spells bad news for a stock market that requires growth.
View Comments and Join the Discussion!
Posted-In: Alcoa Alcoa earnings beatAnalyst Color Short Ideas Commodities Markets Analyst Ratings Trading Ideas Best of Benzinga