What The Street Expects From Apple's Earnings Call Next Tuesday: A Comprehensive View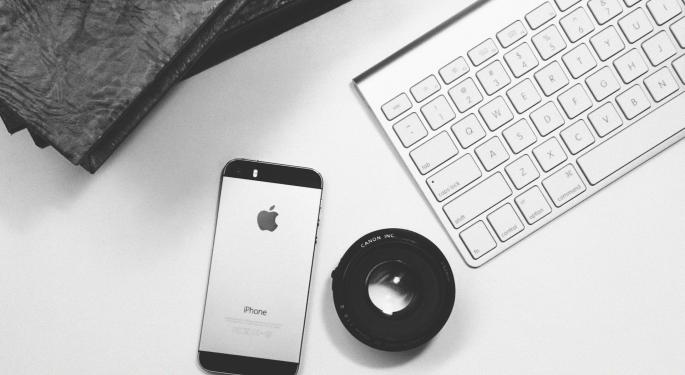 Apple Inc. (NASDAQ: AAPL) is scheduled to announce its first-quarter fiscal 2016 financial results next Tuesday, January 26, at 5:00 p.m. ET.
The Street is modeling consensus earnings of $3.24 per share, up 5.8 percent year-over-year, on revenue of $76.412 billion, up 2.4 percent.
If the tech behemoth manages to meet estimates, the first quarter of fiscal 2016 would be the best quarter in years. But, what's behind such bullishness?
Below is a look at what five major Wall Street research firms are expecting from Apple's earnings call next Tuesday.
Piper Jaffray
Piper Jaffray analyst Gene Munster recommended buying shares of Apple into earnings and over the next month, citing beliefs that over the next six months the stock will see its P/E multiple expand, similarly to past iPhone change cycles.
Analysts at Piper Jaffray think the stock could return more than 50 percent between the present and the launch of the iPhone 7 in September.
In their view, the pullback the stock experienced over the past couple of months makes valuation attractive now. "While macro issues (falling oil prices, China's economic/currency problems, and the instability in the EU) are wild cards, the company specific setup for shares of AAPL remains favorable," they concluded.
Consequently, they reiterated an Overweight rating and $179.00 price target on the stock.
For the first quarter of fiscal 2016, the experts anticipate above-consensus EPS of $3.27 on revenue of $77.0657 billion.
Related Link: Did Apple Just Hire A Virtual Reality Expert?
Pacific Crest
On Thursday, analysts at Pacific Crest recommended an Overweight rating on Apple into the earnings call, adding that they see a favorable long-term risk/reward profile. The experts believe the Street appropriately reset expectations for fiscal 2016 iPhone units, and think that the iPhone 7 cycle offers "potential for significant iPhone unit growth."
This should provide support for earnings to surge as 2016 progresses, and should in time drive some stock appreciation.
The firm is projecting first quarter EPS of $3.14, ten cents below consensus, on revenues of $74.581 billion.
Raymond James
Earlier this week, analyst Tavis C. McCourt, reiterated a Market Perform rating on shares of Apple ahead of the first quarter print. The firm had trimmed its iPhone unit assumptions in mid-December, seeking to reflect several negative data points from the company's supply chain.
Now, the analysts have had the time to reassess their stance "towards iPhone sell-through, smartphone market trends, and the likely impact of a still strengthening U.S. dollar against currencies of many 'growth' economies. The net of this is that we are lowering our EPS slightly, and although we do expect growth in 2017, we do not expect a major iPhone 7 bounce-back," the report issued Tuesday assured.
While the shares look inexpensive at current valuations, analysts at Raymond James expect the second quarter of 2017 will probably be the next quarter of positive year-over-year earnings growth for the company. Consequently, they think the stock could remain range-bound for a few more quarters to come.
For the first quarter, the firm expects earnings to come it at $3.18 per share, 6 cents below consensus.
Goldman Sachs
Analysts at Goldman Sachs issued a Buy rating and $155.00 price target on Tuesday. The experts are modeling first quarter revenues of $76.8 billion (up 3 percent year-over-year, versus guidance of $75.5-$77.5 billion), and EPS of $3.28.
While their expectations for the first quarter stand above consensus, they anticipate guidance for the March quarter will be weak; however, this conservatism seems to be priced into the stock, they commented.
Related Link: Gene Munster Is Buying Apple Before Earnings; Says Most Bad News "Priced In"
UBS
Finally, UBS analysts Steven Milunovich and Peter Christiansen rated the stock a Buy on Wednesday, with an attached $130.00 price target. They envision first quarter revenue of $75.6 billion, toward the low end of guidance, and earnings of $3.18 per share.
The experts "are in-line with consensus on Dec iPhone units of 75mn, but downside is driven by an iPhone ASP of $662 vs the Street at about $680," the report added.
"If IBM is a guide, currency could create downside pressure due to hedges rolling off and Apple not hedging China sales," they added. For the second quarter of fiscal 2016, the firm stands 5 percent below consensus at $53.2 billion of revenue and $2.16 on EPS, mainly due to its lower iPhone unit estimate versus the Street.
Disclosure: Javier Hasse holds no positions in any of the securities mentioned above.
Image Credit: Public Domain
Posted-In: Analyst Color Long Ideas News Short Ideas Price Target Previews Reiteration Top Stories Best of Benzinga
View Comments and Join the Discussion!