11 Different Ways To Play The Bear Market (From 11 Traders)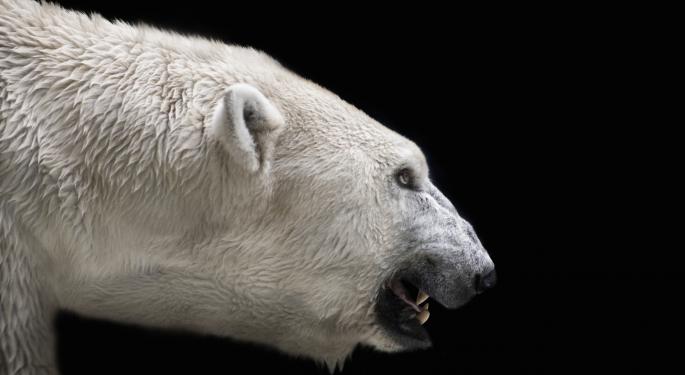 The following opinions have been curated from the ClosingBell community. ClosingBell has been nominated for the 2016 Benzinga Fintech Awards.
Are we in a bear market? Is there still some life left in the bull market? The answer is unclear, and experts are mixed. What is certain, though, is that there are many ways to play a potential down move.
ClosingBell's community of thousands of stock-pickers recently chatted about 11 different ways to play a bear market. Here's what they were asked, and what they said.
QUESTION: The Dow just had the worst 1-week start to a year in history (down 6.2 percent) according to S&P Dow Jones, pushing some pundits to proclaim the start of a bear market. What are your best stock picks for a bear market and why?
"I think we are in for a difficult year due to conversations I've had with people close to the debt market. Liquidity isn't a problem, but deals aren't getting done. My experience is that junk bonds and commercial lending having issues are the canary in the coal mine. Add China issues and politically-driven rate hikes and the market is in trouble in 2016."
"Buy out-of-the-money put contracts on Wal-Mart Stores, Inc. (NYSE: WMT), Ford Motor Company (NYSE: F), Gap Inc (NYSE: GPS), Celgene Corporation (NASDAQ: CELG), iShares MSCI Brazil Index (ETF) (NYSE: EWZ), iShares MSCI Emerging Markets Indx (ETF)(NYSE: EEM), IMW and Yelp Inc (NYSE: YELP). If we go into recession, you will win big, guaranteed. Use prudent risk management (less than 1 percent assets per position), use technical stops and roll winning contracts forward. Keep an eye on ALK, DAL and JBLU. The energy complex is so weak — airlines will reap the benefit. Also learn how to trade in the futures market. It's probably a bad idea to have all your money in stocks anyway."
Mike Howell, Former Investment Banker; Active Trader
"First would be Wal-Mart, who already has a proven record of delivering essential products during economically tough times while still maintaining profit margins. Second would be General Mills, Inc. (NYSE: GIS). During periods of economic contraction, people begin to prepare more food at home vs. restaurants and take-out food. It's one of our biggest discretionary cost of Americans, and for the simple fact that I love Cheerios. Rounding off with AutoZone, Inc. (NYSE: AZO), prudent consumers hold off to buy new cars."
"Bear Markets provide investors with opportunities to buy stocks at bargain prices. Dividend investors in particular should be happy to see bear markets. The lower stock prices go, the greater dividend yield new purchases will have. Higher dividend yields mean a shorter dividend payback period. That doesn't mean high quality dividend growth stocks don't see price declines in bear markets — these stocks fall as well, but not as much, on average. Some good examples are McDonald's Corporation (NYSE: MCD), Wal-Mart or Johnson & Johnson (NYSE: JNJ)."
Joe Degenfelder
"While the global market seems to be unstable, the U.S. market looks to have some strength. This, combined with national gas prices below $2 make domestic transports seem to be a good opportunity. Additionally, low unemployment rates should lead to increased disposable income, which will help increase revenue for domestic transports. My top pick is Wabash National Corporation (NYSE: WNC) as it is already undervalued and has limited downside risk. And if the market should turn positive, I expect WNC to outperform."
"This is the start of a bear market. Top Shorts: Boston Beer Co Inc (NYSE: SAM) and Amazon.com, Inc. (NASDAQ: AMZN). Boston Beer faces too much competition. Amazon is overvalued. Top Longs: Colgate-Palmolive Company (NYSE: CL) and Reynolds American, Inc. (NYSE: RAI). Both firms are recession-resistant as people don't stop smoking or brushing their teeth during a recession."
"Starbucks Corporation (NASDAQ: SBUX) - They have some really smart business plans, and is a solid company regardless of current market conditions. NVIDIA Corporation (NASDAQ: NVDA) - They have a solid position on many future computing needs. Apple Inc. (NASDAQ: AAPL) - It's on sale right now, get on it. Everyone is always talking sh*t about Apple, but just look at the data!"
"My 2 best stock picks for a bear market right now are Estee Lauder Companies Inc (NYSE: EL) and Ulta Salon, Cosmetics & Fragrance, Inc. (NASDAQ: ULTA). For one, in a recession the consumer will be doing anything they can to feel more confident. Beauty products are a quick and simple way to do this. It is proven that during recessions beauty products continue to sell normally and sometimes even see sales growth. Lastly, consumers are sticking with Amazon.com for all of their shopping needs. However, the consumer still prefers to shop for beauty products in person."
"I'm buying Kraft Heinz Co (NASDAQ: KHC), Phillips 66 (NYSE: PSX), Dover Corp (NYSE: DOV), Emerson Electric Co. (NYSE: EMR), and maybe even some Apple. These are (mostly) solid dividend aristocrats, or stocks that Buffett/other billionaires have heavy allocations in."
Vishwadakshinah
"Cal-Maine Foods Inc (NASDAQ: CALM), Wal-Mart, Ford, American Express Company (NYSE: AXP), International Business Machines Corp. (NYSE: IBM), Discover Financial Services (NYSE: DFS). All have a good dividend and stable businesses. Diversified investment."
"The financial news is for entertainment, not for education. They tell you to close the stable door, after the horse bolted. If you are looking long-term, there's no difference between a bull and bear market stock. Though the recent sell-off may throw up some opportunities for the long-term investor. At Stockflare, we don't make recommendations, but give users the tools to run the analysis themselves. For example, a screen of the 5 largest "High Quality" stocks in the U.S. yields: Apple, Citigroup Inc (NYSE: C), UnitedHealth Group Inc (NYSE: UNH), AbbVie Inc (NYSE: ABBV) and Express Scripts Holding Company (NASDAQ: ESRX). They are all well-run quality businesses that have good long-term prospects."
View Comments and Join the Discussion!
Posted-In: Analyst Color Long Ideas Education Specialty ETFs Technicals Previews Economics Trading Ideas Best of Benzinga