Piper Jaffray Makes 15 'Provocative' Predictions For Biopharma Sector In 2016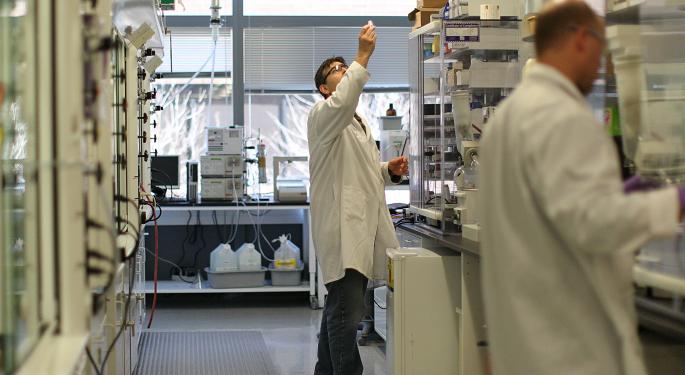 Joshua Schimmer of Piper Jaffray commented in a note that he is "eager to hit the reset button" within the biopharma sector.
Schimmer presented a list of potential outcomes and events in 2016 which represent contrarian views or ones that investors "aren't even contemplating."
The analyst noted some of his calls may be provocative and low-probability events.
It's been a "very long and tiring" year within the biotech sector, at least according to Joshua Schimmer of Piper Jaffray.
Schimmer commented in a note on Thursday that investors are "increasingly frustrated" with the sector's performance in 2015 and many investors have a "fairly bleak" outlook for the year ahead. Nevertheless, the analyst stated there are still several considerations that position the sector for "strong performance" in the coming year.
With that said, Schimmer presented a list of what he considers to be the "top potential surprises" in the coming year. By his own admission, the list is also "provocative" and contains some "admittedly low-probability events."
"We do believe in paying careful attention to the 'fat tails', or less likely scenarios but ones that may be associated with extreme stock movements," the analyst added.
Related Link: 5 Biotechs That Can Win From Ophthalmology Innovation
Here is Schimmer's list:
1. Drug pricing concerns will "abate."
Schimmer noted that the rate of increase in drug spending will slow "considerably" at a time when the "high rewards to innovation" are leading to "heightened competitive dynamics." Accordingly, these "dynamics" will alleviate drug pricing concerns
2. 4 DMD drugs will gain FDA approval
Investors may have concluded that prospects for DMD drug approvals are "bleak." However, the FDA has become "much more patient-friendly," thereby making it "difficult" to deny therapy to patients that are "desperate for answers."
3. Valeant Pharmaceuticals Intl Inc (NYSE: VRX) business structure will be broken up.
Given the "firestorm" surrounding Valeant's business practices and management's "sanguine" outlook, large shareholders may conclude that the company would be worth more when broken into pieces.
4. There will be a "significant easing" of FDA generics backlog.
A "significant" uptick in the number of aNDA approvals could prove to be a top-line growth catalyst for generic companies. In addition, an earlier than expected resolution of GDUFA II could prove to be a "catalyst for more approvals" in the coming year.
5. As Gilead Sciences, Inc. (NASDAQ: GILD)'s HCV franchise grows year over year, the company will acquire Alexion Pharmaceuticals, Inc. (NASDAQ: ALXN).
According to the analyst, Gilead's HCV ex-US growth is "just getting started." However, this by itself won't "substantially" change the company's long-term growth challenges and the company will make use of its strong cash flow and balance sheet to create "substantial value" from M&A activity, specifically by acquiring Alexion.
6. ISIS Pharmaceuticals, Inc. (NASDAQ: ISIS) will change its corporate name.
ISIS Pharmaceuticals has been considering a name change for some time (for quite obvious reasons) and 2016 is "the right time" for the company not only change its name but "revamp its entire image."
Note: CNBC reported on Friday that ISIS Pharmaceuticals will change its name to Ionis Pharmaceuticals. The stock's ticker will also change from "ISIS" to "IONS"
7. CellRx will score a "win."
After many years in which the cell therapy group has yet to achieve any "meaningful" clinical validation, the field is "due for a win."
8. Sangamo Biosciences, Inc. (NASDAQ: SGMO)'s HIV program will prove to be a "black swan."
Schimmer suggested that investors may be "overlooking the upside potential" in Sangamo's HIV program as an out-licensing candidate. The analyst added that "tangible" progress on a partnership marks a "real potential source of upside" in the coming year.
9. Bispecific antibodies will start to appear "transformative."
Schimmer pointed out there is a "growing movement" of more than 30 companies that are working on bispecific antibodies that are designed to engage the immune system and target it against cancer antigens. Accordingly, clinical experience with bispecific antibodies will grow and investors will begin "appreciating" their "transformative" potential.
10. Shares of Akorn, Inc. (NASDAQ: AKRX) will be delisted from the exchange.
Schimmer stated that the "unknowns" surrounding the company's financials and the "specter of a delisting" are question markets, although the market isn't worried given the stock's current valuation.
11. Interchangeable biosimilars will move "back on the radar screen."
Interchangeables are "an obvious target" for cost-saving in healthcare especially as the premium-priced biologics "increasingly dominate" specialty drug spending.
12. NBA superstar Lebron James will begin drinking Flex Pharma Inc (NASDAQ: FLKS)'s "It's The Nerve" sports beverage.
Flex Pharma's anti-cramping formulation should garner the attention of "one of the most famous 'crampers' in sports" – LeBron James.
13. The Allergan plc Ordinary Shares (NYSE: AGN) - Pfizer Inc. (NYSE: PFE) merger will go through.
The analyst noted that the transaction "is not even technically an inversion" and as such the consummation of the deal "would essentially be a surprise."
14. The Shire PLC (ADR) (NASDAQ: SHPG) - Baxalta Inc (NYSE: BXLT) transaction "actually happens."
Baxalta has made its "clear opposition" to the proposed transaction very clear but Baxalta's hemophilia franchise and the treatment landscape could "very well see dramatic transformation" in the coming years.
15. PCSK9 antibodies "don't quite live up to their hype."
Expectations are "high" for Amgen, Inc. (NASDAQ: AMGN) and Regeneron Pharmaceuticals Inc (NASDAQ: REGN)'s PCSK9 antibodies. Nevertheless, several "low-probability" are already "generating much dialogue" within the investor community.
Posted-In: Analyst Color Biotech Health Care Previews Top Stories Analyst Ratings Trading Ideas General Best of Benzinga
View Comments and Join the Discussion!