Bluebuird Bio Crashes Nearly 30%: What's Next?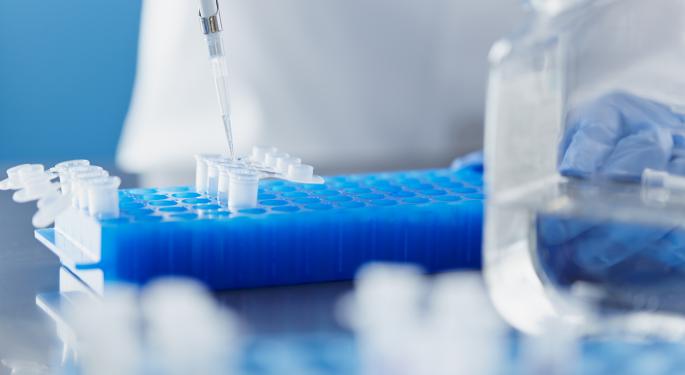 Shares of bluebird bio Inc (NASDAQ: BLUE) plunged nearly 30 percent Monday morning.
Bluebird reported mixed results from its ongoing studies at an industry conference.
Matthew Harrison of Morgan Stanley acknowledged he "took a swing and missed," but other top Wall Street pros maintained a bullish stance.
Bluebird Bio is a clinical stage biotechnology company that develops and commercializes products for patients with severe genetic diseases and cancer.
Bluebird presented results from its ongoing studies. According to The Street's Adam Feuerstein, Bluebird's results from the study were "mixed" and "likely to disappoint investors and spark debate about the company's progress in seeking a cure for the inherited blood disease."
The biotech expert said results from the study suggested patients were only able to produce "small quantities" of normal-functioning red blood cells. He also added that the observed results are "insufficient to positively impact their disease."
Here is a roundup of what some of Wall Street's top analysts are saying following the results.
Morgan Stanley: 'Much More Work Is Necessary'
Matthew Harrison of Morgan Stanley commented in a note that Bluebird's updated data suggest that "much more work is necessary" before a potential cure can be achieved.
Harrison detailed how the new data "significantly" missed expectations.
1) "Post-infusion vector copy numbers are a fraction (eight percent) of drug product in VNC in '206 versus actually improving over the drug product VNC in '205. While management has suggested this could be due to ineffectual ablative pre-treatment, given that this occurred in only one of the two patients and both had poor VNC conversion there appear to be multiple issues. Further, while management is working to improve product VNC it is unclear how long this process change will take."
2) "T87Q hemoglobin product is ~1g after 6mo of follow-up in '206 versus ~4g in '205. Unlike all the other patients given BB305 treatment, these SCD patients appear to have other characteristics inhibiting Hb production making BB305 treatment ineffectual in them. Management has made protocol amendments to adjust pre-treatment ablation, but we think more may be necessary to improve Hb production."
3) "While Hb production does increase with time, the patient in '205 had already begun to have a substantial response at three months (~2g of Hb) versus ~0.1-0.5g for the patients in '206. Given what we know about the kinetics of Hb increase in all the BB305 patients, we find it unlikely that additional time alone could produce cure in these patients."
Related Link: Another Visit With A Leveraged Biotech ETF
Harrison's prior thesis was based on the belief that responses in sickle cell diseases patients would "remain robust." As such, the current data "have now turned that thesis upside down" and a "fix will take time" given the "inability of BB305 to consistently produce Hb in sickle cell patients."
Bottom line, the analyst acknowledged that he "took a swing and missed."
Shares were downgraded to Equal-weight from Overweight with a price target lowered to $69 from a previous $143.
Wedbush: Bluebird's 'Considerable Resources' Could Resolve Issues
David Nierengarten of Wedbush commented in a note that "as expected," Bluebird reported that treatment of older sickle cell disease patients "appears to be challenging."
"HGB-206 study results revealed two adult SCD patients treated with LentiGlobin have demonstrated lower levels of anti-sickling hemoglobin," the analyst wrote. "At six months post-infusion Subject #1303 (42 years old) demonstrated anti-sickling hemoglobin of 16 percent (12 percent HbA T87Q + four percent HbF), below the 30 percent threshold believed necessary to liminate transfusions. Subject #1301 (25 years old) had anti-sickling hemoglobin of 17 percent (four percent HbA T87Q + 13 percent HbF). Although it is possible that these patients will achieve the 30 percent threshold (Subject #1204 in the '205 study had just 9.6 percent HbA T87Q at three months post-treatment), we believe it is unlikely."
Nierengarten continued that his prior thesis "always assumed LentiGlobin treatment in a relatively young population, given the greater difficulty in harvesting older patients' cells and in achieving a successful myeloablation compared to younger patients."
The analyst suggested additional positive data will be "required to dispel" investor concerns, it is important to highlight the fact that the issues are "solvable" and that the company has "considerable resources" to do so.
Shares remain Outperform rated with a price target lowered to $117 from a previous $165.
Roth: Study Results 'Less Robust'
Elemer Piros of Roth Capital Partners commented in a note that there is now a "heightened risk that the therapeutic benefit observed by some beta-thalassemia patients may not be durable."
Piros added: "initial results from two sickle cell disease (SCD) patients are less robust than those from an earlier patient." The analyst noted that is unclear why the results are "fading."
Accordingly, shares were downgraded to Neutral from Buy with a price target lowered to $62 from a previous $121.
Piper Jaffray: 'More Confident Than Ever' In Company's Future
Joshua Schimmer of Piper Jaffray commented in a note that there have only been a "limited" number of patients being treated with LentiGlobin and each patient "provides a rich amount" of information for the company to work with.
Schimmer said is "important to get a little lost in the weeds and hyperfocus" on each individual experience. However, the analyst noted that his "most important" take away from the results is that Bluebird's management team is "very competently" iterating and optimizing the platform. With that said, the early results from the study has been "promising" and the "company is rapidly evolving to make it even better."
"The updated sickle cell patient data will likely create turbulence in shares this week (although some of the findings may be specific to practices at one particular center), nonetheless we are more confident than ever that the future remains bright for Bluebird," Schimmer wrote.
Shares remain Overweight rated with an unchanged $204 price target.
Posted-In: Analyst Color Biotech Downgrades Health Care Price Target Top Stories Analyst Ratings General Best of Benzinga
View Comments and Join the Discussion!