Goldman Sachs Questions If Regulation Is Driving A Tightening Of Financial Conditions
Over the weekend Goldman Sachs' Jan Hatzius highlighted the breakdown in the TED Spread and the 10-Yr Swap which Hatzius attributed to regulatory changes. The decline the 10-Yr Treasury and equivalent swap has been driven by reduced counterparty risk premiums along with decreases in mortgage hedging. The most recent declines are being attributed by Goldman to "something new". The "something new" is likely the increased cost of repo funding. Hatzius reports bank repo activity has declined by more than $1T since 2012 and attributed this to scarce balance sheet capacity and expenses.
10-Yr Swap Spread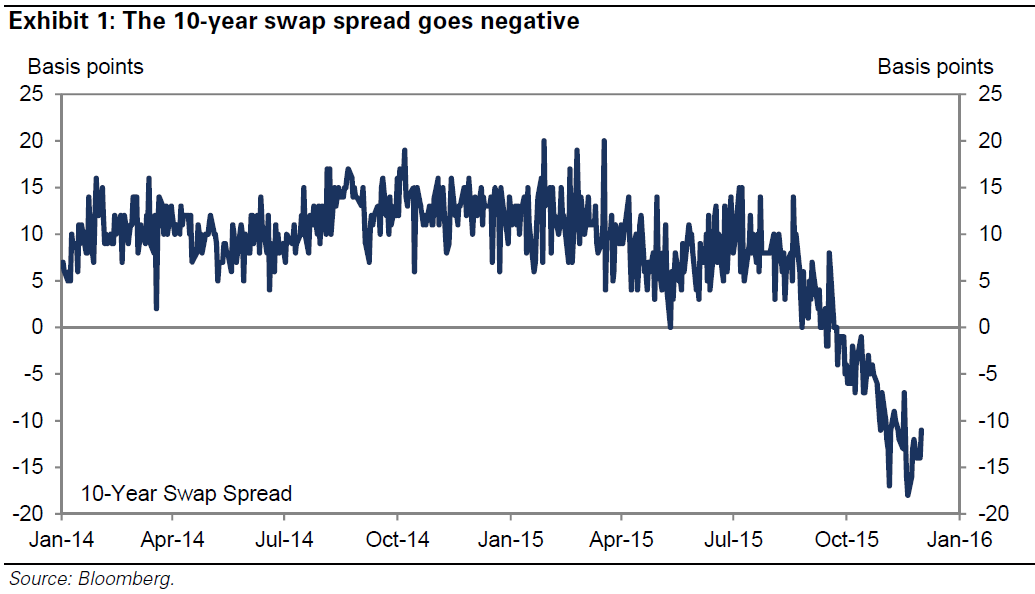 The repo market is viewed as "secured funding" whereas Libor rates are viewed as "unsecured" lending, The issue at hand is the crossover of the repo rates and Libor. Currently it costs more to enter into a secured funding agreement than it does to enter an unsecured funding.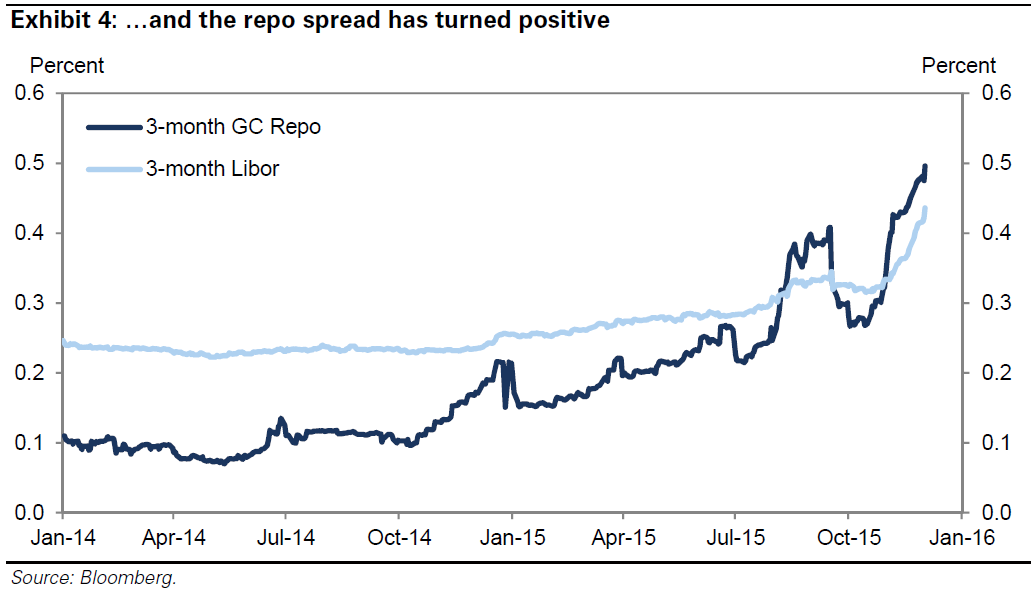 The new dynamic is quite shocking as demand for safe assets like Treasury Bills picks up. The shift here highlights the need of banks and other particpants to solidify secured funding.
Looking at 10-Yr Swaps and the TED Spread signals that market particpants are demanding secured funding as we close in on a potential FFR hike.
Aside from the dynamic shift highlighted above, Money Market Funds have been repositioning their holdings ahead of the SEC's October 2016s regulatory requirements for MMFs to float their net asset values or to impose liquidity fees on redemptions (Full 893 page document here) . KPMG notes this rule applies to institutional funds only, not retail or government MMFs. The recent swelling of MMFs seeking government bonds as a means to skirt the SEC regulations has pushed MMFs to begin loading up on government securities.
What does all this mean? Evidence shows dealers are becoming more anxious as overlapping regulations are essentially driving a restructuring of how MMFs operate. The demand for Treasury papers should push yields on notes and bills "slightly higher" according to Hatzius.
Posted-In: Analyst Color Bonds Economics Federal Reserve Markets Analyst Ratings
View Comments and Join the Discussion!