'Merger Mania' In Semiconductor Space: Who's Up To Bat And Who's Struck Out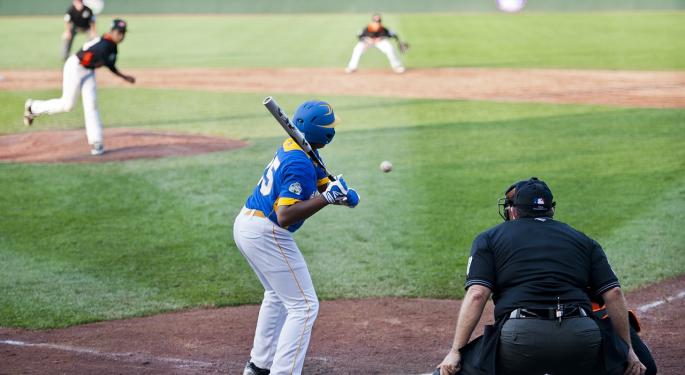 Editor's note: A previous version of this article incorrectly mistook the acronym 'TEL' with TE Connectivity Ltd, which trades on the NYSE as TEL.
In a recent email sent to clients, analysts at Semiconductor Advisors LLC shared some thoughts on Teradyne, Inc. (NYSE: TER).
The experts looked into the company as "the next target in merger mania."
In addition, they commented on the resignation of Tokyo Electron CEO "Terry" Higashi, an event that they think marks "the end of an era."
Analysts at Semiconductor Advisors were recently going down the list of publicly traded companies in the semiconductor equipment space, looking for potential acquisition targets. After crossing off KLA-Tencor Corp (NASDAQ: KLAC) – due to its merger with Lam Research Corporation (NASDAQ: LRCX), and Tokyo Electron on the back of the to the failed Applied Materials, Inc. (NASDAQ: AMAT) merger, they stumbled upon Teradyne, which came next in terms of market cap and revenue.
The Line In The Sand
The semiconductor industry has always been somewhat divided between backend and frontend companies, with the front end getting the sweeter part of the deal.
Related Link: Bearish Reaction To Semiconductors: Vetr Crowd Downgrades Advanced Micro Devices And Texas Instruments
However, this line has been becoming increasingly dim, and some companies like Rudolph Technologies Inc (NYSE: RTEC) and Ultratech, Inc. (NASDAQ: UTEK) have managed incursion in both segments for some time.
Moreover, the analysts now argue that slower growth prospects for semi equipment companies – "evidenced by three straight years of flat capex (2014, 15 & 16)" – will oblige them to "look outside their home turf for inorganic growth. This would imply that a merger between a large front end and a large back end company is now doable," they explained.
Asking if someone would "dare to step over that line in the sand between front and back end companies in the semi industry," the analysts drew attention to the seemingly nonsensical divide.
Teradyne Up Next?
In the aforementioned context, "Teradyne looks like it has pretty good attributes as a target," the report stated, pointing out that the company is a leader in its space and its financial performance is good.
However, organic growth prospects within its own space are somewhat limited, as the market share split between Advantest Corp (ADR) (NYSE: ATE) and Teradyne "appears stable and unlikely to change much."
Having said this, Teradyne still looks like an attractive acquisition target. But, where would it fit best?
Is Applied Materials A Good Suitor?
After failing to acquire both TEL and KLA-Tencor, Applied Materials finds itself "in the uncomfortable and uncharacteristic place of a number two player," Semiconductor Advisors analysts explained; "Unless it does something to prevent that," they added.
The experts considered the option of the company going after ASM International NV (ADR) (OTC: ASMIY), but discarded it because it is "a tough and stubborn nut to crack even though AMAT had first right of refusal from an old law suit."
Going after Hitachi, Ltd. (ADR) (OTC: HTHIY) could also make sense, but the experts pointed out it could also "turn into another cross border, cross cultural problem and a repeat of the TEL spanking."
Finally, they looked to FEI Company (NASDAQ: FEIC), which they stated "could be a bold, expensive step to shore up its process control side given the KLAC move to Lam."
However, they concluded, the one transaction that looks simple and could easily be done is the Teradyne acquisition, which would be smaller than a TEL purchase, would still add diversity to Applied Materials' products portfolio and could help offset some of the headwinds faced by the company.
"Teradyne is a US company with a similar culture, good financials and the deal would slide through the approval process with much greater ease than the current KLAC/Lam deal which will still makes customers uncomfortable. There is even less overlap between AMAT and TER as between KLAC and Lam," the report expounded. In addition, the purchase would be easily justifiable by the intention of tying backend test to frontend process control.
It should be noted: This is nothing more than speculation. However, the experts added, it still makes sense, given that the current merger frenzy is showing no signs of slowing down. Consequently, companies have to either "participate, aggressively or face the prospect of being the only person left standing without a dance partner and thus left behind."
TEL CEO Steps Down
The email finally went into the resignation of "Terry" Higashi, the CEO of TEL. Classifying him as a "long term stalwart of the semi equipment industry and one of the few remaining founding fathers of the industry with great respect from all sides both customers and competitors," the experts noted that his stepping down was inevitable.
However, they added, the proposed Applied Materials-TEL merger, which failed, would have provided him "a more momentous exit."
Disclosure: Javier Hasse holds no positions in any of the securities mentioned above.
Image Credit: Public Domain
Posted-In: Analyst Color Long Ideas M&A Top Stories Analyst Ratings Movers Tech Trading Ideas Best of Benzinga
View Comments and Join the Discussion!