Attn. Investors: Watch Healthcare Stocks, Yuan Devaluation Speculation This Week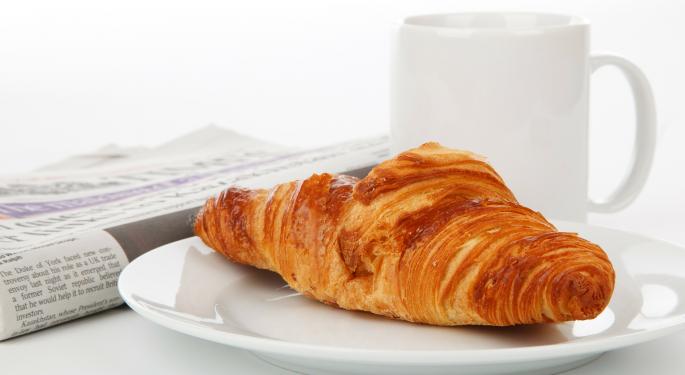 Credit Suisse just released its list of 10 things investors are watching during this holiday-shortened trading week. Here's a breakdown of the list.
1. Crude Oil And Commodities' Weakness
Weakness in crude oil and commodities persists driven by a strong dollar and yuan devaluation. A recent article from Bloomberg titled "Masters of the Finance Universe Are Worried About China" highlighted prevailing concerns.
2. Saudi Arabia And OPEC
Saudi Arabia now stands ready to cooperate with OPEC and other countries to stabilize weak oil prices. The next OPEC meeting will be December 4.
Related Link: Happy "Tanksgiving"! Lowest Gas Prices Since 2009 To Come This Week
3. Healthcare News
In the healthcare sector, shares of Allergan PLC (NYSE: AGN) and Pfizer Inc. (NYSE: PFE) were both down on Monday after a merger announcement was finally made official. Mallinckrodt PLC (NYSE: MNK) surged more than 8.3 percent on Monday following a big Q3 earnings beat.
4. Econ Numbers
The Chicago Fed number, the Markit US Mfg PMI number and the U.S. October existing home sales number all came up short of consensus expectations.
5. Buybacks' Influence
Corporate stock buybacks could have a magnified impact on U.S. markets during a slow trading week. More than one in five S&P 500 companies have reduced its share count by at least 4.0 percent over the past year.
6. Market Volatility Drivers
Credit Suisse's cross-asset volatility contagion model points to U.S. rates, EUR/USD forex and oil as the three biggest market volatility drivers at this time.
7. Historical Trends During Thanksgiving Week
Market volume in the first three days of Thanksgiving week is typically 7.0 percent lower than average.
8. Hedge Funds
Hedge funds' U.S. net exposure has fallen from 4 percent to -11 percent in November.
9. Qatar, India LNG Contract Update
Qatar has agreed to waive a $1 billion penalty on India for breaking a long-term LNG contract in light of recent pricing weakness, a move that will likely add to jitters in the natural gas market.
10. Tech. Pullback Ahead?
Credit Suisse believes that the S&P 500 is at risk of a technical pullback to the 2063-2066 level, which the firm predicts will hold.
Disclosure: The author holds no position in the stocks mentioned.
Image Credit: Public Domain
Posted-In: Analyst Color Biotech Health Care Hedge Funds Forex Topics Top Stories Economics Best of Benzinga
View Comments and Join the Discussion!