Here's Why Valeant Is Worrying Deutsche Bank And Morgan Stanley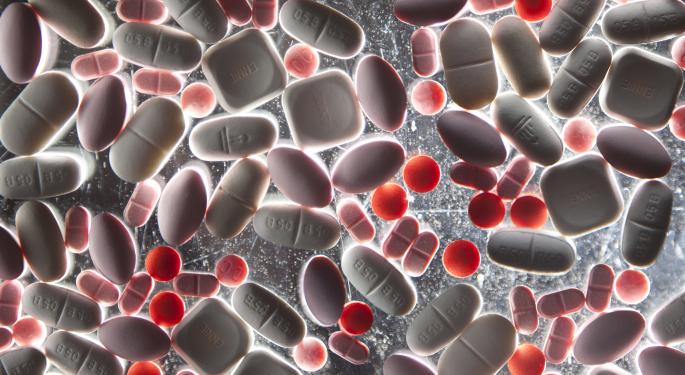 Shares of Valeant Pharmaceuticals Intl Inc (NYSE: VRX) are now lower by 70 percent over the past three months.
Analysts at Deutsche Bank and Morgan Stanley both raised concerns on the company's business.
Gregg Gilbert of Deutsche Bank noted a propriety survey with doctors indicated that the Philidor controversy could have "longer-lasting effects" while David Risinger of Morgan Stanley stated there is "too much smoke" for comfort.
Shares of Valeant Pharmaceuticals have now plummeted in recent months, mostly due to its relationship with the specialty pharmacy Philidor. Investors looking towards Wall Street for some support didn't find any on Tuesday as analysts at both Deutsche Bank and Morgan Stanley released discouraging reports.
Deutsche Bank: Philidor Controversy Could Have 'Longer-Lasting Effects'
Gregg Gilbert of Deutsche Bank surveyed 25 doctors that prescribe Valeant's products and are familiar with the specialty pharmacy Philidor. While the analyst acknowledged that the sample size does offer limitations, it is nevertheless helpful to "gauge these doctors' views."
"The results certainly suggest that the Philidor controversy could have longer-lasting effects versus just the short-term disruption that management has suggested," Gilbert concluded from his survey results.
According to the survey, prescriptions for Valeant drugs has decreased for a majority (68 percent) of the doctors. In addition, the majority of doctors (also 68 percent) expect their prescribing of Valeant products to decrease in the coming months.
Related Link: Valeant Investors: These 5 Companies Survived Major Accounting Scandals
A majority of the doctors (64 percent) predicted that Valeant will be in "a weaker position than before the disruption."
Finally, answers were mixed when doctors were asked how the recent news regarding Philidor affects their relationship with Valeant and its representatives. One response was: "There have been no changes with my relationship with Valeant. At the end of the day, my way of evaluating a company is if they make good innovative drugs that work for patients." On the other hand, one doctor responded: "I don't trust Valeant and will avoid their products when there are alternatives."
Shares remain Hold rated with an unchanged $136 price target.
Morgan Stanley: 'No Wildfire, But Too Much Smoke'
David Risinger of Morgan Stanley pointed out that despite what some headlines hint at, Valeant is a "real company selling real drugs to real patients." However, the analyst is expecting "pressure" on Valeant's U.S.-branded Rx business (40 percent of global sales) due to its transition away from Philidor which was a "key growth driver" given its 50 percent of U.S. organic growth year-to-date.
Risinger said investors appear to be pricing in: 1) concerns that management may "face challenges" in adapting its structure and model, 2) risk of other potential fraud investigations and/or "whistleblowers", 3) the sustainability of the company's business strategies to raise drug prices, 4) questions surrounding the company's ability to pursue "aggressive" M&A activity, and 5) uncertainty over the company's ability to take on "significant" debt, and 6) the company's ability to hold its non-GAAP tax rate in the low single-digits.
Risinger said Valeant's guidance update in December will be "key to resetting investor expectations" and that investor confidence in the company will "have to be built slowly through multiple quarters." In the meantime, ongoing investigation developments and the internal ad hoc committee's conclusions (timing still unknown) will prove to be "important swing factors."
Bottom line, Risinger noted that while Valeant's story doesn't consist of a "wildfire," there is nevertheless "too much smoke for our comfort."
Shares remain Equal-weight rated with a price target slashed to $98 from a previous $200.
Posted-In: David Risinger Gregg GilbertAnalyst Color Health Care Price Target Top Stories Analyst Ratings General Best of Benzinga
View Comments and Join the Discussion!