This Retail Expert's Holiday Outlook Says It's Not About If Consumers Spend, But Where They Will Spend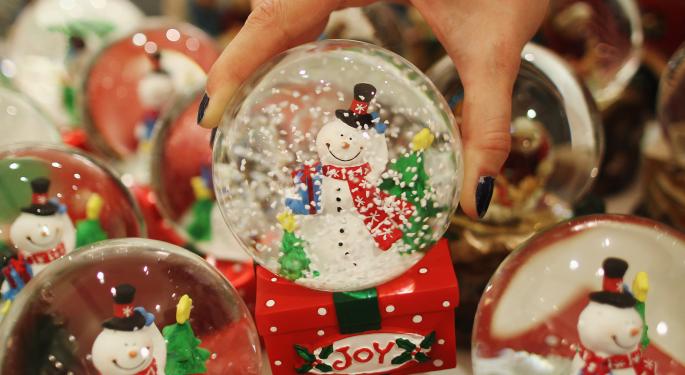 In a recent report, Kristin Bentz, President of Talented Blonde LLC shared an outlook of the upcoming holiday season.
Bentz' contention "has been and still is, that Black Friday is more of a non event with consumers—a symbolic kick-off to the holiday shopping season."
The expert took a look at the wider holiday season, starting in November and extending until January.
Consumers have made it clear: "We simply do not shop or spend the same in the same manner as retailers would like us to circa 1980. Consumers will shop and spend when they see fit, and they don't need to fight for parking space or load up the double stroller to do so," Bentz' report explained.
However, traditional brick-and-mortar retailers and department stores seem to not fully understand the new buying trends.
"Using their performance on one day as a metric for the entire holiday season and fiscal health of the U.S. consumer is a fool's errand," Bentz assured. "To glean a true look on the holiday season one must look at November and December together—and increasingly January for bounce back spending from gift card redemptions. Yet year after year, financial media is camped out behind Wetzel's Pretzels using the same tired metrics on Black Friday."
Related Link: NRF Predicts 3.7% Increase In Holiday Sales This Year, Significantly Higher Than 10-Year Average
The question nowadays is not, "will consumers spend on Christmas?" The new interrogation is, "where will consumers spend their money?"
The Talented Blonde said that declining gas prices, gains in employment and wages, and a 23 percent rise in purchasing power (compared to five years ago) bode well for a stronger holiday season this year.
"The consumer is feeling better, with U.S. households increasing spending by 3.3 percent in the third quarter of the year and overall spending tracking at approximately 3.0 percent in the current quarter," she continued. Excluding cars and gas, holiday sales could rise to 5 percent "barring some insane weather event on the downside risk, or gas prices cratering even more which would give even more momentum to the upside."
The Caveat
Bentz did point out one caveat. Wall Street hedge fund managers had a rough year, especially with the oil and China situations.
"That said, bonuses this year most likely will not mirror the Ghosts of Christmas's Past, and with New York and New Jersey making up 16 percent of all retail sales nationally and New York responsible for 20 percent of all luxury spending nation-wide, things could prove dicey," she said.
This Year's Winners
So where will consumers spend their money in this holiday season?
The expert's bet is placed on experiences and services, rather than on apparel and "things."
"With low gas prices and finally lower air fares, we want to travel, and document every single moment, from TSA-PRE to walk of shame with our GoPro Inc (NASDAQ: GPRO) cameras complete with selfie-stick-- and iPhones [Apple Inc. (NASDAQ: AAPL)], and post to Instagram [Facebook Inc (NASDAQ: FB)] for the world to see."
Bentz continued, "We want luxury hotels, flats through AirBNB, cars via Uber, and Lyft. We want Blowouts from DryBar and holiday make up applied by the GLAMSQUAD. We want to take pictures of our food with our lovers and friends and family—and yes—we KNOW Guacamole is EXTRA [Chipotle Mexican Grill, Inc. (NYSE: CMG)] Time. Time my friends is a luxury. And we want to share our time with the world."
Disclosure: Javier Hasse holds no positions in any of the securities mentioned above.
Posted-In: Airbnb DryBar GLAMSQUADAnalyst Color Long Ideas Analyst Ratings Tech Trading Ideas Best of Benzinga
View Comments and Join the Discussion!