3 Restaurant Stocks Winning From Low Beef Costs Heading Into Next Year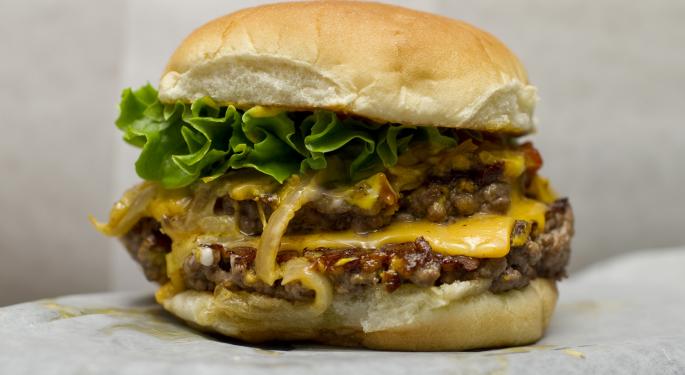 Alton Stump of Longbow Research commented in a note that beef costs have fallen over the last few quarters and bodes well for the restaurant sector heading into 2016.
The analyst singled out Bloomin' Brands Inc (NASDAQ: BLMN), Red Robin Gourmet Burgers, Inc. (NASDAQ: RRGB), and Texas Roadhouse Inc (NASDAQ: TXRH) as having "more earnings upside" in 2016 compared to their peers.
Stump noted that all three firms should see an incremental earnings per share lift from lower beef costs.
Beef costs have been a "sizeable drag" on margins for beef-themed restaurant operators over the past few years, according to Alton Stump of Longbow Research. However, beef costs have finally started to come down over the past few quarters by as much as 20 percent which should benefit the industry as a whole.
In a report published Monday, Stump named three restaurant companies that have "under-earned" relative to their peers over the past few quarters: Bloomin' Brands, Red Robin Burgers, and Texas Roadhouse. The analyst said these three companies now have "more earnings upside" in 2016 versus their peers given lower beef input prices.
Related Link: Wedbush Previews Q3 Earnings In Restaurant Group: Likes Panera And Starbucks, But Cautious On Buffalo Wild Wings And Chipotle
Stump continued that Bloomin' Brands will only see partial benefits due to lower beef costs in the back half of 2015 as the company was 99 percent covered on beef at the end of the second quarter. On the other hand, Texas Roadhouse's management said during its second-quarter conference call that the company is buying a "significant" amount of beef on the open market. Meanwhile, Red Robin's management disclosed in a filing in the second quarter that it is buying all of its beef in the spot market.
Looking forward to next year, Stump estimated Bloomin' Brands could see an incremental earnings per share lift from lower beef costs alone of $0.15, Red Robin could see a $0.35 per share lift to its full year 2016 earnings while Texas Roadhouse could see a $0.09 per share benefit.
Bottom line, Bloomin' Brands earnings per share upside represents an 11.5 percent earnings per share growth and represents the greatest upside potential within the analyst's restaurant coverage group.
Posted-In: Alton Stump beef Beef Costs Beef InflationAnalyst Color Restaurants Analyst Ratings General Best of Benzinga
View Comments and Join the Discussion!