Walgreens-Rite Aid Buyout Will 'Hopefully' Put Downward Pressure On Drug Prices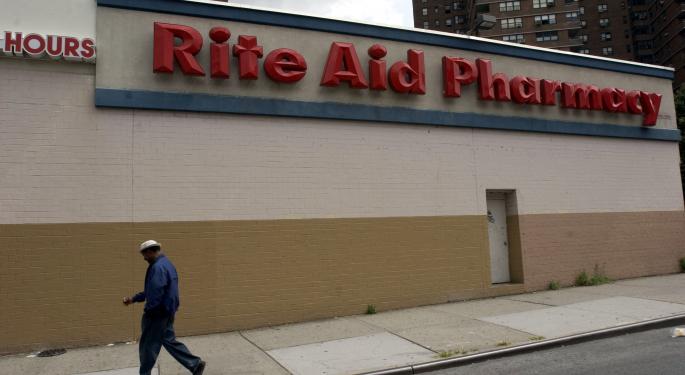 Two of the nation's largest drugstore companies are coming together. Walgreens Boots Alliance Inc (NASDAQ: WBA) on Tuesday agreed to purchase Rite Aid Corporation (NYSE: RAD) for a little over $9 billion, or about $9 per share in cash.
Rite Aid shares soared 40 percent when The Wall Street Journal scoop first hits newswires on Tuesday afternoon. The stock traded recently at $8.06, down 7 percent from Tuesday's close.
Speaking with Benzinga, merger arbitrage expert Chris Pultz noted the entire healthcare industry is in flux right now, specifically with the Affordable Care Act and the "pricing pressures that will be put on everybody."
"One of the things this transaction has going for it is the increasing cost of drug prices seems to be in the news every day," said Pultz, who runs Kellner Capital's Kellner Merger Fund. "This is a transaction that will hopefully be able to put some more downward pressure on drug prices through the efficiencies that they'll get through scale and be able to pass that on to" the consumer.
Related Link: Walgreens-Rite Aid Synergies May Be Better Than Expected, Says Analyst
The expert did note that the merger will run into some divestitures and regulatory issues, with overlaps in several markets.
"There are definitely plenty of competitors, obviously CVS being the biggest, but then you have grocery stores constantly getting into this business. People like Wal-Mart, Express Scripts. There are plenty of ways to get your drugs to make sure that there is no sort of collusion between the two biggest guys from the retail side to make sure nothing nefarious happens."
CVS Health Corp (NYSE: CVS) is the nation's largest drugstore company.
McKesson Corporation (NYSE: MCK) shares saw a huge selloff on Tuesday. Pultz attributed this to McKesson's business from Rite Aid (which he estimated is about 8 percent of revenues and 3 percent of income) and that it could lose this big chunk of business with the transaction.
Walgreens has contracts with AmerisourceBergen Corp. (NYSE: ABC), whose stock spiked higher on Tuesday.
Looking forward, Pultz doesn't think CVS would ever be allowed to merge with the Walgreens-Rite Aid entity, as it would then control more than 50 percent of the market. CVS is in the process of buying Target Corporation (NYSE: TGT)'s pharmacy business.
Posted-In: Analyst Color Biotech News Health Care M&A Top Stories Exclusives Interview Best of Benzinga
View Comments and Join the Discussion!