13 Stocks To Watch In The Healthcare Space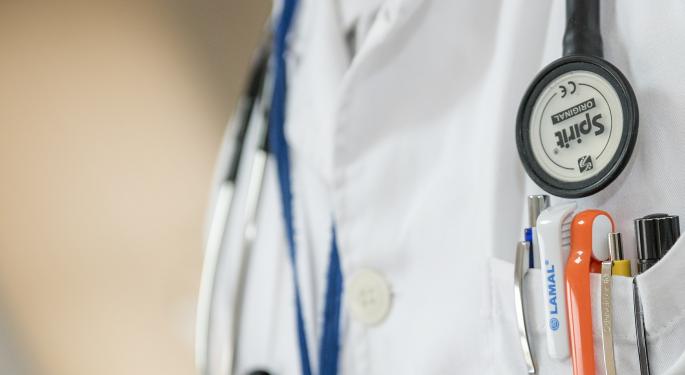 Healthcare has been one of the best performing sectors of the U.S. stock market for years, but in 2015, shares of healthcare stocks have suffered slightly.
Many investors began to worry about the impact next year's presidential election might have on the sector. Some candidates have voiced concern about the many mergers and acquisitions that have recently dominated industry headlines, saying that too much consolidation could be bad for the American public.
Many worry that the negative sentiment could cause some high-profile deals to fall through at the regulatory stage.
Another point of debate has been drug pricing, leading many investors to worry that pharmaceutical companies may eventually be at the mercy of government pricing schemes, which could hurt their margins.
The Sector
Returns from the healthcare sector in 2015 came in at just 2 percent, but when examined over the past five years, traders saw 151 percent growth.
Related Link: Healthcare Humbled, But Not Knocked Out
Hit hard by the August market turmoil, healthcare stocks have lost some of their value, making now a good time to buy. Next year, health care stocks are expected to benefit from the continuation of the Affordable Care Act ("Obamacare") and a shift toward value-based care making the sector an incredibly attractive one for long-term investors.
1. UnitedHealth Group Inc (NYSE: UNH)
On United Health Group's earnings call last week, the insurance firm noted that it was well prepared for the shift in paying for quality of care rather than quantity of care.
Historically, insurers were forced to bear the brunt of costs once one of their clients got sick, but with value-based plans, hospitals take on some of the costs and are rewarded when people get better faster. This is a win-win for insurers who expect to see doctors performing more effective procedures rather than running a gamut of unnecessary tests.
The firm said it plans to allocate more than $65 billion annually to value-based care contracts by 2018. That puts UnitedHealth in a great position as the landscape of healthcare changes.
2. Aetna Inc (NYSE: AET)
Earlier this year, two of the top five U.S. insurers, Aetna and Humana Inc (NYSE: HUM), agreed to a merger worth $37 billion.
Combined, the new company will become the second-largest American health insurer behind UnitedHealth. The deal still needs to be cleared by federal regulators, but if it goes through, it could create an insurance superpower.
Humana's dominance in the Medicare space is coveted among insurers, and the acquisition will give Aetna greater exposure. As the aging population continues to grow and Medicare expands, this partnership could prove extremely lucrative.
3. CVS Health Corp (NYSE: CVS)
JPMorgan has been bullish on CVS in both the near term and the longer term, saying that the company is well positioned to thrive in a value-based care environment.
Some believe that CVS' stock price increase has made it an expensive pick for the healthcare industry, but many analysts say those costs are justified, as the company's strong positioning in the market and trusted brand name makes it a relatively safe bet.
4. Amsurg Corp (NASDAQ: AMSG)
Amsurg is an ambulatory and physician services firm operating in the United States.
This company represents a bargain buy, as its share price has fell significantly when the healthcare sector began to drop. Over the past three months, Amsurg shares have fallen more than 16 percent as talks of a merger with Team Health Holdings LLC (NYSE: TMH) fell through.
With shares trading at $68.88, it could represent a cheap entry point into the healthcare sector.
5. Alimera Sciences Inc (NASDAQ: ALIM)
Over the past three months, Alimera shares have lost over 30 percent, but earlier this month major shareholder James E. Flynn bought 321,784 shares, taking the firm's share price higher.
Flynn is the founder of Deerfield Management, and his purchase meant the firm holds around 10 percent of Alimera's stock. The purchase gave investors reason to consider the international pharmaceutical research and development firm despite its fall in the market.
Related Link: Healthcare Stocks Topping The IPO Leader Boards During Q3
6. LHC Group, Inc. (NASDAQ: LHCG)
LHC Group is another healthcare provider that is well poised to benefit from growth in the Medicare space.
The company provides hospice care, as well as home-based and facility-based services primarily for Medicare patients. The company has seen solid revenue growth and its stock price has increased by 43.36 percent over the past year.
Analysts at Zacks recently upgraded the stock from a Hold rating to a Buy rating with a $52.00 price target.
7. Anthem Inc (NYSE: ANTM)
Anthem is one of the United States' largest insurers, and the firm is likely to prosper in the year ahead as Obamacare continues to shake the insurance space up.
A renewed effort from the Obama administration to encourage Americans to sign up for healthcare exchanges is likely to benefit providers like Anthem, which has worked to build a presence in states with exchanges. Anthem's recent decision to acquire Cigna for $54 billion could also propel the firm in the future if regulators approve the deal.
Most are expecting to see U.S. insurers combine to make up three big names in the coming year with Anthem coming in at third.
8. Bristol-Myers Squibb Co (NYSE: BMY)
The biotech sector took a beating this summer after fears about drug pricing began to creep into the market. However, some analysts say those fears were overdone and that companies like Bristol-Myers Squibb are still attractive buys as their product pipeline looks promising.
Bristol-Myers has been working on a drug that will use immune responses in order to fight cancer. While it remains to be seen whether the firm's efforts will prove worthwhile, some are betting that the drug could become a big name in cancer treatments.
9. Valeant Pharmaceuticals Intl Inc (NYSE: VRX)
Pharmaceutical giant Valeant has struggled this year with its share price dropping more than 50 percent over the past three months.
The company has been bogged down with fraud accusations and questions regarding its distribution and accounting practices, but many analysts say the firm's low stock price is a buying opportunity. An analyst at BMO Capital said that the uncertainty surrounding Valeant shares could create a good entry point, as he expects to see the company perform its way out of its current rut.
As of October 20, the majority of analysts tracking the stock placed it at a buy rating, saying that worries about the company's changing operations were overdone.
Related Link: 14 Healthcare Stocks Fundstrat Is Buying
10. Boston Scientific Corporation (NYSE: BSX)
Medical device maker Boston Scientific is another popular pick from the healthcare sector, as the company's shares have seen strong growth over the past year.
Many believe that Boston Scientific will have another impressive year in 2016, as the company stands to benefit from new product approvals that will likely improve margins. Earlier this month, the company received approval from the U.S. Food and Drug Administration for SYNERGY, a new treatment for coronary artery disease.
11. Medtronic PLC (NYSE: MDT)
Deutsche Bank highlighted Medtronic as a valuable addition to investors' profiles earlier this year, pointing to the company's merger with Covidien.
The company moved its headquarters to Ireland and now operates in over 160 different countries around the world. Emerging market weakness has weighed on Medtronic's bottom line this year, but the firm's solid pipeline is expected to continue carrying the company forward.
12. NewLink Genetics Corp (NASDAQ: NLNK)
Viral disease treatment firm NewLink made its name by delivering the VSV-EBOV vaccine, an ebola treatment.
The vaccine is said to be 100 percent effective and brought attention to the biotech firm earlier this year when Ebola began to spread. The Ebola scare shined a spotlight on the virus treatment space, which is expected to see significant growth in the coming years.
NewLink was able to secure support from Merck & Co with its Ebola solution, and many investors see the firm as a promising bet in the coming year.
13. GW Pharmaceuticals PLC-ADR (NASDAQ: GWPH)
GW Pharmaceuticals offers investors a chance to get in on the push toward legal marijuana without the risk of betting on an OTC company.
The firm is using cannabinoids to develop treatments for seizure patients and the therapy has seen positive results so far. On October 15, analysts at Piper Jaffray reiterated their Overweight rating for GWPH, saying that the company's latest seizure drug, Epidiolex, has a promising future. However, with the drug still in the clinical trials phase, it is uncertain whether it will make it to the market, but analysts are positive on its progress so far.
GW Pharmaceuticals is one of the only major companies in the healthcare space working with cannabis as a treatment option, making it a unique play for investors who believe in the healing properties of the drug.
Image Credit: Public Domain
View Comments and Join the Discussion!
Posted-In: Analyst Color Biotech Long Ideas News Health Care Topics FDA Markets Best of Benzinga