Best Of All Possible Worlds? Why The Lam Research/KLA-Tencor Merger Will Be Semiconductor's 'Dream Team'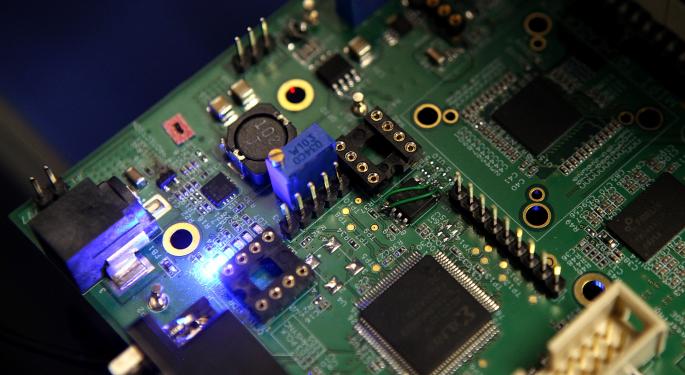 Lam Research Corporation (NASDAQ: LRCX) announced on Wednesday it has entered into an agreement to acquire KLA-Tencor Corp (NASDAQ: KLAC) for around $67.02 per share.
Analysts at Semiconductor Advisors commented in a note that the combined entity represents a "dream team" in the semiconductor space.
The analysts added the transaction is a "no brainer" for Lam Research and a "huge negative" for Applied Materials, Inc. (NASDAQ: AMAT).
Lam Research announced on Wednesday that it has entered into a definitive agreement to acquire all outstanding shares of KLA-Tencor for $32.00 in cash and 0.5 of a share of Lam Research. The proposed transaction values KLA-Tencor's stock at approximately $67.02.
Shares of KLA-Tencor surged by more than 18 percent following the announcement.
The deal has been unanimously approved by the Boards of Directors of both companies.
'Powerhouse And Dream Time'
Analysts at Semiconductor Advisors commented on the deal, noting that a combined Lam Research and KLA-Tencor will create a "powerhouse" and "dream team." In addition, the new entity puts Lam Research into a "very dominant position."
"We think there is a clear strategic benefit of putting process control together with a process company as we get to ever smaller and difficult dimensions of Moore's law," the analysts wrote.
Following the merger, Applied Materials will see its dominant market position move to "second place" as the combined entity will look "a lot more like a duopoly (without litho)."
Finally, the analysts suggested that the deal is a "no brainer" and "huge positive" for Lam Research, a "huge negative" for Applied Materials, and "likely a negative" for smaller process control and metrology companies as they "become less relevant."
Posted-In: KLA-Tencor Lam Research Moore's Law Semiconductor AdvisorsAnalyst Color M&A Top Stories Analyst Ratings Best of Benzinga
View Comments and Join the Discussion!