2 Pockets Of Value Hiding In The Dry Bulk Space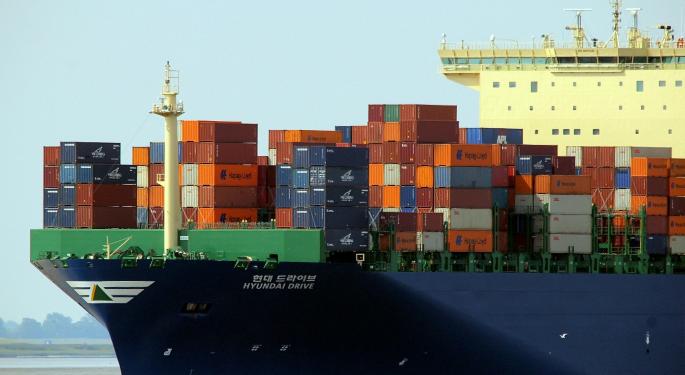 Noah Parquette of JPMorgan initiated coverage of the entire dry bulk shipping industry, noting that "sentiment is bad right now."
Parquette noted that 2016 "could even be worse" than an already "historically bad" 2015.
Just how bad is the dry bulk shipping segment? According to Noah Parquette of JPMorgan, the sector's performance thus far in 2015 is "historically bad," but 2016 "could even be worse."
Parquette initiated coverage of the entire sector on Thursday, noting that the overall sentiment is "bad right now for a reason." Specifically, the dry bulk segment is a "second derivative play" on China and its investment-led growth model. If China undergoes a slowdown, it will have negative consequences on the dry bulk market. However, China is shifting its economy toward greater consumption and more service industries, making the situation "even more serious" for the segment.
In other words, "when China sneezes, Dry Bulk gets the flu."
Related Link: If China Sneezes, Who Else Gets Sick?
Beyond China
Meanwhile, Parquette noted that coal demand in India has been "one of the few bright spots" in the market. However, the analyst suggested that Indian coal demand is already weakening due to high plant stockpiles at a time when the government is even looking to kick-start domestic coal production, thereby making seaborne imports "vulnerable."
The analyst also added that fleet supply growth has outpaced demand growth, with slower vessel speeds "helping to mask" overcapacity. In addition, should fuel prices continue declining, the dry bulk sector could enter a "speed trap" over the coming years as the fleet has greater ability to provide additional supply by speeding up to match demand growth.
Parquette continued that despite an overall negative stance on the sector, there are "some pockets of value" to be found.
Navios Maritime: Diversification Outside Of Dry Bulk
Parquette initiated coverage of Navios Maritime Holdings with an Overweight rating with no assigned price target.
Parquette pointed out that Navios is the parent company for the Navios Group of companies, which include diversification outside of dry bulk. The analyst added that this diversification is "precisely why we think this is one of the better Dry Bulk stocks to own right now."
Parquette added that in the medium-term, the stock can benefit from a planned spinoff of the Navios South American Logistics business, which is "uniquely positioned" on the development of the Hidrovia river system in South America. This segment is "poised for significant growth" over the next few years and the market by undervaluing the asset.
In addition, the company pays a $0.06 per share quarterly dividend, which amounts to a yield of 8.6 percent. The analyst stated that management "seems committed" to maintaining the dividend payout, which is essentially covered by the dividends it receives from its daughter companies.
Star Bulk Carriers: Low-Cost Operator With Funding Through 2017
Parquette initiated coverage of Star Bulk Carriers with an Outperform rating and no assigned price target.
According to the analyst, the company is one of the lowest cost operators in terms of vessel operating expense and G&A expense. In addition, a "streamlined" and "in-house management team" reduces conflicts of interests.
Parquette continued that the company's "significant" equity raise earlier this year was required given the poor market conditions and the company's new-build funding requirements. As such, the company is "adequately financed" for its program, but a "modest" amount of capital may be required if the market doesn't improve by 2017.
Finally, the analyst estimated that the company's valuation model points toward a NAV (net asset value) by the end of 2016 of $7.28 if asset values revert to long-term median values. As such, this "compares favorably" with the current price of around $2.30 per share.
Other Initiations
Parquette initiated coverage of Diana Shipping Inc. (NYSE: DSX) with a Neutral rating and $7 price target.
Parquette initiated coverage of Golden Ocean Group Ltd (NASDAQ: GOGL) with a Neutral rating and no assigned price target.
Parquette initiated coverage of Navios Maritime Partners L.P. (NYSE: NMM) with an Underweight rating and $5 price target.
Parquette initiated coverage of Scorpio Bulkers Inc (NYSE: SALT) with an Overweight rating and no assigned price target.
Image Credit: Public Domain
View Comments and Join the Discussion!
Posted-In: Dry Bulk Shipping JPMorgan Noah Parquette shippingAnalyst Color Initiation Top Stories Analyst Ratings Best of Benzinga