Apple's Vendor Competitions Might've Gone Too Far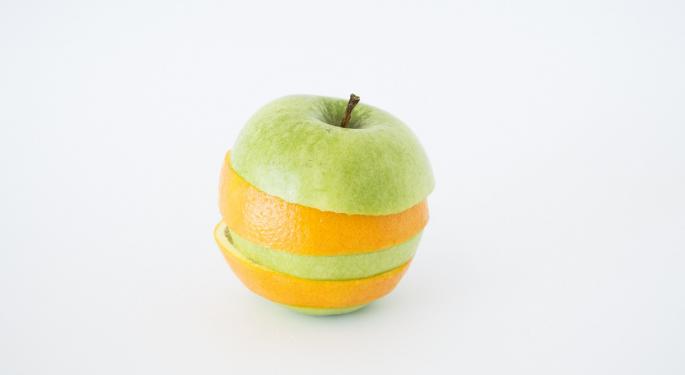 In a recent report, Semiconductor Advisors LLC looked into some "Early Reports of potential SAMSUNG ELECT LTD(F)(OTC: SSNLF) A9 power issues."
The analysts asked if Apple Inc. (NASDAQ: AAPL)'s vendor gamesmanship went too far, noting the huge potential for fallout.
So, who could win and who could lose from this situation?
Apple has sourced the A9 processor for the iPhone 6S from both Samsung and TSMC. Tests have indicated that performance is the same. However, amateur checks on consumption have suggested that Samsung chips use substantially more power.
Nonetheless, it should be noted that there are still no "credible, reliable, scientific" sources of comparative power consumption testing, a recent report by Semiconductor Advisors commented.
Related Link: New Apple Products On The Horizon?
While the difference in consumption has not been confirmed yet, the experts noticed that "any measurable difference could be a problem for Apple […] Even if these initial reports prove to be untrue and there is no significant power difference just the rumor mill buzz of two types of 6Ss can cause issues."
The Supplier Influence: It's What's On The Inside That Counts
The research note went on to explain that Apple is well known for highly pressing suppliers. The tech behemoth now pushed the limits farther "and got very cute by dual sourcing the most critical component in the phone this way playing Samsung and TSMC off against one another."
A few questions surface from this situation, Semiconductor Advisors LLC stated. "Could this now have blown up in their face? Who tested and vetted both parts at Apple? Where's the quality control?"
In fact, they added, why would Apple even incur in the risk of utilizing two different components in the same device?
"Just use one part in the 6S and the other part in the 6S plus so you can't compare them," they asserted. Or, was Apple forced into this situation due to availability issues?
Good News For Intel
Bad news for Samsung could mean good news for Intel Corporation (NASDAQ: INTC). "Maybe this could potentially prove at least Samsung moved too fast and took too many risks versus Intel's more cautious slowing of their tick tock cadence," the firm suggested.
Speaking of Intel, Semiconductor Advisors is pleased with the stock's performance, which "is looking better every day."
Disclosure: Javier Hasse holds no positions in any of the securities mentioned above.
Image Credit: Public Domain
Posted-In: iPhone 6S Semiconductor Advisors LLCAnalyst Color Analyst Ratings Movers Tech Best of Benzinga
View Comments and Join the Discussion!