Short Selling: Karl Loomes Picks The Six Hottest U.S.-Listed Stocks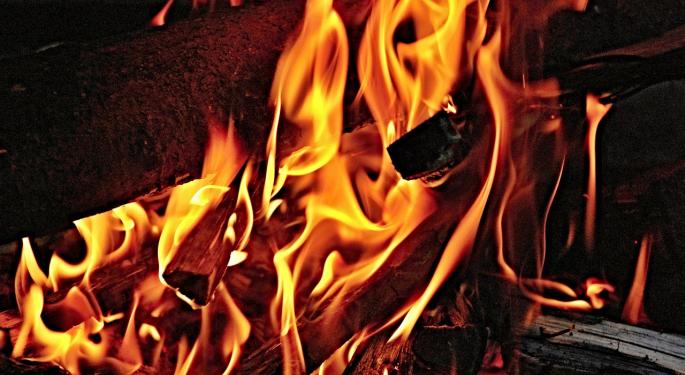 SunGard's Astec Analytics looks into short-selling activity.
This week's top pick, from a securities lending perspective, is Amazon.com, Inc. (NASDAQ: AMZN).
SunGard's Astec Analytics provides intraday short-selling market data via securities lending analytics. In a recent report sent to clients, the firm shared a "roundup of some of the hottest stocks from a securities lending perspective."
Below is a look at Karl Loomes' list of top stocks in the Americas from a security lending perspective.
Amazon
After two consecutive weeks occupying the front-runner spot, Apple Inc. (NASDAQ: AAPL) was displaced by Amazon. The online retailer recently banned the sale of Apple and Google streaming on its website, suggesting they don't "interact well" with the Amazon Prime service, and announced its intentions to extend its one-day delivery service in the U.K. to include frozen and chilled food items – which led to some speculation around increasing competition with and from online supermarkets.
Related Link: 6 U.S.-Listed Stocks Short Sellers Are Strongly Betting Against
The report explained, "The news helped bolster its stock in the cash market, while from a sec lending perspective Astec's data hints at some growing optimism on the part of short sellers, with having fallen 26 percent during September."
ZIOPHARM Oncology
Escalating one position in the list this week is ZIOPHARM, a small-cap biopharmaceutical company focused on cancer therapies. The company was once again in the spotlight, after saying it would be developing an immunotherapy treatment in partnership with Intrexon Corp (NYSE: XON) for the graft-versus-host disease.
The stock naturally surged on the news, "while likewise, Astec's lending data suggests short sellers are of a similar mind – borrowing volumes falling about 10 percent during the week."
Chesapeake Energy
Chesapeake traded places with ZIOPHARM this week. However, it "continues to see focus amid the ongoing turmoil of the oil and gas market, though a number of company-specific stories during the week added impetus."
One of the most notable news was the elimination of 740 jobs, part of a cost-cutting plan. Nonetheless, the analysts noted that "the renegotiation of a $4 billion line of credit may have more impact to its bottom line."
The news drove a little rally in the stock. Meanwhile, from a securities lending perspective, the shares showed "some signs that institutional holders of the stock are reducing their volume of CHK shares available to lend – a sign often seen when they themselves will be selling the stock – with utilization falling below the 90 percent mark during the week despite overall borrowing volumes holding flat," Loomes explained.
Juno Therapeutics
Juno made it to Astec's list for the first time ever this week, after Hillary Clinton's tweet about drug prices generated somewhat of a selloff in the wider sector. But, why Juno?
Well, the company has been receiving extra attention both ahead of and following its presentation at the 2015 Leerink Partners Immuno-Oncology Roundtable. Overall, the company managed to offset its start-of-the-week losses, closing more than 10 percent higher on Friday.
"Perhaps tellingly, Astec's data also suggests short sellers were taking a more bullish view, though admittedly in the wake of already building positions for the previous two weeks – borrowing volumes falling 15 percent over the past five sessions," the firm added.
Related Link: Leerink Warns Of Looming Uncertainty In Illumina
Fitbit
Fitbit also fell one spot this week, but remained in focus as speculation around the whole wearables technology industry continued. However, the company also garnered some fresh attention as a few analysts have said they now expect strong sales figures for its latest quarter.
While the stock made some "decent gains" last week, data from Astec Analytics suggest "short sellers are holding on to their positions, if not necessarily adding to them, with borrowing volumes holding 55 percent higher than this time three weeks ago."
GoPro
GoPro fell from the second place in last week's list to the last place this week. Loomes commented, "The hot stocks regular saw somewhat of a PR boost after news that film director Ridley Scott incorporated GoPro in the making and storyline of his latest movie The Martian.
"GoPro's shares saw mostly sideways trading in the cash market during the week, while the sec lending figures still suggests short sellers are holding their bearish views – volumes having now more than doubled in September."
Disclosure: Javier Hasse holds no positions in any of the securities mentioned above.
Image Credit: Public Domain
View Comments and Join the Discussion!
Posted-In: Astec AnalyticsAnalyst Color Short Ideas Top Stories Analyst Ratings Movers Tech Trading Ideas Best of Benzinga