Tesla's Model X Launch Seeing Mixed Sentiment From The Pros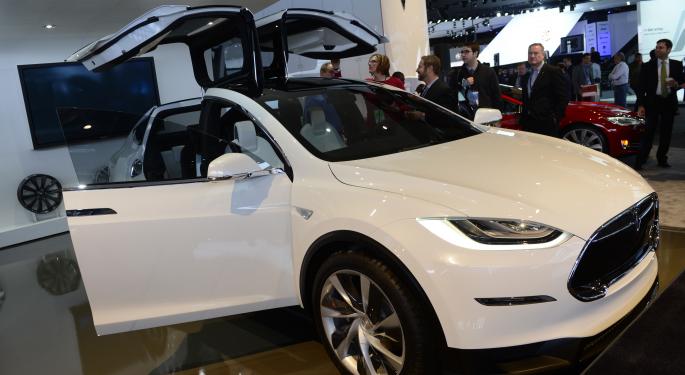 Tesla Motors Inc (NASDAQ: TSLA)'s Model X SUV will be officially launched on Tuesday.
The Model X was initially planned to be released in 2013.
Kelley Blue Book analysts offered mixed reviews ahead of the launch.
After years of anticipation, Tesla Motors will officially launch its Model X all-electric SUV.
The Wall Street Journal reported that Kenneth Adelman, a self-proclaimed "computer geek," is first on Tesla's list to receive delivery of a Model X. He deposited $40,000 back in February 2012 and was initially told delivery would occur by the end of 2013.
Tesla's Model X has seen its delivery schedule pushed back over the past few years. However, the company will officially deliver the first of its Model X SUVs to its first customer on Tuesday evening at a company event.
Related Link: How Elon Musk Saved Tesla...
Tesla told investors earlier in the year that it will ship a combined total of 55,000 cars during 2015, but the company was forced to revise its guidance lower to a range of 50,000 to 55,000. The company also pledged to release the Model X during the third quarter – a promise it appeared to have kept, albeit on one of the last few days of the quarter.
The launch of the Model X is a very important event for Tesla as the company will now transition into selling multiple products. Tesla's customers have been particularly patient, but the investment community may not be as forgiving as delays and revised guidance has put the company's ability to deliver on its promises in question.
The Model X is expected to have a battery range of 215 to 270 miles and base models will only be $5,000 more than the Model S. High-end Model X vehicles are expected to come with a price tag as high as $144,000.
What Kelly Blue Book Experts Are Saying
Ahead of the Model X launch, Jack Nerad, executive editorial director and executive market analyst at Kelley Blue Book's KBB.com commented that the new SUV is "well-positioned" to add volume for a manufacturer that needs additional volume and economies and scale. However, the public's response to the vehicle isn't certain, specifically to the falcon-wing doors.
"The doors are certainly an attention-getter, but they can also be a problem in parking lots and garages," Nerad commented. "We'll have to see if they are a turn-off to those consumers who have already put down a deposit."
Nerad also pointed out that perhaps more importantly, it is yet to be seen if Tesla can supply enough Model X's fast enough to satisfy the waiting list.
Karl Brauer, a senior analyst at KBB.com suggested that some degree of cannibalization is "assured" because many Model S owners will want a Model X "because it's the newest version." Similar to iPhone buyers, many owners will have "little use for the old" Model S now that it has been "upstaged."
"It's safe to assume cumulative sales of the Model X and Model S will be greater than the Model S alone, but real sales volume for Tesla, and the revenue that goes with it, won't materialize until the Model 3 is available, which is at least two years away," Brauer added.
Akshay Anand shared a similar sentiment and suggested that the Model X will likely fall at a price point that is out of reach of the majority of people who want one. This implies that Tesla may have to "remarket to customers" who already own a Model S. Nevertheless, the new vehicle will be "successful to a degree" but won't prove to be a high volume vehicle.
Anand concluded that the "bigger issues on Tesla's plate" consists of the Gigafactory and Model 3 sedan, both of which are a "much better indicator" of the company's long-term success or failure.
Posted-In: Akshay Anand Gigafactory Jack Nerad Karl Brauer KBB.comAnalyst Color Top Stories Analyst Ratings Best of Benzinga
View Comments and Join the Discussion!