Here's What Could Happen To The Economy If The Fed Raises Rates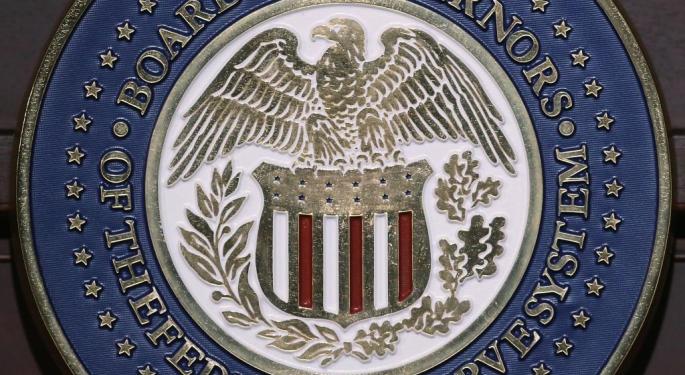 In a recent report, a group of Bank of America Merrill Lynch analysts looks into the Fed's September 17 rate hike decision and the implications it could have for the market.
According to the analysts, the fundamental environment for growth has improved, with "healing from the financial crisis and relative calm on the fiscal front."
The firm expects inflation to remain below both the Fed's and consensus forecasts.
The experts present three plausible scenarios for the Fed:
1. Rate hike: Markets start to stabilize and the Fed hikes rates in September.
2. Short-term delay: The Fed feels "uncomfortable with market fragility" and decides to delay the hike until October or December.
3. Semi-permanent delay: The least likely of the three in analysts' eyes, it's possible shocks to the economy worsen, limiting growth.
The analysts at BoA still expect to see rate hikes "at every other meeting, or at less than half the usual pace."
Moreover, they see a risk in the Fed starting out even slower, increasing rates every third meeting.
Implications For Capital Markets
The experts also discussed what could happen in the markets.
"As this goes to press, a September move is only partially priced in," they wrote. The first rate hike might be interpreted as a "policy mistake" and more market shocks could come "if the Fed follows through with a sequence of hikes."
For the dollar, analysts forsee a strong currency in connection to a hike.
Emerging markets, they add, will probably see some volatility. "[T]here are only small external imbalances in the Fragile Five...These have proved to be more resilient than the retail investors in 2013."
Credit markets, on the other hand, might see a favorable near-term reaction, but BoA sees longer-term issues, "as they were big beneficiaries of the Fed's super easy policy in recent years."
The Final Word
Despite the potential for hikes to be interpreted as a policy mistake, analysts think a smooth rate hike transition should support more growth in stocks compared to bonds or cash –- as long as the U.S. continues on its current path of economic growth.
Posted-In: Bank of AmericaAnalyst Color Bonds Previews Federal Reserve Markets Analyst Ratings Trading Ideas Best of Benzinga
View Comments and Join the Discussion!