Analyst: Apple TV Might Be Too Expensive (And Why It Should've Bought TiVo)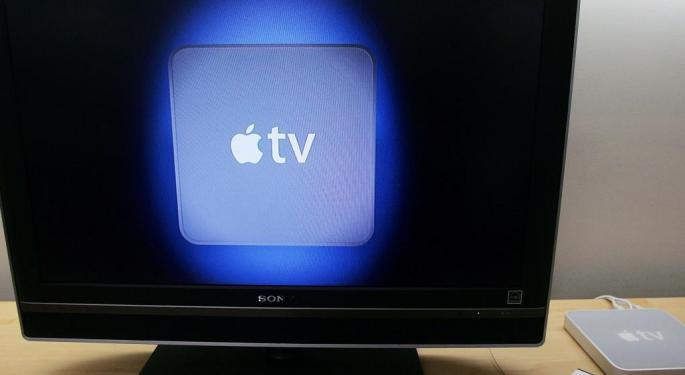 Apple Inc. (NASDAQ: AAPL)'s new TV announcement is barely a few hours old, but Wall Street analysts are already out with their initial thoughts.
Rich Tullo of Albert Fried commented that Apple's new TV "looks too expensive" at $149 or $199 versus $35 for a dongle and a little more for a Roku box. However, the analyst noted that Apple's PCs retail for nearly double of a Dell PC, but "no one argues about value" because "MACs never fail."
Why Apple TV Is Different
Tullo added that Apple TV is at its core an "operating system" for a next generation TV, and it is "way better" than anything Samsung has on the market. Nevertheless, the analyst isn't ready to blindly throw his support behind the new product.
"If I were an Apple investor and Jobs was the CEO, I would have a lot of confidence in Apple TV because Jobs did not launch buggy platforms," the analyst wrote. "Cook does not seem as bug intolerant."
Related Link: New Apple TV Will Be Available Starting Late October
What About Apple–TiVo?
With that said, Tullo argued that Apple should have acquired TiVo Inc. (NASDAQ: TIVO), because "they are a generation ahead in third party apps," but "two generations behind on virtually every other front."
The analyst further added that Apple needs to develop a "generation II with a TV tuner and Linear TV integration" to be more like TiVo. In addition, Apple needs to enable users to toss what they are watching on their iPad Pro to the TV.
Bottom line, Tullo stated that Apple's consumers won't tolerate bugs in general. As such, the Apple TV "could fail" if it sees early bugs.
Posted-In: albert fried Apple TV iPad Rich TulloAnalyst Color Top Stories Analyst Ratings Tech Best of Benzinga
View Comments and Join the Discussion!