Tullo Still Short Netflix, Says Media Is Wrong About International Exposure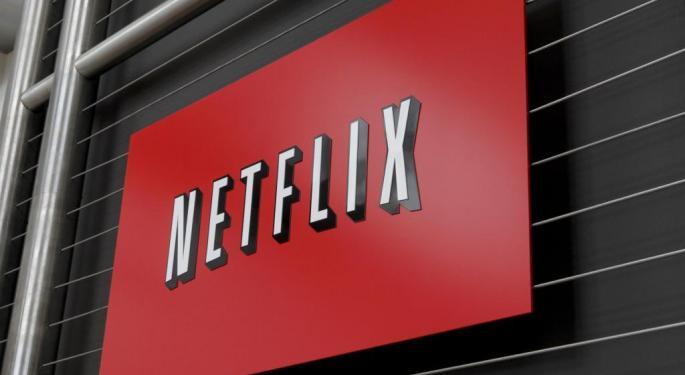 In an email sent to investors on Wednesday, Albert Fried & Company's Richard Tullo looks into Netflix, Inc. (NASDAQ: NFLX). Although the firm does not cover this stock, the analyst wanted to point out a few comments he heard in the media that "do not seem to make sense."
Note that Tullo is short Netflix and does not cover it, so his opinion is biased. Having said this, let's dig into his comments:
International Exposure
Media has said that Netflix does not have international exposure. However, Tullo considers it has "a lot" of it. He noted that almost 40 percent of its subs and "more than half those 2021-2023 estimates used to justify the valuation at over 250x trailing EPS are based on International growth."
In fact, he would argue, "International revenue that does not exist yet could be more risky then [sic.] tangible international revenue if the future estimated revenue has a +300x multiple on a segmented basis."
Related Link: Why This Options Trader Is Short Netflix
Global Broadband Households
Tullo noticed that, while international opportunities remain robust, the company already passes roughly 60 percent of global broadband households. Thus, the growth potential is more limited than many assume.
International 'Churn'
The expert thinks Netflix's international churn, maybe 15 percent to 30 percent annual, has been masked by constant new market rollouts.
Subscription Rates
Subscription rates in in international markets tend to be higher than in the United States (ranging from $7 to approximately $14 a month).
The specialist points out this price tag may be too high (especially in markets like Mexico, Brazil, India or even Japan) to drive growth rates similar to those seen in the United States over the long term.
When GDP per capita is taken into account, the subscription price surges considerably. "Netflix in Mexico costs the subscriber about $30 in local terms, which I think is a lot for a worker making only $11,000 a year," Tullo expounded.
Fall Season Blues
Recent research has suggested Netflix adoption slows down during the fall TV season, as sports and scripted shows take share. "As growth in the U.S. slows, this seasonality could turn into actual sub losses maybe by 2016 as Netflix transitions from a seasonal growth company with weak near term earnings power from a secular growth company whose top line is driven by low quality international subs," Tullo added.
Related Link: 5 Charts Netflix Shareholders Need To See
The Amazon Influence
According to the analyst, Amazon.com, Inc. (NASDAQ: AMZN)'s new shows could be a hit in America. In fact, he assured, "Sneaky Pete" looks like the next "Breaking Bad."
Selloff
Not only Carl Icahn is selling Netflix's stock. Other firms that are very familiar with the company, like Coatue, Apex and Technology Crossover Partners are also disposing of their shares. This is, at least, concerning.
View Comments and Join the Discussion!
Posted-In: Albert Fried & Company Apex Carl IcahnAnalyst Color Short Ideas Analyst Ratings Tech Trading Ideas