Ray Dalio: The Next Big Fed Move Will Be QE, Not A Rate Hike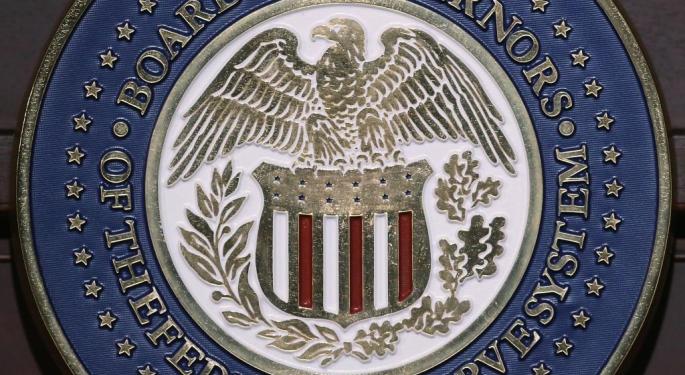 While most of the rest of the world is debating "when" rather than "if" an FOMC rate hike is coming, Bridgewater Associates founder Ray Dalio sees a much more troubling scenario unfolding.
According to Dalio, the next major move by the Federal Reserve will be easing rather than tightening, and the Fed may be ill-equipped to combat the coming end of a secular debt-powered global economic supercycle.
Classical Economic Cycles
The typical classical economic cycle revolves around the spread between short-term interest rates and the returns that can be generated from longer-term investments such as stocks. "Because short-term interest rates are normally below the rates of return of longer-term assets, you'd expect people to borrow at the short-term interest rate and buy long-term assets to profit from the spread," Dalio explained.
Related Link: Here's How New Rate Hike Predictions Are Affecting The Market
While it's typically true that long-term investments such as stocks provide higher rates of return than short-term interest rates, long-term investments periodically suffer periods of severe underperformance that keep perpetual borrowers at bay.
According to Dalio, these cycles of economic growth followed by periods of economic contraction are driven by central banks manipulating interest rates.
Secular Trend
However, the danger that Dalio sees in these cycles is that they have historically been unbalanced. "Since 1981, every cyclical peak and every cyclical low in interest rates was lower than the one before it until short-term interest rates hit 0 percent," Dalio explained. Once rates hit zero, central banks were forced to print money and buy bonds to stimulate growth, which in turn inflated asset prices.
"That's where we find ourselves now—i.e., interest rates around the world are at or near 0 percent, spreads are relatively narrow (because asset prices have been pushed up) and debt levels are high," he wrote.
The end result, according to Dalio, is that the long-term secular debt-driven global economic expansion supercycle is nearing its end.
What Does It Mean?
Dalio said that he doesn't know if the "tipping point" toward global deflationary contraction has yet been reached, but he noted that the long-term debt cycle is already clearly having an impact on China, oil producers and other emerging market economies.
For now, Dalio believes the biggest short-term risk is that the Federal Reserve has already committed to a tightening path and will be unwilling to deviate to an easier path if economic conditions require such a change.
View Comments and Join the Discussion!
Posted-In: Bridgewater Associates interest rate interest rate hikeAnalyst Color Top Stories Economics Federal Reserve Analyst Ratings Best of Benzinga