How The IRS Holds The Keys To Yahoo's Stock Price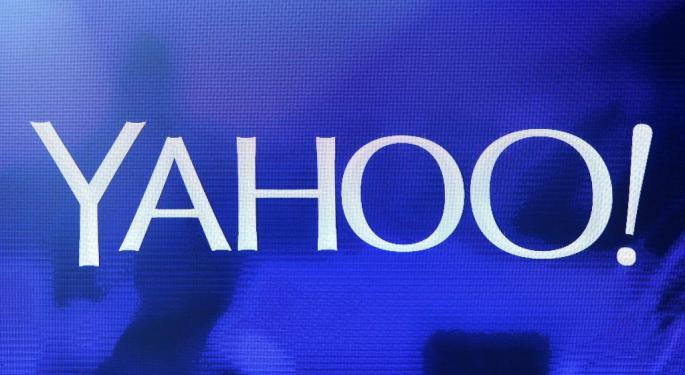 With the IRS apparently still studying the details of a potential spin-off of Yahoo! Inc. (NASDAQ: YHOO)'s stake in Alibaba Group Holding Ltd (NYSE: BABA), SunTrust analyst Bob Peck released a new report explaining the four possible scenarios that Yahoo shareholders are likely to see based on exactly how the IRS chooses to handle the situation. Peck sees value in Yahoo's stock regardless of the decision, but the outcome of the ruling could make a huge difference in where Yahoo's share price ultimately ends up.
PLR Mystery
Yahoo and its shareholders have been waiting for a Private Letter Ruling (PLR) from the IRS regarding Alibaba, but it is looking increasingly likely that they will not receive this ruling prior to the proposed Q4 2016 spin off date. Peck goes as far as to say that it is "unclear if the IRS will even be able to issue the PLR until 2H'16."
Related Link: Is Yahoo The Ultimate 'Buy The Dip' Bet?
Four Scenarios
With the timing and content of the PLR a mystery, Peck breaks down Yahoo's path forward into four different scenarios:
1. The IRS comes through with a PLR granting a tax-free spin-off, which proceeds as planned. This is the best-case scenario, and Peck believes that Alibaba would generate $29 per share of value for Yahoo shareholders, yielding a total value of $48 per share for Yahoo.
2. The IRS does not issue a PLR and Yahoo carries on under its current structure. In this scenario, Peck assigns only $23/share in value to the Alibaba stake and an overall value of $42/share for Yahoo.
3. Scenario three is the same as scenario two (no PLR/same structure), except that Yahoo decides to increase its leverage under the current structure to 3x and buy back shares, reducing its shares outstanding by more than 10 percent. Peck believes that this scenario would generate an overall value of $45/share for Yahoo.
4. Finally, the worst-case scenario is that the IRS does not issue a PLR and Yahoo decides to go ahead and sell its Alibaba stake at a 40 percent capital gains tax rate. If the company takes this route, Peck sees Yahoo shareholders left with only $36/share in overall value.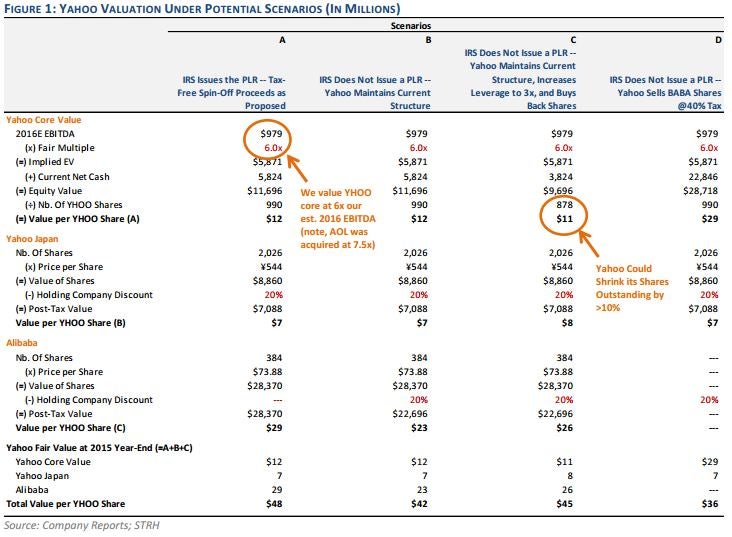 "Per our scenario analysis, we think the market has already baked in the worst case scenario where the BABA stake is taxed at 40%," Peck explained. SunTrust is not so pessimistic. The firm currently has a Buy rating on Yahoo and a $50 target for the stock.
Posted-In: Bob Peck IRS SunTrustAnalyst Color Price Target Legal Top Stories Analyst Ratings Best of Benzinga
View Comments and Join the Discussion!