Everything You Need To Know About Retail Earnings...Before They Happen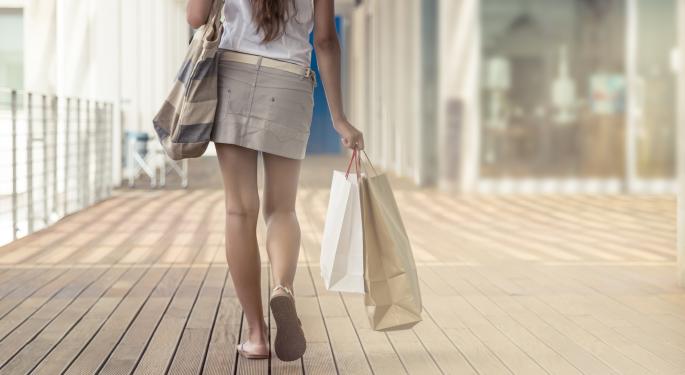 As we approach the end of earnings season, investor attention turns toward retailer reports.
Many will focus on big department stores like Macy's, Inc. (NYSE: M), which is now in fierce competition with the increasingly powerful Amazon.com, Inc. (NASDAQ: AMZN).
Here's what you need to know before the wave of retail reports, in addition to the retail sales number we'll get on Thursday.
What To Watch In Retail Earnings
Retail is a highly competitive sector. Results largely depend on how well companies are on trend with what customer's want.
Retail Expert and Lamour Group SVP Ryan Craver expects a few key things to continue to play out, like strong auto-related sales, strong sporting goods, along with continued strength within restaurants and food service.
"With the retailing sector being up nearly 20% YTD and having a strong upwards trend, I currently see there still being some room to the up side. That being said, however I do not think that margins will be nearly enough to pull companies through to allow for forward guidance in the following quarter let alone the ever looming Fed watch," said Joshua Van Dress, CIO at Able Capital Management.
Van Dress suggested that investors in the retail sector should hold until there's a clearer picture of what's going on in the space.
Some Specifics
Jill Malandrino, Product Development Manager at TheStreet.com, noted Under Armour Inc (NYSE: UA) and Nike Inc (NYSE: NKE) as strong companies to watch given the "athleisure" trend happening in clothing right now.
Malandrino also commented that TJX Companies Inc (NYSE: TJX), owner of Marshalls, TJ Maxx, and HomeGoods, has an advantage in that they do not sell a singular brand and have low prices.
Yet, online strategy cannot be ignored. Amazon's #PrimeDay, which boasted of Black Friday-esque deals, likely took some sales away from department stores this quarter
"Longer-term online strategy will be key for retailers like Macy's because of competition from Amazon. Speaking for myself, I do a majority of my clothing purchases on Amazon because of the deals. An analyst on CNBC brought up a great point last week by saying the big national brands could potentially see an increase in traffic if they view Amazon as a distribution partner rather than an enemy," Malandrino said.
Craver also expects to see strength in online retail given the frenzy of #PrimeDay and the "halo effect" it drove.
"In terms of weakness, the department store category can't buy a win and are in a long-term decline that shows no reversing any time soon with the dollar, outlets and discounters taking most of the share," Craver said.
Just this morning, Macy's reported an earnings miss of $0.64 EPS vs. $0.76 estimate, with sales at $6.104 billion vs. the $6.23 billion estimate.
What To Watch In The Retail Sales Number
1 Year Chart Of U.S. Retail Sales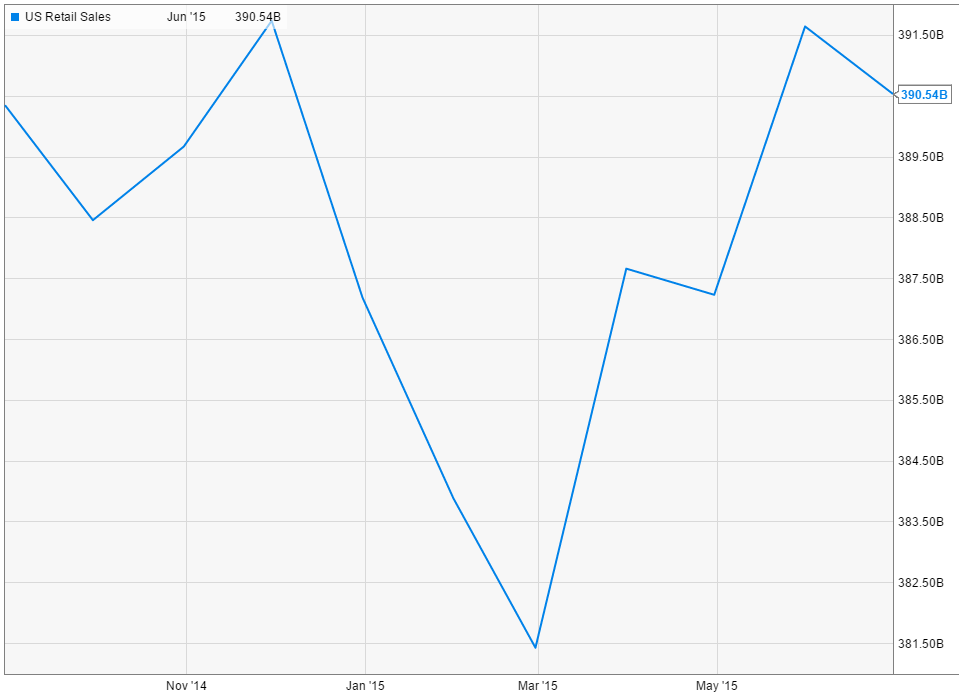 "Retail is a tape of the 'haves' and 'have nots.' It is all about being on trend as the consumer is more fickle than ever, and controlling that risk by running a tight operation ship," Malandrino told us.
Tomorrow, we'll get the monthly sales numbers at 8:30 a.m. ET, followed by inventories at 10 a.m. ET.
Van Dress said, "I am looking for the retail sales numbers to be flat to slightly up if for no other reason than back-to-school specials. There is a lot of weight on the economy right now and I do not think that it has a significant amount to do with the retailing sector."
Craver pointed out that June was weak, and the whisper on July is weak with the back-to-school specials coming in August.
"I wouldn't be surprised to see an upward revision to June and July numbers that meet or are slightly below expectations," he said.
Looking Ahead
Craver says the holiday season is shaping up to be huge for a few key categories like electronics, toys and tech (think Apple Inc. (NASDAQ: AAPL) iPhones, Samsung Electronics Co (OTCMKTS: SSNLF) Galaxies, GoPro Inc (NASDAQ: GPRO) GoPros, affordable 4K TVs, anything Walt Disney Co (NYSE: DIS) Star Wars or dinosaur-related with the release of "Star Wars: The Force Awakens" and "Good Dinosaur" movies).
"Given the high ticket pricing of these items, wallet share will be impacted in the other categories such as apparel," he said.
Posted-In: Marketfy InsightsAnalyst Color Earnings Previews Retail Sales Trading Ideas Best of Benzinga
View Comments and Join the Discussion!