Will 'The Visit' Be Another Hit For Universal Pictures Or A 'Pixels'-Sized Flop?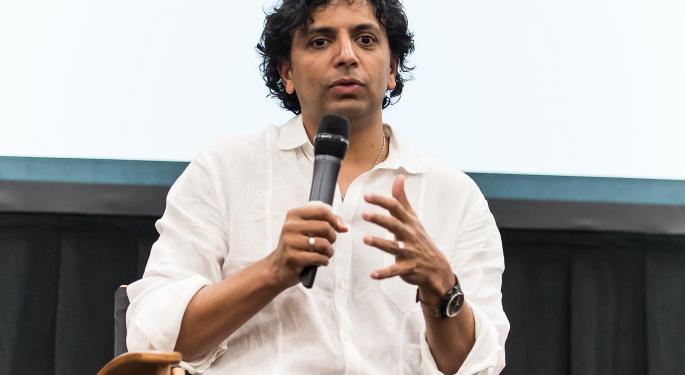 Comcast Corporation (NASDAQ: CMCSA) has been on a roll with Universal Pictures this year. The studio has had a plethora of movies that debuted at No. 1, including "Jurassic World," "Furious 7" and "Minions."
Universal Pictures will also distribute the next film from M. Night Shyamalan, whose career skyrocketed after he wrote, directed and produced "The Sixth Sense."
Shyamalan was once a go-to director for original thrills and chills, delivering "Unbreakable," "Signs" and "The Village" after his initial blockbuster. He disappointed fans -- and his former partner, Walt Disney Co (NYSE: DIS) -- with "Lady in the Water." He baffled moviegoers with "The Happening" and turned off everyone with "The Last Airbender" and "After Earth."
Rentrak Corporation (NASDAQ: RENT) Senior Media Analyst Paul Dergarabedian compared Shyamalan's career to Adam Sandler, who has also endured a string of flops.
"We're talking about Adam Sandler and M. Night Shyamalan," said Dergarabedian. "Two guys who have had some amazing careers and amazing ups and downs and a perception problem."
Related Link: 'Star Wars: The Force Awakens' Predicted To Make $250 - $500 Million Opening Weekend, Beating 'Avengers: Age Of Ultron'
Sandler's latest movie, "Pixels," bombed at the box office. Critics have repeatedly questioned Sony Corp's (ADR) (NYSE: SNE) decision to produce the film.
"'The Sixth Sense,' it's like [Shyamalan's] Citizen Kane," Dergarabedian added. "But when you create something like 'The Sixth Sense'…that was a big deal. He was the next big thing."
Dergarabedian thinks "The Visit" has "one of the creepiest trailers ever."
"Every kid that's ever stayed at grandma's house is going to freak out after this movie," he said. "No one has given up on him yet. He still continues to get budgets. I'm really pulling for M. Night to really turn things around and change the perception of him. 'The Visit' may have a great trailer and may not be a good movie. If that movie is as good as that trailer, [the studio will] have a horror hit on their hands."
Good Trailer = Bad Movie?
Rich Tullo, director of research at Albert Fried & Company, is afraid that "The Visit" might not live up to expectations. He likened its trailer to that of a low-budget made-for-TV movie that crams every good scene into one promo.
"I will never a judge a movie trailer," said Tullo. "These movies on local TV and all those movies in the '50s…they were all produced in Italy on the cheap. What they would do is put the best parts in the trailer and then people would go watch them. It was very innovative at the time. Now, when you see movies, a really great movie doesn't need a good trailer."
Tullo said that the new "Star Wars" trailers have shown familiar images that have always been associated with the franchise.
"That's it," he said. "People respond to word of mouth, [the] critic community, their friends, social [media]. You don't need a good trailer anymore."
Disclosure: At the time of this writing, Louis Bedigian had no position in the equities mentioned in this report.
View Comments and Join the Discussion!
Posted-In: Albert Fried & Company M. Night ShyamalanAnalyst Color Top Stories Exclusives Analyst Ratings Tech Interview Best of Benzinga