Tesla Guidance Could Come Up 'Soft,' While Mobileye Might Have Upside: Pacific Crest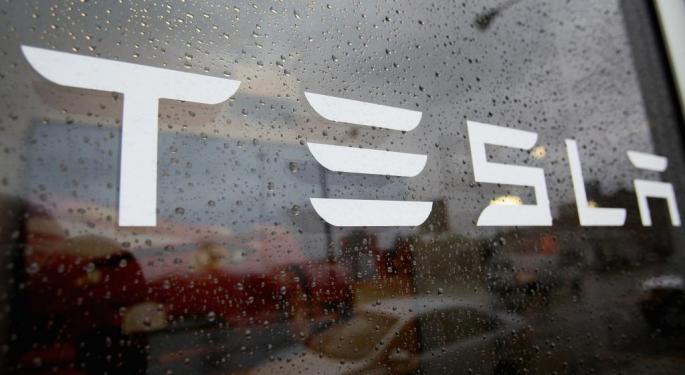 In a report published Tuesday, Pacific Crest analyst Brad Erickson looked forward to two names in the auto space reporting earnings this week: Tesla Motors Inc (NASDAQ: TSLA) and Mobileye NV (NYSE: MBLY).
Tesla: Moving To The Sidelines
Looking forward to Tesla's second-quarter print (Wednesday after market close), Erickson commented that the company already announced its second-quarter deliveries and that foreign exchange will not be "as meaningful a driver" as it has in the past few quarters, implying there could be "a bit" of gross margin upside in the quarter.
The analyst is modeling 12,750 deliveries in the out-quarter, implying a sequential increase of 66 percent to 21,174 deliveries in the fourth quarter, marking a "steep ramp." However, with no Model X configuration emails sent to customers, Erickson noted "the more skeptical we become" of achieving that metric.
Related Link: Investment Pro On Tesla: Nobody Else Does What They Do, And That's Huge
The analyst is also modeling 28.5 percent gross margins for the out-quarter, with "significant" impact to be expected as Model X ramps "meaningfully" in the fourth quarter.
Erickson also suggested that a "steeper" ramp to 55,000 vehicles delivered in 2015 imply the potential for a "meaningfully slower" ramp to half a million cars - "the bogey on which a large part of the stock's valuation is based."
Nevertheless, Erickson believes Tesla's high-end Model S and X vehicles can achieve a gross margin level in the low-30 percent range over the next three to five years while lower-end model(s) could "neighbor" the high-end vehicles by as close as 500 basis points.
With that said, the analyst stated that investors move to the sidelines as current expectations are aggressively calling for "rapid sequential increases in volumes, combined with little to no execution misstep."
Shares remain Sector Weighted with a "fair value" of $293 and an "unfavorable" risk/reward profile.
Mobileye: Catalysts Support Growth Story
Looking forward to Mobileye's second-quarter print (Thursday before market open), Erickson noted shares remain strong and have risen 43 percent since the beginning of the quarter. Erickson attributed the surge to a NTSB recommendation that active safety standards be established in the US. The analyst also added that Delphi Automotive PLC (NYSE: DLPH)'s positive recent commentary over its active safety business "bodes well" for Mobileye.
The analyst said that active safety adoption remains "relatively low" in the US but is "rising." As such, any commentary surrounding the potential of adding Volkswagen as a customer would be a positive. Volkswagen is the second-largest automaker at roughly 10 million vehicles, eight million of which would become incremental as Mobileye already has a contract with Audi for two million cars.
Erickson is looking for upside to his 873,000 unit forecast for the full fiscal year with a "relatively flat" average selling price (ASP). In fact, the analyst isn't expecting the company to raise its ASP in 2015 or 2016, but over the longer term the company can grow its ASP to the $60 range from its current $44.
Shares remain Sector Weight rated with a "fair value," no assigned valuation and a "favorable" risk/reward profile.
Posted-In: Active Safety Audi Brad EricksonAnalyst Color Previews Top Stories Analyst Ratings Trading Ideas Best of Benzinga
View Comments and Join the Discussion!