How 16 Wall Street Analysts Reacted To Twitter's Earnings Report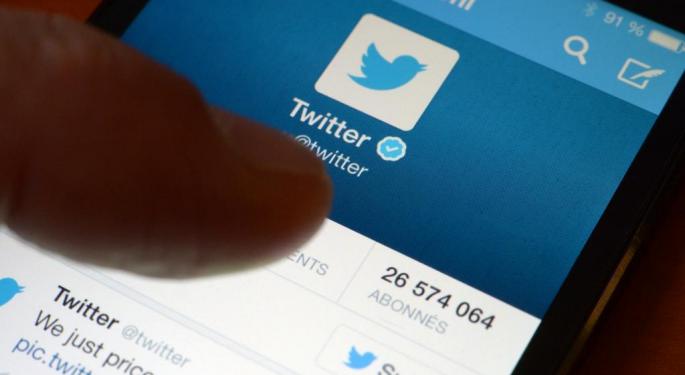 Twitter Inc (NYSE: TWTR) dropped a bombshell on Wall Street when it announced its Q2 earnings and revealed user growth numbers that fell significantly below consensus expectations. Despite beating consensus top-line and bottom-line numbers, the user number disappointment sent Twitter shares plunging more than 15 percent on Wednesday, and it had Wall Street analysts scrambling to update their outlooks for Twitter's future.
Some analysts are now taking a very cautious approach to Twitter, while others have not changed their positive outlooks a single bit. Here's a summary of what Wall Street has to say about Twitter's quarter.
Morgan Stanley
Analyst Brian Nowak is now "wary" of Twitter after the company's addition of two million monthly active users (MAUs) in Q2 well woefully short of the firm's projections of 6.5 million additions.
Brean Capital
Despite a Buy rating on the stock and a $47 price target prior to earnings, analyst Sarah Hindlian believes that the MAU growth struggles "should have been widely expected" and "may continue to weigh until MAU growth improves."
Related Link: Twitter 'Kitchen Sinked The Quarter,' But One Quarter Is Not A Trend
Jefferies
Analyst Brian Pitz sees Twitter's announcement that it "does not expect to see sustained, meaningful growth in MAUs for a considerable period of time" as a "near term challenge" for the company, and the firm lowered its price target for the Buy-rated stock from $60 to $56.
JMP Securities
Analyst Ronald Josey is also sticking to his Market Outperform guns when it comes to Twitter, but reduced JMP's target on the stock from $48 to $43 and sees user growth as cause for concern.
Macquarie Research
Analyst Ben Schachter succinctly summed up what he feels is the problem when it comes to Twitter's accessibility: "After nine years of its existence, my mother still doesn't understand what it means to 'hashtag' something, but she does understand what it means to 'like' something."
Oppenheimer
Analyst Jeff Helfstein is calling for "muted investor enthusiasm" for Twitter following the report and notes the company's "struggles to add users, driven by products challenges and competitive pressures."
Raymond James
Analyst Aaron Kessler sees the trend of "strong monetization but anemic user growth" at Twitter continuing for at least a few more quarters.
RBC
Analyst Mark Mahaney believes that Twitter has hit a AUM "growth wall," which should serve as even more motivation for the company to bring in an outsider when it chooses its new CEO.
SunTrust
Analyst Bob Peck remains cautiously optimistic on Twitter, but believes that the market is now in "prove it" mode when it comes to Twitter's expectations for the future.
UBS
Analyst Eric Sheridan offers very little by way of commentary in his Twitter Q2 Quick Take report, but UBS has a Buy Rating on Twitter and a $50 price target for the stock.
Deutsche Bank
Analyst Ross Sandler is not letting the fact that he is "struggling to identify a MAU growth catalyst" stand in the way of his Buy rating and $50 target for Twitter, which were both reiterated following the Q2 report.
Pacific Crest
Analyst Evan Wilson does "not expect a near-term rebound" in user growth from Twitter, but seems to be basing his Overweight rating and $52 price target squarely on the hopes that the announcement of a new CEO will serve as a positive catalyst for the stock.
Bank of America
Analyst Justin Post lowered his target for Twitter from $44 to $40, ad believes that the market will take a "wait and see" approach to Twitter's Project Lightning launch in the Fall.
Barclays
Analyst Paul Vogel is now concerned about Twitter's ability to meet Barclays' revenue projections for 2016 and is watching for "clear signs of improvements to product, user growth and engagement."
Cantor Fitzgerald
Analyst Youssef Squali concedes there is "uncertainty around user growth in 2H, an integrated marketing campaign this fall and new product launches/enhancements," but he maintains his Buy rating and $50 target for the stock.
Goldman Sachs
Analyst Heath Terry sees a favorable risk/reward balance for Twitter's stock at the moment despite the "high degree of difficulty" the company faces in reaching the mass market.
View Comments and Join the Discussion!
Posted-In: Analyst Color Price Target Top Stories Analyst Ratings Trading Ideas Best of Benzinga