Polcari: The New U.S. GDP Calculation Method? 'Just Make It Up'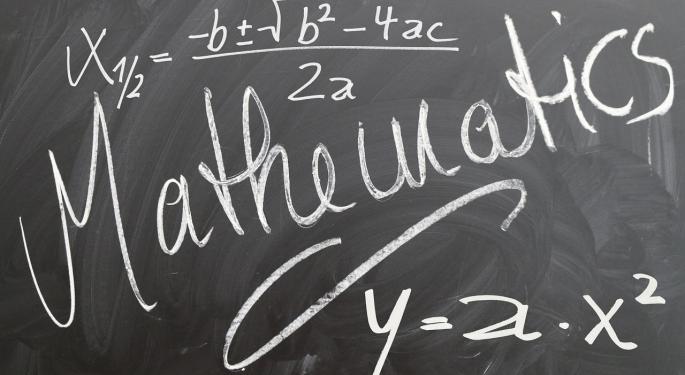 In a note released on Friday morning, O'Neil Securities Director Kenny Polcari discussed the state of the U.S. stock market and next week's critical U.S. GDP number. Polcari believes that the U.S. Bureau of Economic Analysis will be reporting a strong GDP number next week, one way or another.
New Method
San Francisco Federal Reserve President John Williams recently described the convoluted new method the U.S. used to calculate Q1 GDP. "To get a measure that avoids seasonal patterns, SF Fed economists ran a second round of seasonal adjustment, not just on GDP, but on gross domestic income (GDI) and something called GDP Plus, a new measure of economy-wide activity that combines GDP and GDI and strips out the extraneous noise.
"After making this modification for recurring seasonal patterns, the data show GDP actually grew about 1.5 percent in the first quarter," Williams explained.
Related Link: Is China's GDP Overstated?
Cooking The Numbers?
According to Polcari, the new "convenient" GDP adjustment method allows the U.S. government one more means of manipulating the economic data to produce a favorable outcome. Polcari says that this method of tweaking the numbers comes straight out of China's playbook. Despite evidence showing that the manufacturing business has not yet stabilized in China, the country somehow calculated Q2 GDP growth of 7 percent.
What Does It Mean?
Polcari predicts that the new calculation technique in the U.S. will likely produce a positive GDP number next Thursday. "It means that the administration will 'massage' the numbers until they get what they want… and if they get a number they don't like – then they will massage it some more until they get the reaction they want," Polcari writes.
If Polcari is correct, the market should be looking for the U.S. to meet or top consensus expectation of 2.4 percent GDP growth. One way or another.
Image Credit: Public Domain
Posted-In: John Williams Kenny PolcariAnalyst Color Politics Top Stories Economics Federal Reserve Analyst Ratings Best of Benzinga
View Comments and Join the Discussion!