Dennis Gartman Sees 'Enormous' Demand For U.S. Housing
In his latest issue of The Gartman Letter, Dennis Gartman discussed the U.S. housing market ahead of Wednesday's June Existing Home Sales number. In his letter, Gartman made some interesting comments on the state of the housing market and made a surprisingly bold but accurate prediction.
Under-Supply
Gartman begins his discussion of the housing market by referring to a graph of housing starts and housing permits as a percentage of the U.S. population since 1959. The graph shows that the number of housing starts and permits dropped to 50-year lows following the bursting of the housing bubble. Despite a recovery since the 2009 trough, neither statistic has yet to recover even to its pre-crisis lows.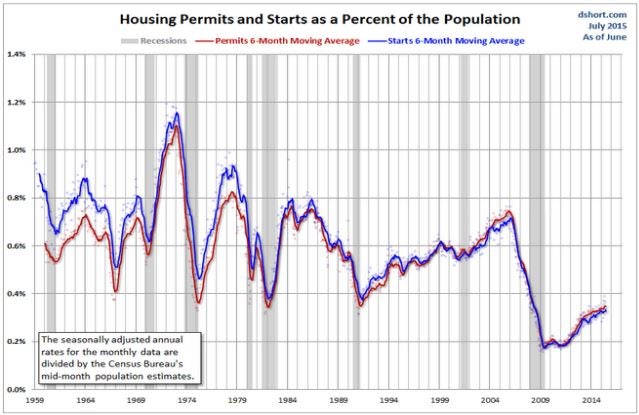 "The chart this time tells us a story of massive under-supplies of housing here in the U.S., a trend that began in earnest back at the very peak of activity in '69 and where each new low has been lower and so too each new high," Gartman explained.
Related Link: Gartman: We're Long Tanker Stocks And Gold, Short U.S. Treasuries
Decades Of Demand?
According to Gartman, the chart indicates that the recovery in the housing market has a long way to go.
"Housing starts need to rise not just above 1.0 million in annualized terms, but they need to rise toward and above 1.5 million, perhaps to 1.75 million before this decade is over, for the pent up demand for housing is enormous and decades long in the making," Gartman wrote.
Gartman believes that the Millennial generation, which spent several years during and after the Financial Crisis unemployed or under-employed, has just recently begun to get comfortable with buying houses, and this trend could continue for decades to come.
Impressive Prediction
Gartman published his letter prior to Wednesday morning's release of June Existing Home Sales totals, and Gartman included a bold prediction in the letter. Despite a consensus of 5.4 million and a high range estimate (according to Bloomberg.com) of 5.46 million, Gartman wrote, "we'll not be surprised to see 5.5 million when the number is actually made public.
Shortly after the publication of the letter, the National Association of Realtors reported sales at an annualized rate of 5.49 million for June, nearly exactly what Gartman had predicted.
View Comments and Join the Discussion!
Posted-In: Dennis GartmanAnalyst Color Economics Analyst Ratings Real Estate Best of Benzinga