While Chipotle's Business Model Is 'Hard To Duplicate,' Experts Are Mixed On The Stock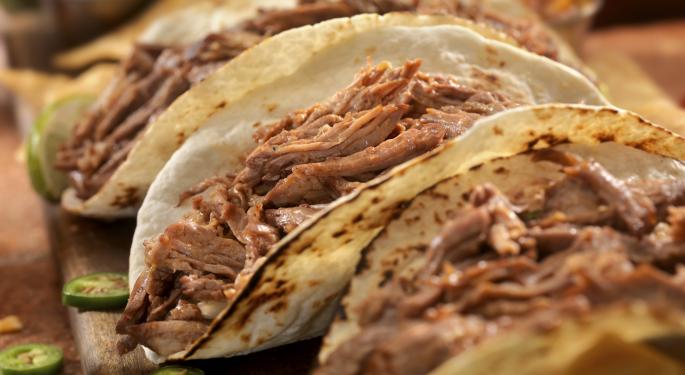 Chipotle Mexican Grill, Inc. (NYSE: CMG) is scheduled to report its second quarter results after Tuesday's market close. Estimize, the crowd-sourced earnings and economic rating platform is expecting the company (based on 73 estimates) to earn $4.47 per share on revenue of $1.224 billion. This compares to the Wall Street consensus estimate calling for the company to earn $4.42 per share on revenue of $1.216 billion.
Here is a summary of what Wall Street's top analysts are saying ahead of the print.
Deutsche Bank: 'Easy To Imitate, But Hard To Duplicate'
Karen Short of Deutsche Bank commented in a note in late May that Chipotle's focus on a "simple" menu and operating model is "easy to imitate, but hard to duplicate."
According to Short, Chipotle will remain "vigilant" in its unit expansion at a time when the company faces "extremely challenging" same store sales comparisons across an "increasingly challenging" landscape. As such, the analyst expressed concern over the "challenging comparisons" while noting no particular issue or concern with its operating or growth strategies.
Short added that unless the company can re-accelerate its earnings, there is little potential for shares to return to multiple expansion as was seen last year.
Miller Tabak: Above-Peer EPS Growth Through 2016
Stephen Anderson of Miller Tabak commented in a note in late May that a combination of mid-to-high single-digit same-restaurant sales growth and a "retreat" in food costs will "support" an above-peer earnings per share growth through 2016.
Anderson also noted that the company's pipeline remains "solid" as its ShopHouse concept will enter the Chicago market and spur further expansion for its casual Asian concept. In addition, the company's "ample" cash balance and "robust" free cash flow will also support increased share buybacks.
As such, the recent pullback in Chipotle's stock creates an opportunity for "solid" share price growth over the next few quarters.
Cowen: Chipotle 'Best Positioned' to Benefit From Sourcing Demand
Andrew Charles of Cowen commented in an industry wide note on July 13 that Chipotle (along with Panera Bread Co (NASDAQ: PNRA)) are "best positioned" to benefit from its transparent sourcing demand.
Charles noted that both restaurants have the "longest legacy" with transparent food sourcing and a brand awareness stemming from marketing campaigns that focus on food quality and sourcing.
Oppenheimer: 'Now Is The Time' To Buy
Brian Bittner of Oppenheimer commented in a note on July 9 that "now is the time" to buy Chipotle's stocks.
Bittner offered five reasons to support his bullish thesis: 1) a tough third quarter lap is "transitory with fear priced-in," 2) Comps are poised to re-accelerate with new drivers and a "low bar," 3) Valuation is now at a 22 percent discount to the stock's three-year average, 4) the Street estimates for 18 percent earnings per share growth in 2016 "appears conservative" and would represent the lowest since 2008, and 5) Its "best-in-class growth story" hasn't changed.
Bittner also argued that Chipotle's cash story is "interesting" with a free cash flow of almost $600 million this year, cash on balance sheet of $500 million plus and no debt. As such, the company has the "fire power" to launch a more aggressive share repurchase program and can also ramp its Pizzeria Locale which represents a "massive growth opportunity" that could be scaled "quicker-than-expected."
Wedbush: Valuation Reflects 'Lower Visibility'
Nick Setyan of Wedbush commented in a note in early June that there exists several risks to the company's second quarter earnings print.
Setyan noted that Chipotle's April comps were in the high-single digits, with pricing contributing 6.1 percent. As price fell off, the analyst's checks indicated comps may be tracking at around six percent for the first two months of the second quarter, implying a low-single digit transaction growth trajectory.
Setyan continued that assuming a similar run-rate through June, the company's second quarter same store sales growth may come in below consensus estimates of 6.1 percent. The analyst also noted that management issued guidance calling for low-to-mid single digit same-store sales growth in the second quarter, although management's guidance has proven to be "meaningfully conservative" historically.
Setyan finally noted that incremental throughput in the second half of 2015 may not be enough for the company to achieve a mid-single-digit same-store sales growth, even when carnitas return to the menu. Also, the company's catering segment has been cited as a potential driver of growth, but the segment's contribution to total sales has remained "fairly consistent" at around one percent.
View Comments and Join the Discussion!
Posted-In: Andrew Charles Brian Bittner Casual Fast Food Chipotle Mexican GrillAnalyst Color Previews Analyst Ratings Trading Ideas Best of Benzinga