OTR Global: Pandora View Has 'Deteriorated' On Ads, Local Radio Spending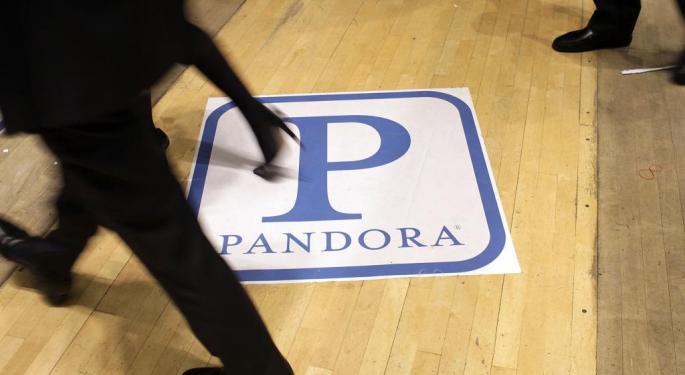 In a report published Wednesday, OTR Global analyst Michael Foster commented that Pandora Media Inc (NYSE: P)'s "eagerly anticipated" programmatic buying platform has resulted in "tepid buyer enthusiasm."
Foster noted that digital buyers reported "steady" growth of spending for audio and display advertisements while total second quarter spending on Pandora's platform rose 16 percent to 21 percent year-over-year. The analyst added that his sources suggested that Pandora's programmatic platform helped give a "small-but-limited" increase to overall budgets, which likely would have decelerated otherwise.
Foster included a quote from a source that stated the programmatic offering hasn't provided as much upside as expected:
"We were approached earlier this year to test out Pandora's private exchange. It has boosted both CTRs and conversion rates," the source told Foster. "However, what we can do with it is fairly limited, and total volume is still miniscule compared to Facebook or Google, so that has limited our spend on it."
Foster added that other sources expressed "disappointment" that the programmatic exchange does not extend to audio advertisements, which have gained the most interest from digital buyers as budgets shift to mobile.
Finally, the analyst reported that digital buyers have gained a "growing confidence" in integrating audio advertisements with their digital campaigns. The sources said improved targeting and verification of audio advertisement delivery "enhanced" performance, keeping them engaged on the platform.
Related Link: Exclusive: How The Smashing Pumpkins' Billy Corgan Would Revolutionize The Music Industry
Shares plummeted on Wednesday, down 4.7 percent at $14.53.
Notable Quotes From Sources
Foster also listed notable commentary from his sources that offer another glimpse into Pandora's ad initiatives and reactions from buyers:
ON MARKET SHARE
"This quarter, we were looking more at Spotify instead of Pandora. The reason is that we have a much younger market; Pandora doesn't fit in with our objectives."
"Spotify is stealing a little share from Pandora because its total inventory is growing."
"Spotify has audio everywhere and business-level targeting; their share is still not significant."
"Nothing can compete with Pandora in terms of size, scale and the quality of their sales folk. I know Spotify gets a lot of news, but they don't have the inventory where we need it. As for iHeart[Media Inc.] and CBS, they're light years behind Pandora on digital."
ON PRICING
"Pandora has seen overall prices rise a lot in the last year, and now, the prices are going up a little slower. I don't think they've hit a ceiling at
all, but I think it's going to be a while before Pandora costs more than other premium publishers."
"[$15.20 CPM] is our guaranteed price until we renegotiate in October when I expect they will try to raise the price again. And at that point, I'll have to make the decision as to whether or not to continue buying their product or put the dollars back into terrestrial or maybe into broadcast TV."
"For $13, you can Demo. And that's their pitch because it is more expensive than others. Our clients seem to like that; they seem to be hitting their goals with Pandora."
Posted-In: Display Ads Michael Foster Mobile ads Online Ad OTR GlobalAnalyst Color Analyst Ratings Tech Best of Benzinga
View Comments and Join the Discussion!