Thoughts On Reported Micron Bid From The Analyst Who Predicted It First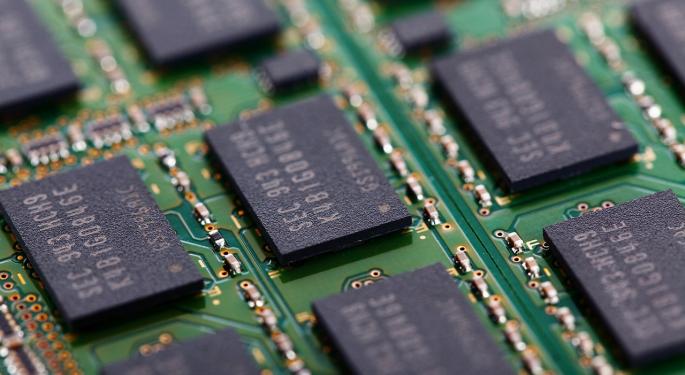 Reuters reported early Tuesday morning that China's state-backed Unigroup Ltd. was preparing to bid for Micron Technology, Inc. (NASDAQ: MU). The firm, according to Reuters, will offer $23 billion – equivalent to $21 per share and a 19.3 percent premium on Micron's trading price at the time. But according to a Micron spokesperson, the company has yet to receive an offer as of this morning.
Summit Research analyst Srini Sundararajan was one of the few who saw this deal – or at least something like it – coming. In a report published on July 2, he mentioned that Micron would be "a [good] candidate for an acquisition or for an equity position...by the Chinese government."
Sundararajan published another note after rumors of the Tsinghua bid surfaced, giving Micron a Buy rating and a $34 price target. He also offered Benzinga exclusive commentary on the potential deal.
Related Link: Morgan Stanley Upgrades Micron, Sees Floor Now Under The Stock
What Is Tsinghua
The analyst gave some insight into why an offer from Tsinghua would be particularly notable. Tsinghua Unigroup, he told Benzinga, is controlled by Tsinghua University in Beijing. According to Sundararajan, this relationship gives the company "political influence," especially since Chinese President Xi Jinping spent his college years at the school.
Sundararajan described Tsinghua as the "Chinese government's point man" for acquiring foreign tech companies. A takeover of Micron, said Reuters, would "consolidate Tsinghua Unigroup's position as a champion for China's technology development, after it struck deals and research partnerships with international firms in the semiconductor industry."
In 2014, Intel Corporation (NASDAQ: INTC) announced that Tsinghua Unigroup had agreed to hand over 20 percent equity to the American tech giant in exchange for $1.5 billion.
Related Link: Cowen On Micron–Tsinghua Deal: "Wow."
The Motive
Sundararajan believes that China's interest in acquiring a top-tier dynamic random access memory (DRAM) chipmaker stems primarily from DRAM's importance as a component in smartphones and personal computers. "What China wants to do is to own all of these parts of a smartphone." According to him, Android-based devices require at least three gigabytes of RAM, and iPhones need at least two.
China is already spending about $13 billion per year on DRAM chips, noted Sundararajan, and the figure is going to climb to $20 billion within a few years. Given these numbers, he said, the country is itching for its own domestic producer "instead of having to pay all of this money to an outside source."
"Only three DRAM players have the latest and greatest tech," Sundararajan informed Benzinga. Micron is joined on the top tier by South Korean firms Samsung and SK Hynix.
Potential Roadblocks
Some analysts are concerned that U.S. regulators could be apprehensive about a Chinese bid for Micron, because it could threaten American cybersecurity. But in Sundararajan's view, this isn't a concern: cybersecurity could impact the approval process "only obliquely and likely not at all."
More horsepower in the form of DRAM, he explained to Benzinga, would equate to more horsepower for cracking passwords, but he "[doesn't] think this is [a] real worry." Furthermore, he highlighted, Tsinghua has a friendly relationship with Intel (because of its large equity stake), and Intel's "advice carries a lot of weight with the [DOJ]."
However, he did speculate that some ground-level political complications could arise. Specifically, he worried individual Americans in certain areas might oppose the deal because of anti-Chinese sentiment and the fear of losing American jobs. These constituents' Congressional representatives, he thought, might apply pressure to officials with the Department of Justice and the Committee on Foreign Investment in the United States to block the transaction. He also mentioned that "there could be lawsuits."
All in all, though, Sundararajan maintained that "antitrust concerns [could] be dealt with successfully."
Related Link: Option Alert: Micron Oct $20 Call Sweep; 1597 Contracts @Ask @$1.30; Now $19.35
Not Yet
Nevertheless, he still thinks that the $23 billion offer and 19.3 percent premium constitutes a "relatively low-ball bid." He doubts that Micron executives will be interested in selling for the price reportedly on the table.
Sundararajan noted that $23 billion is only 3.9X Micron's projected EBITDA for the year ending August 2015, compared to an average of 14X EBITDA for 81 semiconductor deals over the past five years. In fact, his data indicate that for deals above $10 billion, the average is 25X. Furthermore, he said, the $23 billion price tag is less than the cumulative value of all of Micron's fabrication plants.
But while a buyout is unlikely at the reported price point, Sundararajan still expects Tsinghua to walk away with "10 or 20 percent" equity. He also speculates that the Chinese firm would be just fine with that arrangement, as it would allow it to test both Micron and the U.S. government's amicability toward an eventual acquisition. In addition, he noted that "it would give Micron a huge tax break" by moving a large portion of its ownership overseas.
Although there is no official word yet on Tsinghua's supposed bid, Micron's stock is already moving. Shares are trading up over 10 percent today.
Image Credit: Public Domain
Posted-In: China ReutersAnalyst Color M&A News Rumors Exclusives Analyst Ratings Best of Benzinga
View Comments and Join the Discussion!