Why Apple Must Sell 1 Apple Watch For Every 20 iPhones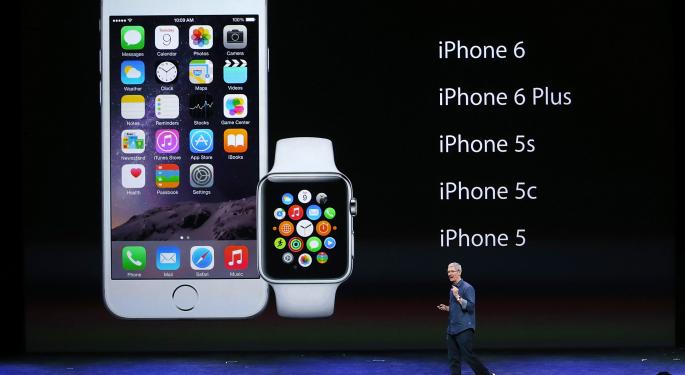 Apple Inc. (NASDAQ: AAPL) is expected to sell a sizeable number of iPhones within the first 12 months at retail.
"Put it in the context of how many iPhones they'll sell," former hedge fund manager Cody Willard told Benzinga. Apple sold more than 190 million units in 2014:
"They have to sell one Apple Watch for every 20 iPhones to hit a 10 million unit number," said Willard, estimating that Apple will sell roughly 200 million iPhones in 2015. "I think that's an awfully high order. I don't think one out of every 20 people buying an iPhone are buying an Apple Watch."
Related Link: Apple Is Cheap But Trading 'With So Much Disrespect'
Big Sales Not Needed
Rich Tullo, director of research at Albert Fried & Company, said the low margins ensure Apple Watch will be a success even if sales disappoint.
"It's a watch that costs them $100 to make and sells for several hundred," Tullo told Benzinga. "You don't need to sell many of them to be successful." Tullo doesn't expect investors to know how the Apple Watch truly performed for quite some time.
"Three years from now we'll know," he said. "On the first iteration, it looks like they did a good job at the launch. It looks like people like it. But it's in the first adoption phase. I don't think there were too many iPhone apps in the first year. Look where we are now -- it's the No. 2 phone in the world."
Not Hiding A Thing
Willard doesn't think Apple's silence on Apple Watch sales means that it has something to hide.
"I don't think Apple's hiding something," said Willard, who serves as the chairman of Scutify and Futr. "They put it in store because it wasn't selling as well [online] as it hoped. Now that it's in store, I don't think it's selling as well still."
That said, Willard is not concerned about the next 30, 60 or 90 days of sales.
"It's about the next 18 months to two years," he said. "It's not [about] this month or next summer. I would be cautious about…this quarter's results on the Apple Watch."
Disclosure: At the time of this writing, Louis Bedigian had no position in the equities mentioned in this report.
Posted-In: Albert Fried & Company Apple Watch Cody Willard Futr Rich TulloAnalyst Color Exclusives Tech Best of Benzinga
View Comments and Join the Discussion!