Is Apple Music Too Confusing?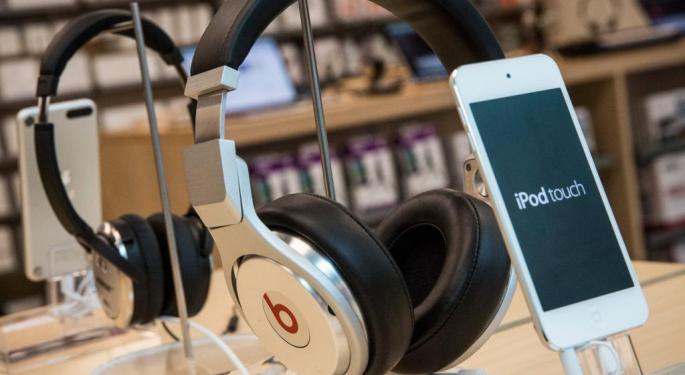 Apple Inc. (NASDAQ: AAPL) is expected to report impressive iPhone 6 sales for the spring quarter, but investors may also look to hear about the company's newest music service.
Reviewers have praised the new app, officially known as Apple Music, but said it is somewhat confusing. Apple bulls are divided on the issue.
"This thing is a disaster," Cody Willard, chairman of Scutify (a financial social network) and Futr (a futuristic messaging app), told Benzinga. "It's not intuitive. If Steve Jobs were here, he would have never let that thing roll out."
Global Equities Research analyst Trip Chowdhry said that by offering too many options, Apple Music could appeal to some users but turn off others.
"Having too many choices is an asset to some users," Chowdhry told Benzinga. "To some it is a liability. Some may like it, others might say, 'Give me a few [options], I'm happy with it and [want to] explore it slowly.'"
Sean Udall, CIO of Quantum Trading Strategies and author of The TechStrat Report, told Benzinga that Apple Music is "fantastic" and that it's "game over" for its competitors.
"It's first service I'll pay for," said Udall. "I [can] get the family plan, which is a much better deal."
Apple Music's family plan retails for $14.99 per month. Spotify said it will match that price. Tidal did the same but CNET found that Apple Music still offers the best deal for families.
"Their custom playlists completely hit the mark, which is what they were missing before," Udall added. "Simply put, they nailed it. Game over for much of the rest of industry. Spotify and Pandora have a very much tougher competitor now to deal with."
Related Link: Apple Is Cheap But Trading 'With So Much Disrespect'
'A 2016 Story'
Spotify and Pandora Media Inc (NYSE: P) might not have anything to worry about in 2015.
"[Apple Music] is a 2016 story," Rich Tullo, director of research at Albert Fried & Company, told Benzinga. "It's not going to have any impact on Pandora's financials for this quarter."
Apple Music's future success is not guaranteed, however.
"It looks like Apple Music is going to be unsuccessful because it's too confusing for the consumer, so it probably means Pandora is a more attractive purchase right now," said Tullo.
'Somebody Needs To Fire Jimmy Iovine'
Willard praised Apple -- and particularly Steve Jobs -- for streamlining the operating system and the apps that Apple offers. He said the firm took a different route with Apple Music.
"It looks like Apple threw everything, including the kitchen sink, into this music app so it can be all things to all people," said Willard. "Instead it looks like it's going to be nothing to nobody. Somebody needs to fire Jimmy Iovine."
Willard also spoke about iTunes' evolution.
"The iTunes app on your computer itself has gotten to be a lot more pain in the ass than it used to be," he said. "Apple's famous ease-of-use reputation is suffering between iTunes and Apple Music and there are plenty of people who don't think the Apple Watch is as useable as it should be. I personally disagree with that."
Disclosure: At the time of this writing, Louis Bedigian had no position in the equities mentioned in this report.
View Comments and Join the Discussion!
Posted-In: Albert Fried & Company Apple Music Apple WatchAnalyst Color Top Stories Exclusives Tech Interview Best of Benzinga