How Much Upside Do Sears REIT JVs Really Have?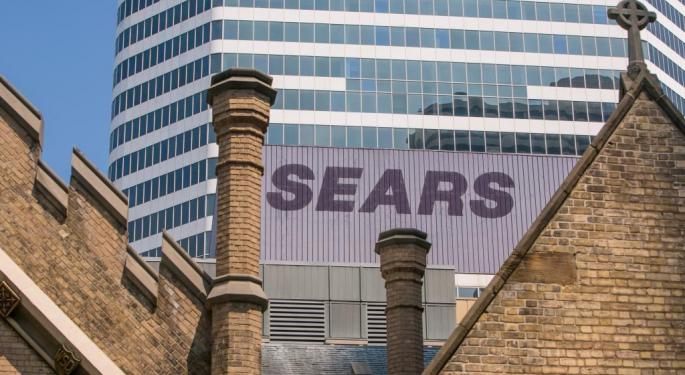 On July 1, Credit Suisse (CS) analysts George Auerbach and Ian Weissman published a detailed analysis on Sears Holdings (NASDAQ: SHLD) real estate, which will be owned by Seritage Growth Properties.
There are a total of 266 Sears store properties which make up the initial portfolio of Seritage, which is scheduled to begin trading Monday, July 6 on the NYSE under ticker symbol SRG.
Credit Suisse concluded that the overall quality of the Seritage portfolio of Sears's locations is of much higher quality than many investors may realize.
CS also did a deep dive on the 31 Sears mall stores that were contributed to JV's earlier this year with the three largest U.S. shopping mall landlords:
General Growth Properties (NYSE: GGP) - Rated Neutral, CS $32 PT.
Macerich Company (NYSE: MAC) - Rated Underperform, CS $77 PT.
Simon Property Group (NYSE: SPG) - Rated Outperform, CS $230 PT.
Sears received $2.67 billion for all 266 properties, including its half of the 50/50 mall joint venture real estate which will be owned by its Seritage REIT: 12 with GGP, 10 with SPG and 9 with MAC.
Tale Of The Tape - Past Year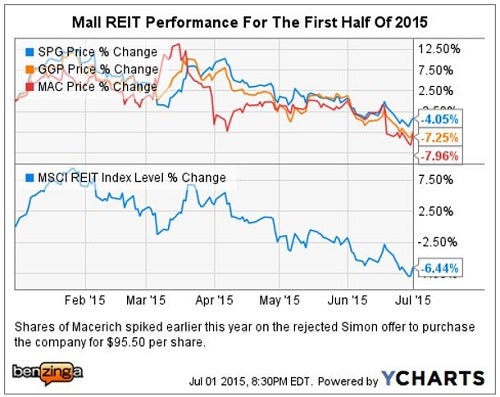 Do These JVs Really Matter To The Malls?
Given the huge scale of these large Class-A mall landlords, could these small number of Sears JVs actually help them to "move the needle?"
According to the Credit Suisse calculations, the answer is absolutely. In fact, CS estimate[s] there is a "…NOI upside of 2.4% for MAC, 1.3% for GGP and 0.5% for SPG."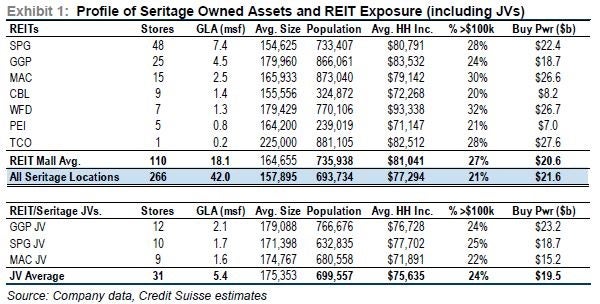 Notably, these Sears "boxes" average about 175,000 SF apiece, and account for between 1.6 million to 2.1 million SF of mall space, as noted in the chart above.
Sears Boxes Impact Adjacent Space
CS assumed that 50 percent of the Sears space is re-tenanted at $40 per SF net rents to a combination of anchor and in-line tenants, much higher than the current Sears rent agreement.
However, the ability to re-lease a substantial portion of the JV assets to other retail anchors at much higher market rates is just the beginning. CS also assumed 25,000 SF of the adjacent in-line tenant space will also bring in rents of $40 per SF, or about $20 per SF higher than current rents from existing marginal tenants.
Top retailers can afford to pay a much higher rent because they will generate much higher sales per square foot, taking full advantage of increased traffic from upgrading the anchor in the Sears wing of the mall.
CS - Redevelopment Opportunities
Credit Suisse also sees the mall JVs taking advantage of recapturing Sears Auto Store locations and jointly redeveloping vast parking areas adjacent to some of the Sears locations.
CS noted, "The Seritage 'sites' vary in size, with a range of 4 acres to a high of 27 acres."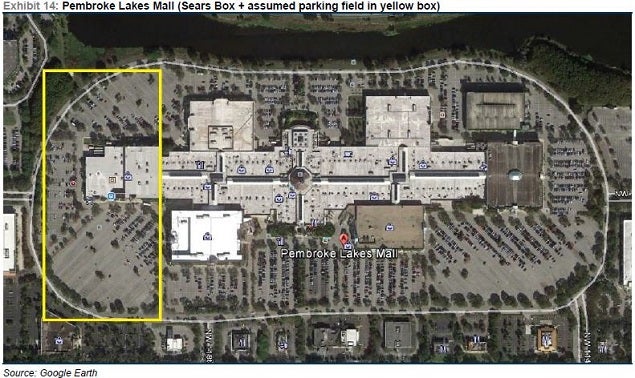 The example above is a GGP mall located in Florida, anchored by Macy's, JC Penny and Dillard's. In this case, the Sears "box" is 144,000 SF, and the entire area outlined in yellow totals 13 acres.
CS - Seritage Owned Mall Locations
In the longer term, mall landlords may have an opportunity to add additional Seritage owned locations to their respective JVs, subject to the terms of the leases between Sears and Seritage.
In the case of General Growth, CS noted that "…Seritage owns another 13 asset located at GGP properties, which may be a future acquisition for the JV, and/or a releasing opportunity for GGP. Some of the better quality sites (as defined by demographics) include Valley Plaza, Northridge Fashion Center and Willowbrook Mall."
Regarding Simon, "Currently SPG has 10 assets in the Seritage JV, plus another 37 Seritage owned Sears boxes in its portfolio—which leaves another 26 locations leased to Sears but owned by SPG."
Seritage owns another six assets at Macerich malls, "…which may be a future acquisition for the JV, and/or a releasing opportunity for MAC. Some of the better quality sites (as defined by demographics) include Inland Center, Desert Sky Mall, Capitola Mall, and Paradise Valley."
Posted-In: Analyst Color Long Ideas REIT Retail Sales Asset Sales Analyst Ratings Trading Ideas Real Estate Best of Benzinga
View Comments and Join the Discussion!