Has Greece Had Its 'Lehman Moment'?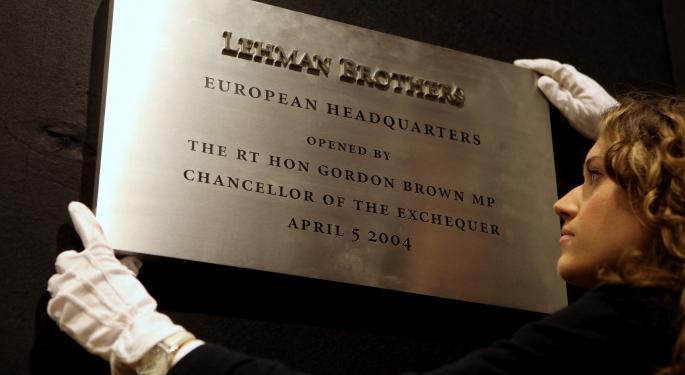 In a report published Monday, MKM Partners Chief Economist and Market Strategist Michael Darda discussed the possibility of a Greece exit from the euro and if so, is this Eurozone's "Lehman" moment.
Darda noted that it's "too soon to tell" if Greece will leave the euro but did state that the prospects of Greece remaining in the zone continues to deteriorate. A Greek exit may still be avoided, but time is running out. As such, the analyst reviewed recent history regarding currency crises and debt defaults as a possible guide for what to expect should Greece exit the Eurozone.
Darda said that the devaluations and defaults in Thailand, Indonesia, Russia and Argentina resulted in their respective currencies plunging for eight months and losing more than 70 percent of their value, on average, against the U.S. dollar. At the same time, their stock markets plunged by 76 percent on average over a period of 13 to 14 months while dollar GDPs also collapsed, falling to about 50 percent of their pre-devaluations levels before bouncing back "strongly" and rising to new highs six years later.
Related Link: Wilbur Ross On Greece, The Rise Of Democracy, The Fall Of Civilization And Imminent Chaos
The analyst also added that it is "too soon to tell" if Greece will face a similar outcome and recommended against buying Greek assets. On the other hand, "any and all" pullbacks in Eurozone equities should be used by investors to add to their long positions.
"So there should be some light at the end of the tunnel for Greece (instead of just an oncoming train) if it either chooses to exit the euro or is forced out," Darda wrote. "What about the rest of the euro area? Unlike 2008 or 2010-2011, the ECB has taken more permanent action to boost money growth, inflation expectations and EZ NGDP."
Bottom line, the ECB is finally doing what it should have done six years ago by implementing a more expansionary monetary program in place. As such, "Greece is not Lehman."
Posted-In: EurozoneAnalyst Color Emerging Markets Eurozone Top Stories Economics Markets Analyst Ratings Best of Benzinga
View Comments and Join the Discussion!