Trouble In Paradise: Puerto Rico's Mounting Debt Crisis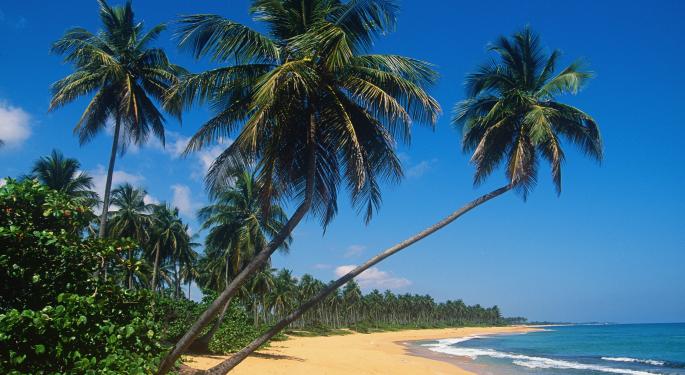 Puerto Rico's governor says the U.S. territory is looking to renegotiate the terms of its $72 billion public debt it reaches the brink of financial insolvency.
Governor Alejandro García Padilla told the New York Times that he "would love to have an easier option. This is not politics; this is math."
According to Business Insider, Puerto Rican bonds have been attractive to Americans because of their tax-free status. However, hedge fund and distressed-debt investors continued to buy up the securities as the territory's economy and credit rating spiraled downward.
Puerto Rico now has an unemployment rate of 12.4 percent, although its GDP has been climbing steadily for decades.
Economic Origins
In a report published Monday on the Puerto Rican government's web site, former World Bank Chief Economist Anne Krueger detailed the factors that have led to the island's decline.
Krueger cited a pair of external factors as particularly important: The increase in oil prices between 2005 and 2012 and the recession on the U.S. mainland.
"The doubling in oil prices during 2005-12 was a major setback, given Puerto Rico's dependence on imported oil for virtually all of its power generation. The 3% of GNP increase in the oil bill represented an equivalent loss of income for Puerto Rico that could have supported the local economy."
Related Link: Puerto Rico Could Be On Cusp Of Default
Meanwhile, the American economic crisis from 2007 to 2009, she said, had a significant negative impact. The United States is Puerto Rico's largest trading partner and investor.
But there are also larger internal issues, according to Krueger.
She believes high labor costs are a large part of the problem. The economist noted that the island must abide by the U.S. federal minimum wage even though its cost of living is substantially lower: The minimum wage is equivalent to 77 percent of Puerto Rico's median income. In addition, "local regulation pertaining to overtime, paid vacation, and dismissal are costly and more onerous than on the U.S. mainland."
Furthermore, she said, workers are disinclined to search for jobs because of the Commonwealth's generous social safety net, which provides "generous benefits that often exceed what minimum wage employment yields."
Cate Long, a principal at Puerto Rico Clearinghouse, a research firm for the island's bondholders, mentioned a few other factors dragging down the economy in a conversation with Benzinga. For one, she said, local businesses suffer from high transportation costs "since it's an island." Long also said that "people just don't work as hard....it's an island. When you go there, things just move slower."
Why Now?
National anxiety surrounding Puerto Rico's financing only escalated on Monday following Governor García's comments, but the situation has long been approaching a boiling point, according to Long.
"Since 2012, those investing in the municipal bond market have known that [the debt would] be restructured." But "the general media, which doesn't follow things like this didn't really expect it."
Even more recently, she noted, there have been clear signs of Puerto Rico's dire straits. In October, she mentioned, the government gained permission to pursue another bond sale. It has been actively trying since February, but hedge funds have been hesitant to buy up more of the island's debt, according to Long.
She thinks that ongoing drama in Greece has made Puerto Rico's situation an especially attractive headline now, although the crisis has long been mounting.
How Does It Look?
Puerto Rico's debt is about $72 billion in current terms, but Long told us that includes "a lot of zero coupon debt, so if you extend that out it's a lot higher."
Much of the debt, according to her, is also owned by residents of the island as investments in their retirement savings. This situation poses a predicament for the territory's government: if it imposes haircuts on its debt, it will be damaging its own citizens' finances.
She estimates that hedge funds own about $10-12 billion in Puerto Rican bonds while mutual funds, most notably Oppenheimer and Franklin, hold slightly more.
Oppenheimer, Franklin, and a hedge fund called BlueMountain sued the island's government over a local law that would have allowed it to cut down its arrears. A federal judge struck down the law, which Long said would have established a clear framework for dealing with the copious public debt.
A Bleak Picture
García is pushing for the island's public agencies to be able to file for Chapter 9 federal bankruptcy. However, current U.S. policy makes both the island's government and the agencies ineligible for such protection.
Long said that there has been "some talk" about reforming the laws within the House of Representatives, but none within the Senate. Convincing federal officials to extend protection from creditors to the ailing economy is made even more difficult by the fact that Puerto Rico doesn't have any voting power in either body of the legislature.
According to Long, "it's really too late for Chapter 9."
In order to institute haircuts on its general obligation debt, furthermore, Long said that the Puerto Rican legislature would have to pass a constitutional amendment -- a tall order which she doesn't see being met.
"Every one of these avenues have big landmines," she concluded. At this point, she believes the island's best bet is to find "the path of least resistance."
Posted-In: Analyst Color News Short Sellers Bonds Emerging Markets Global Top Stories Economics Best of Benzinga
View Comments and Join the Discussion!