Goldman Asks 'Won't The Can Fall Apart If Kicked Again?'
Goldman's Francesco Garzarelli observers in a note on Friday that when it comes to Greek negotiations "the market has priced [in] an accommodation scenario already, we see the distribution of total expected returns in European fixed income as skewed to the downside in the near term."

Garzarelli sees the shockwaves produced by Greek headlines as having more of an impact on quantities than prices. Volumes in both the primary and secondary markets have fallen and prices can most likely be contained through the ECB's bond buying program according to the bank. The US Treasury has been experiencing a similar issue with market liquidity this summer.
Goldman's Timeline Around Greek Debt Obligations: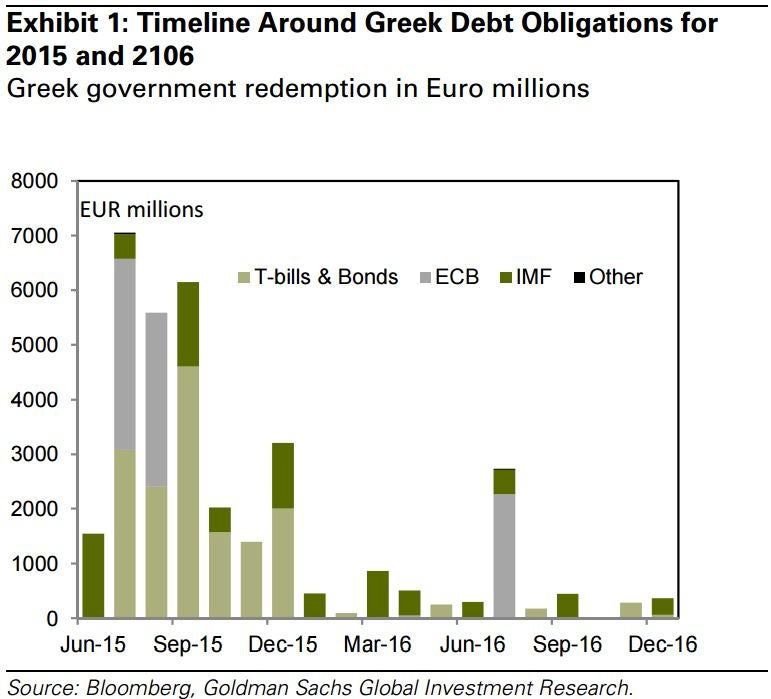 Should a deal not be reached, Goldman expects the "banking union" to take measures to keep banks open but with some restrictions on deposits. Political ramifications may arise also should Greece not make its June 30th payment to the IMF which Goldman says "would not necessarily trigger cross-defaults" but would certainly make for more frictions between the Greeks and the IMF.
The pain won't stop there as Spanish and Italian bonds may see spread push out to "wider levels than most market participants we interact with are now prepared to contemplate." Should this scenario unfold Goldman says there is a possibility the market will adjust upwards the probability of Greece leaving the Euro-zone.
Posted-In: Analyst Color News Global Economics Analyst Ratings
View Comments and Join the Discussion!