Apple And Tesla: Creating Industries Vs. Products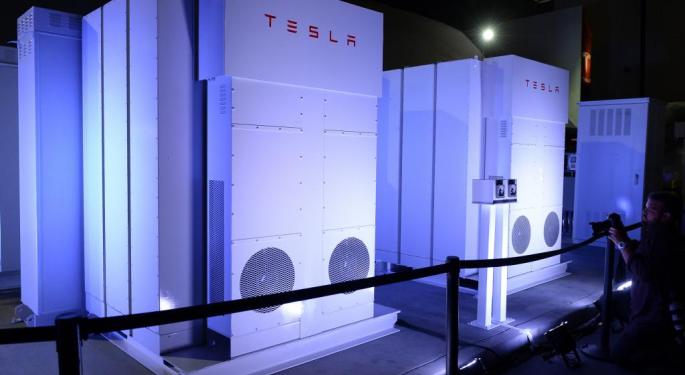 Apple Inc. (NASDAQ: AAPL) and Tesla Motors Inc (NASDAQ: TSLA) are often praised for creating new products, especially those that introduce a new product line.
Many companies develop new products, however. Global Equities Research analyst Trip Chowdhry believes that Apple and Tesla have gone above and beyond this strategy by creating entirely new industries.
"If you follow hype, sooner or later you're going to collapse," said Chowdhry, criticizing those that follow the leader. "That's what happened. The smart companies create industries. The reason we are optimistic about a few companies, including Apple and Tesla, is they are not creating products anymore -- they're creating industries."
Related Link: Is GoPro The Apple Of Its Sector?
$24 Billion For 24 Industries?
Chowdhry praised the Gigafactory as a sound investment for Tesla. He said it is allowing Tesla to create a new industry (home batteries) instead of simply refining a product category that already exists. He then related this element to the rumors that Google Inc (NASDAQ: GOOG) wants to acquire Twitter Inc (NYSE: TWTR).
"Google is not a stupid company like Yahoo could be," said Chowdhry. "Twitter at $24 billion is not going to do anything for Google. Google (for $24 billion) could create 24 different industries."
Chowdhry said he did not know what those industries would be, but he said it is the way "smart companies think about it."
"People have been thinking about generators for the home, but what about storage?" Chowdhry added, referring to Powerwall. "People always think about always-on cell phones, but what about always-on homes? These are industries. It's not just adding a new feature."
Buybacks And Dividends
Chowdhry took issue with companies that focus on appeasing investors instead of building new products and services -- and more importantly, new industries.
"How many lives have been changed by dividends and buybacks?" he questioned. "Has a person changed his life? 'Oh, my life has changed because I got dividends and share buybacks from Cisco, Microsoft?'"
Chowdhry said that he has seen thousands of lives changed because of Tesla, including those employed by the company. He noted that some of the former employees at the Toyota Motor Corp (ADR) (NYSE: TM) Nummi plant were hired by Tesla.
"They are investing in something that has not been done before," he said. "It is estimated [that] within the next four moths another 4,500 will be employed [at the old] Solyndra factory."
Disclosure: At the time of this writing, Louis Bedigian had no position in the equities mentioned in this report.
Posted-In: Apple GigafactoryAnalyst Color Top Stories Exclusives Analyst Ratings Tech Interview Best of Benzinga
View Comments and Join the Discussion!