Netflix Early Investor Highlights 3 Important Things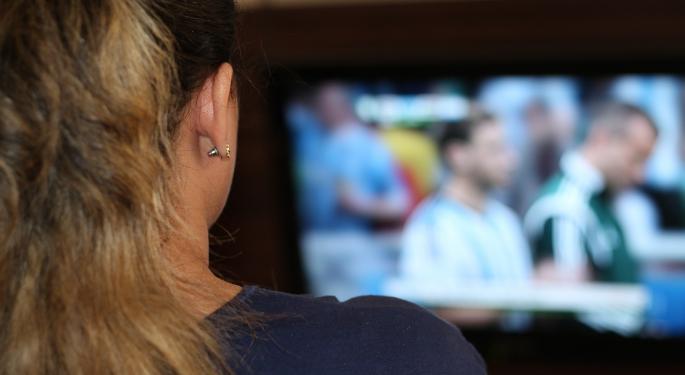 FBR Capital Markets analysts Barton Crockett and Chase White recently claimed in a note that if Netflix, Inc. (NASDAQ: NFLX) was a traditional TV network, its Nielsen viewership ratings would surpass that of all major U.S. TV networks by 2016.
Paul Holland, Foundation Capital general partner and an early investor in Netflix, was on CNBC Friday to weigh in on this.
A Billion Paid Users
"I think what you are seeing happening with Netflix right now is really there are three main things that are going on, and, I think the rating is certainly going to be part of that," Holland began. "One is – really for the first time we are going to see a company, so with companies like YouTube and Facebook – they showed us what happens when you have over a billion free users.
"Now, with a company like Netflix, which charges its users, we are going to find out over time whether or not we can get to a billion paid users on a subscription service. That'll be the first time in history something like that has happened."
Related Link: KeyBanc: Buy The Dip In Netflix
Pioneered OTT
He continued, "A second major thing happening now is the notion that Netflix really pioneered the concept of what's called Over the Top. Three or four years ago, if you talked to everybody else in media they were very critical of Netflix's approach. If you look at it now, you see HBO, you see Showtime, you see other folks like the BBC and others contemplating moving more and more of their content Over the Top as opposed to putting all of it through their cable channels."
First Time Since RCA
"And then finally, I think the thing that is the most compelling at least for me personally, with Reed, with Neil Hunt and the other people at Netflix really for perhaps the first time since RCA, we have got one of the strongest technologists in the world who has started a media company. And I don't think we should be surprised at how profound the impact of that has been," Holland concluded.
Image Credit: Public Domain
Posted-In: Barton Crockett BBC Chase White CNBC FBR Capital Markets Foundation CapitalAnalyst Color Media
View Comments and Join the Discussion!