Who Still Believes Greece Won't Default And Will 'Work Out A Deal?'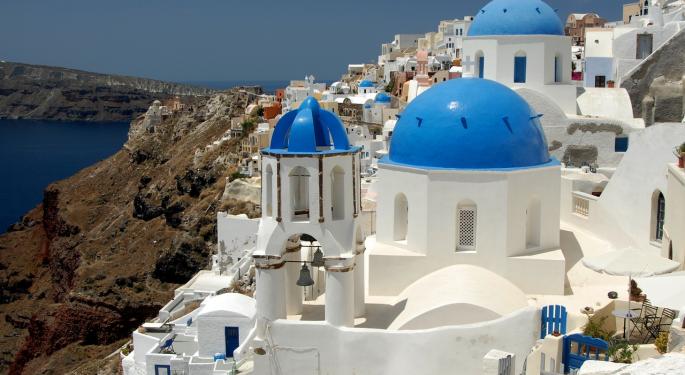 Financial market participants the world over have long been fearing the consequences that could arise from a Greek default. With the debt to GDP ratio of the country currently hovering at 180 percent, the fears are not unwarranted.
According to Bruce Richards, co-managing partner and CEO of Marathon Asset Management, Greece is not going to default. However, he thinks the current standoff between the Greek Prime Minister and EU leaders is hurting and will continue to hurt Greece.
Richards is going to be on this week's edition of the Wall Street Week. In this excerpt from that interview, Richards explains why he thinks Greece won't default.
Last Thing Germany And EU Wants
"I think they'll default to the official sector, which is the Troika, which is the ECB and the IMF and the EU, but I don't think they'll default to them because the last thing Germany and EU wants is for Greece to default," Richards said. "The last thing they want is to take a $300 billion hit to their balance sheet.
Related Link: Everything You Need To Know About Greece According To Goldman Sachs
"And the last thing they want is risk-off for the marketplace at a time when they are trying to heal the banking system, at a time when they want to heal the economy, at a time when they have finally got growth back in the right trajectory. So, at the end of the day, they are going to work out a deal."
Standoff Is Hurting Greece
"Mr. Tsipras (Alexis Tsipras, PM of Greece) has to say what he has to say to keep his constituents happy, and Germany and EU has to say what they have to say. And right now, there is a big standoff and the standoff is doing nothing, but hurt Greece," Richards concluded.
Image Credit: Public Domain
View Comments and Join the Discussion!
Posted-In: Alexis Tsipras Bruce Richards Greece Marathon Asset ManagementAnalyst Color Eurozone Markets Media