Short-Sellers Are Betting Against These Stocks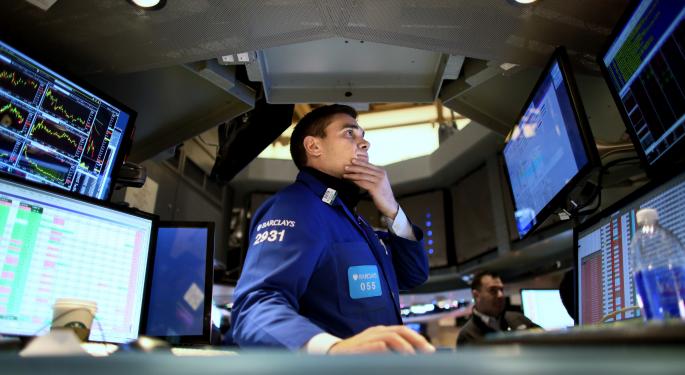 Astec Analytics provides intraday short selling market data via securities lending analytics. In a recent email sent to clients, the firm delivered a "roundup of some of the hottest stocks from a securities lending perspective."
Below is a look at the top stocks by region (from a security lending perspective), according to SunGard's Karl Loomes.
EMEA Hot Stocks
The firm's top pick in the Europe, Middle East and Africa region is Eniro AB (STO:ENRO) a Sweden-based provider of search and directory products and services that operates in Northern Europe. The company derives most of its earnings from advertising.
"This is a crowded market place for sure, dominated by some obvious providers, and ENIRO has not fared well," the analysts noted. Last month, the company used a rights issue to raise cash to pay down bank debt. In addition, the debt was restructured to ease the burden.
"With a 52 week return statistic of -95% (share price has fallen from just over SEK25 to SEK1.21 as of Monday, June 15), there is not much further to go but this has not kept the short sellers away as borrowing remains high keeping utilization very near 100% and borrowing fees well into the 'special' zone," the note added.
Five more highly-lent stocks for the EMEA region are:
1. Meyer Burger Technology AG (SWX:MBTN)
2. Gulf Keystone Petroleum Limited (LON:GKP)
3. Soitec SA (EPA:SOI)
4. King Digital Entertainment PLC (NYSE: KING)
5. Royal Imtech NV (AMS:IM)
The Americas
Shake Shack Inc (NYSE: SHAK) is the firm's top pick for the Americas as they see many of the classic symptoms of an imminent short squeeze -- utilization and borrow fees are rising as shares are in demand to be shorted. In this case, utilization stands very close to 100 percent and fee levels are more and more expensive.
Related Link: Short Sellers Pile On Qualcomm
This has led shares to surge "from under $40 to almost $80 indicating some substantial unrealized losses for the short sellers caught in this particular squeeze."
Completing the top six, in terms of short selling activity, are:
1. Molycorp Inc (NYSE: MCP)
2. Ambarella Inc (NASDAQ: AMBA)
3. Great Basin Scientific Inc (NASDAQ: GBSN)
4. Laredo Petroleum Inc (NYSE: LPI)
5. Viggle Inc (NASDAQ: VGGL)
Asia Pacific Hot Stocks
Finally, for the Asia Pacific region, SunGard's top pick is Alibaba Pictures Group Ltd (HKG:1060), a subsidiary of Chinese Internet giant Alibaba Group Holding Ltd (NYSE: BABA). This is mainly a ticketing company that Alibaba acquired back in April. It comes to fill in "a gap in their media strategy in Asia," the note explained.
Shares rose roughly 15 percent on the merger and have continued to rise, from around HKD0.30 at the start of 2014, to a peak of more than HKD4. Borrowing has also been increasing as short sellers assume contrarian positions.
"April 2015 saw volumes on loan more than double and a steady rise has brought the total shares outstanding now to almost three times the pre-acquisition volume suggesting that Alibaba Pictures valuation may now be overbought and a price correction is expected by some," the report argued, recommending to "Get a ticket and watch how this one plays out."
Another five hot stocks in short-selling corners are:
1. Sharp Corporation (TYO:6753)
2. Colopl Inc (TYO:3668)
3. China Huarong Energy Co Ltd (HKG:1101)
4. Fukuyama Transporting Co Ltd (TYO:9075)
5. Catcher Technology Co., Ltd. (TPE:2474)
View Comments and Join the Discussion!
Posted-In: Alibaba Pictures Group Astec Analytics Catcher Technology China Huarong Energy ColoplAnalyst Color Short Ideas Trading Ideas Best of Benzinga