Anderson: 'A Greece Induced Rally? Really??'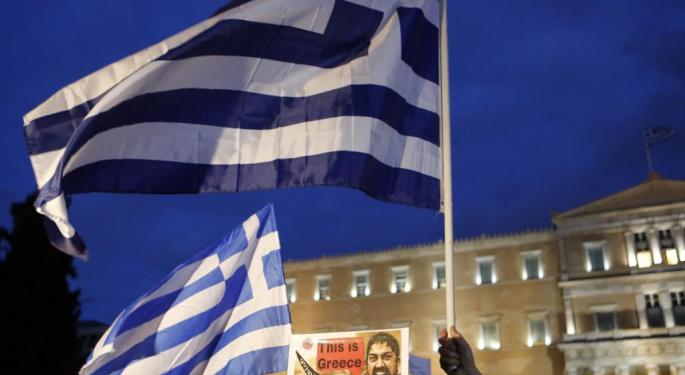 The following is an excerpt from Tim Anderson's morning note.
Equity markets are in full rally mode early this morning as initial reports from a meeting of the EU finance ministers is that the latest budget proposals from Greece is enough to serve as a deal.
This is no doubt a Very Fluid story and one note of caution is that all conciliatory comments toward the latest proposal from Greece have come from participants other than Germany. From everything I have seen going into the lunch time break we have heard no feedback from Angela Merkel or any German Finance officials. Stay Tuned.
Friday's equity markets saw all major averages except the Russell 2000 give up about half of their FED inspired gains from Thursday.
Oil shares and financials saw the most slippage. $60 is proving to be a challenging price level for WTI, putting pressure on drillers and oil service names. Financials, and particularly the Banks saw more short term profit taking after Thursday's underperformance. Clearly, the FOMC "guiding" that the pace of interest rate hikes will be very gradual and deliberate saps some enthusiasm from bank investors that were anticipating a steeping of the yield curve.
There are 7 trading days left in Q2. We've been reminded numerous times in the last few days, that the market frequently struggles the week following the June option expiration. "Struggles" might be putting it lightly!!
How about trading lower 22 of the last 25 years the week after the June expiration!! One thing in the markets favor to potentially buck that trend this year is the June expiration falling very late on the calendar. With only a handful of trading days left in Q2, we're right in the wheelhouse of potential end of quarter window dressing.
With a little help from headlines out of the Greece/EU drama, the market is potentially well positioned for another push toward the upside resistance of prior all time highs.
DISCLAIMER:: NOTICE REGARDING PRIVACY AND CONFIDENTIALITY
This e-mail and any attachments thereto is intended only for use by the addressee(s) named herein and may contain legally privileged and/or confidential information. If you are not the intended recipient of this e-mail, you are hereby notified that any dissemination, distribution or copying of this e-mail, and any attachments thereto, is strictly prohibited. If you have received this e-mail in error, please immediately notify me and permanently delete the original and any copy of any e-mail and any printout thereof. E-mail transmission cannot be guaranteed to be secure or error-free. The sender therefore does not accept liability for any errors or omissions in the contents of this message which arise as a result of e-mail transmission.
In accordance with SEC Rule 17a-4 and NASD Rule 3010; Emails sent to and from this address may be recorded and are subject to archival, monitoring, review and retrieval by the TJM Compliance Department. TJM and/or its affiliates are a member of FINRA, CBOE, NFA, SEC, and SIPC. TJM's main office is located at 318 W. Adams 9th Floor, Chicago, IL 60606. For more information about TJM, please contact (312)-432-5100 or fax (312)-432-4499.
The preceding article is from one of our external contributors. It does not represent the opinion of Benzinga and has not been edited.
Posted-In: Greece drama Greece updateAnalyst Color Emerging Markets Eurozone Futures Economics Markets Best of Benzinga
View Comments and Join the Discussion!